Recensioner (

3

)
Över 2 år gamla recensioner
Dessa recensionen har ingen påverka till genomsnitt betyg
Toast oli ylihinnoiteltu ja kuiva. Palvelu oli kuitenkin ystävällistä ja tunnelma ihan ok.
Upplevelse: À la carte
•
Priset: 8€
•
Tillagt: 23.02.2014
It's really just a pub, but if you're absolutely starving and must eat something within the next five minutes, their toasted sandwiches do the trick.
Upplevelse: À la carte
•
Priset: 6€
•
Tillagt: 27.02.2010
Söin meetwursti-jättitoastin. Reunantienoilta leivät olivat aikas kuivia. Keskemmältä ihan hyviä. Sisältä löytyi ainakin meetwurstia, juustoa, punasipulia ja jalapenoa. Jalapenot olivat tosi ärpäköitä.

Tunnelmaltaan paikka oli viihtyisä ja palvelu oli ystävällistä. Toastien valmistuksessa meni jonkin aikaa, muttei kamalan kauaa. Mielenkiintoisena yksityiskohtana paikan aita on tehty vanhoja polkupyöriä yhteen hitsaamalla.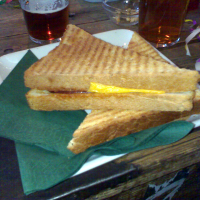 Upplevelse: À la carte
•
Priset: 7€
•
Tillagt: 30.09.2009
---
Läge