euroterp
6 Recensionen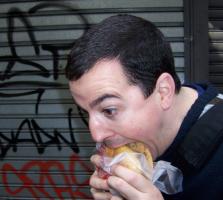 Quality, not quantity
Badges
Recensioner (

6

)
Över 2 år gamla recensioner
Dessa recensionen har ingen påverka till genomsnitt betyg
Brunch at this cozy and stylish restaurant was nice. They keep it simple by offering a meat (sausages) or fish (2 types of salmon) plate that includes eggs, a couple types of cheese and some slices of vegetables. Also included a basket of assorted baked goods (karelian pies, croissants, white bread), juice, coffee, tea and a choice of fresh fruit or yogurt. The staff were friendly and offered to translate the menu from Finnish. A good value given all that is included, along with good service. The space is small, so reservations are recommended.
Upplevelse: Frukost / Brunch
•
Priset: 17€
•
Tillagt: 18.12.2011
---
Mexican food so authentic & tasty! Helsinki finally has a good Mexican joint with seating for about 12-15 people & hours that cater to breakfast & lunch crowds on weekdays only. The free tortilla chips with guacamole & spicy/smoky salsa were a nice touch. this place would be flawless if they added freshly made pico de gallo & a tres leches cake to the menu. This place is a good choice for vegetarians too.
Upplevelse: Lunch
•
Priset: 10€
•
Tillagt: 12.04.2011
---
Great Napelese food in a good central location. Although crowded on a Saturday evening, the staff quickly accommodated a large group of 7+. If looking for something spicy, try the bhendo kukhuro. Otherwise there are many other menu items, including badami bhendo which has a mild sauce. The food quality and service were both great. If you find yourself hungry near Kamppi, give Pikku Nepal a try!
Upplevelse: À la carte
•
Priset: 18€
•
Tillagt: 27.02.2012
---
A great addition to the Helsinki brunch scene. I was a bit worried by all the negative reviews, but was pleasantly surprised by quality food and good service. For 15 Euro you can select the brunch buffet which features sliced deli meats, cheeses, salad, crayfish tails, hard boiled eggs, marinated herring, several types of bread, cheesecake, coffee, 2 kinds of fruit smoothies, fresh fruit & juices and coffee. Basically a good value for quality food! Pay an additional 10 Euro (25 Euro total) and you can add a choice of a couple of different types of egg dishes or burgers. I got the beef burger served with roasted potatoes. The thick beef patty featuring lots of herbs was tasty and served on foccacia bread. A bit of a different approach to the hamburger, but a good effort nonetheless.
Upplevelse: Frukost / Brunch
•
Priset: 25€
•
Tillagt: 08.01.2012
---
I was underwhelmed after hearing good things from others. I had the medium-lajitelma for lunch and the small seating space, which was nicely appointed, was crowded. The staff was nice and welcoming.

The overall presentation was nice - with several pieces of nigiri and rolls (tuna and cucumber), along with soup & tea. Unfortunately the taste was disappointing for everything. The soup was too salty, wasabi not spicy, soy sauce way more sweet than salty, rice was a overcooked and too soft. Upon closer inspection, I decided against eating 1 piece of the nigiri as this particular piece of fish on top looked dried out and discolored.

A good looking meal that just didn't taste anywhere near what I would consider decent sushi - probably on par with what you could get at the grocery store.

I would not recommend this restaurant and will keep searching for other sushi spots in Helsinki.
Upplevelse: À la carte
•
Priset: 15€
•
Tillagt: 27.04.2010
---
A fantastic bakery and cozy cafe that also happens to have a spectacular brunch. If it is crowded for brunch, just order from the bakery to take home a selection of breads and sweets.

Brunch highlights include numerous baked goods, soft boiled eggs, salmon, Italian sliced meats, several kinds of cheese, delicious yogurt, Müsli, and fresh juices.

Highly recommended!
Upplevelse: Frukost / Brunch
•
Priset: 14€
•
Tillagt: 27.04.2010
---
---
Bilder
---
Followers
Followers (2)
---
Following (2)
---
Lists
Bookmarks
---
Favorites