Restaurant Aino is a Finnish restaurant in a historical city center of Helsinki. We serve traditional Finnish dishes and ingredients like reindeer, herring, salmon, berries and mushrooms.
---
Reviews (

54

)
Aino ei sävähdyttänyt. Tässä paikassa olen vuosia halunnut käydä ja vihdoin se tuli tehtyä. Valitettavasti kokemus oli hiukan pettymys. Söin vain alkuruuan ja pääruuan. Pöydän toiselta puolelta maistoin vähän jälkiruokaa. Sellerikeitto alussa oli kyllä aivan mainiota ja sille valittu suositusviini oli myös hyvä. Pettymys tuli sitten pääruokana olleen siian kanssa. Siinä annoksessa ei toiminut oikein mikään. Samoin jälkiruoka jätti kylmäksi. Parhaiten tällä kertaa onnistuttiin viinien kanssa. Palvelu oli mukavaa ja mutkatonta. Miljöö pelkistetty hyvin suomalainen.
Experience: À la carte
•
Price: 41€
•
Added: 10.01.2017
Reviews older than 2 years
These reviews don't affect the average
Syötiin alkuruoka ja pääruoka. Hyvä palvelu, hieno paikka ja hyvät alkuruoat sekä aivan loistavat pääruoat.
Experience: À la carte
•
Price: 40€
•
Added: 23.08.2015
Ystävällinen ja nopea henkilökunta. Ruoka oli erinomaista, vaika olikin kiireinen uuden vuoden aatto. Lapsetkin saivat vikkelästi uudet ruokailuvälineet pudonneiden tilalla :D
Experience: À la carte
•
Price: 30€
•
Added: 31.12.2014
Savulohisalaatti oli herkullista, kastikkeen reseptiä yritettiin selvitellä jotta voitaisiin tarjota kotona kokattaessa vastaavanlaista. Häränfilee (28,50) oli hyvin paistettu ja seurana olleet kasvikset olivat täydellisen rapsakkaita...mutta koko komeus oli myrkytetty suolalla. Seuralaisen poronfile oli kuulemma yhtälailla liian suolainen ; hämmentävää sillä käytämme yleensä paljonkin suolaa omassa keittiössämme. Kun huomautimme tästä tarjoilijalle, meille sanottiin että hän veisi terveisemme keittiöön. Mitään emme saaneet takaisin - ei edes keittiön pahoitteluja - ja lopullinen ruokailun hinta (alku-pää-ja jälkiruoka + aperitiivi + lasi viiniä + kahvi) lähes 200 euroa jäi harmittamaan niin ettemme mene takaisin emmekä myöskään tule viemään vieraitammekaan. Ylimääräiset miinuspisteet ruokaseurasta ; naapureinamme oli naapurimaasta kaksi perhettä joiden pienet lapset juoksivat kiljuen terassia ympäri lähes koko ruokailumme ajan. Lisäpisteet kuitenkin tarjoilijalle joka hoiti illallisemme sujuvalla ranskalla alusta loppuun.
Experience: À la carte
•
Price: 61€
•
Added: 07.08.2014
Kovin tuntuu turistipaikalta. Vein ulkomaalaisia vieraita syömään, ruoka oli ok, muttei herättänyt positiivisia tunteita.

Palvelu oli hyvää, mutta kokonaisuutena hinta oli luotaantyöntävä. Laatu ja hinta eivät tuntuneet kohtaavan, etenkään koska odotukseni ravintolasta olivat korkealla.
Experience: À la carte
•
Added: 10.06.2014
Juurisellerikeitto alkuun, ylikypsää häränrintaa pääruoaksi. Keitto erinomainen, hyvä talon leipä kyytipoikana. Häränrinta-annos maukas pois lukien itse härkä (melko mauton ja suht kuiva). Kollegan siika-annos oli erinomainen.

Jälkiruoka (tyrnipannacotta) juuri sopivan kokoinen ja makea, hieno lopetus.
Suosittelen paikkaa yrityslounaille - rauhallinen atmosfääri, miellyttävä tarjoilu!
Experience: Lunch
•
Price: 30€
•
Added: 10.04.2014
Joulumenyy toimi kauttaaltaan hyvin. Alkuruoka olisi saanut olla hieman suurempi - nyt todella niukat ainekset melkeimpä hävisivät haarukan pinnoille. Miellyttävä tunnelma ja ripeä tarjoilu paransivat hinta-laatusuhdetta myös.
Experience: À la carte
•
Price: 49€
•
Added: 09.12.2013
Moitteeton ruokaelämys ja huomaavaista, erittäin joustavaa palvelua. Erityisesti herkullista porofilettä ryydittänyt mieletön kastike jätti hyvän maun suuhun. Jälkiruoka oli myös positiivinen yllätys; kuivahkot maustekakut eivät yleisesti ottaen kuulu henkilökohtaiselle top-listalleni, mutta tässä yhteydessä kokonaisuus kotitekoisen oloisen jäätelön, marjojen ja kastikkeen kera oli ihana. Hyvästä laadusta huolimatta hintataso tuntuu korkealta - toisaalta sijaintikin luonnollisesti selittää tätä osaltaan.
Experience: À la carte
•
Price: 60€
•
Added: 23.11.2013
Experience: À la carte
•
Added: 20.08.2013
---
Community
Images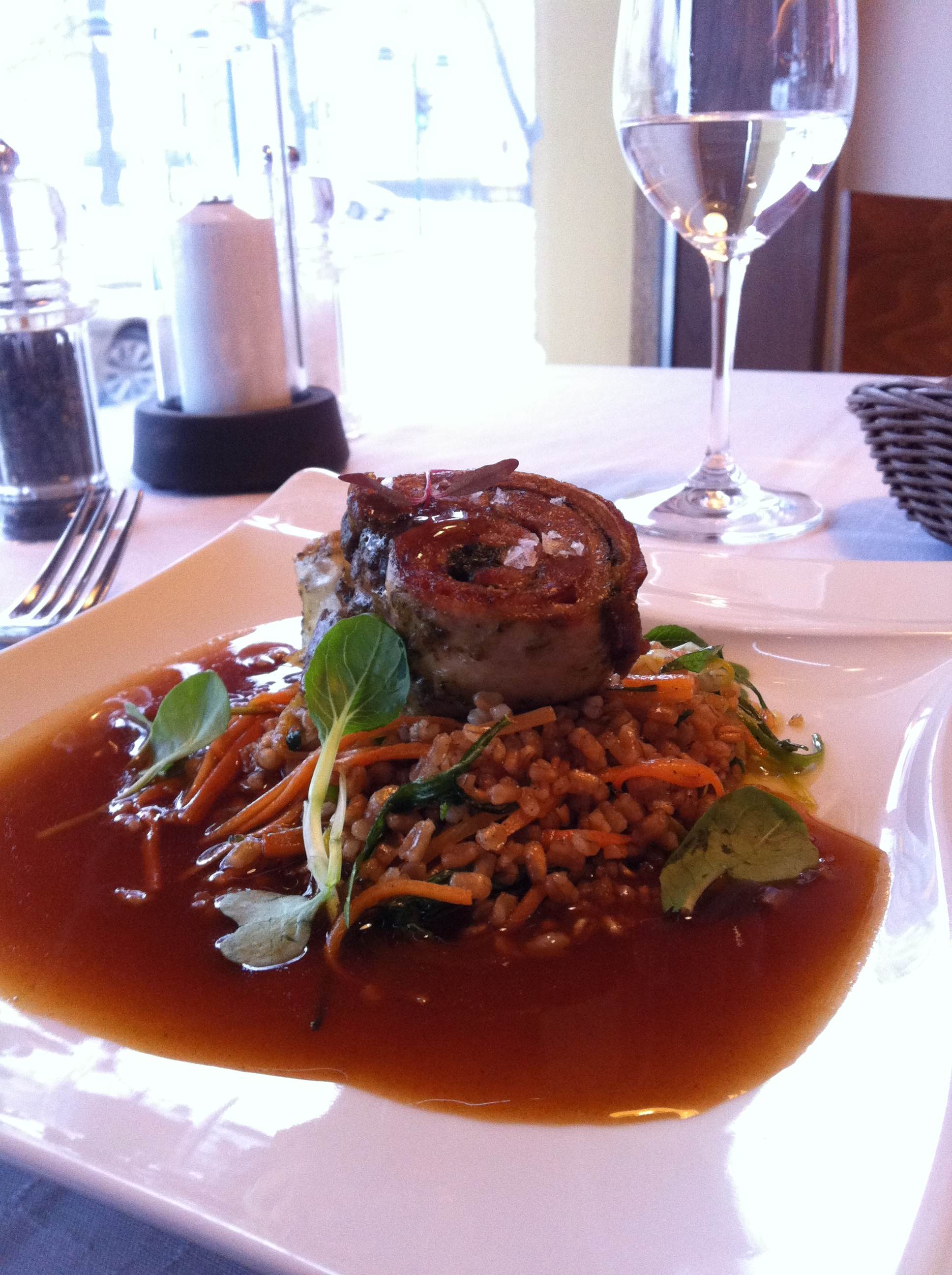 Fans
These people have marked this restaurant as a favourite.
People interested in this restaurant
---
Location