Mount Sherpa is a restaurant with fine-dining opened in May, 2013 in Kuopio, as the first Nepalese cuisine restaurant in Kuopio region.
---
Customer experience
Child friendly
Vegetarian
---
Reviews (

133

)
Lammas on täydellistä.
Experience: À la carte
•
Price: 18€
•
Added: 02.10.2016
Mainio ateria! Tarjoilijatar ilmoittaa asiallisesti, että Poleko Lamb -annokseni valmistus ottaa hieman aikaa. Sopivasti. Kuminamaustetut perunat ovat omalle kitalaelleni hieman liian suolaisia, mutta pääasia eli lammas on loistavaa! Myös ystäväni Country Prawns on maittava satsi.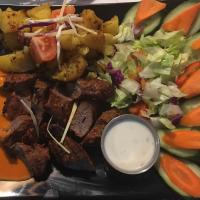 Erittäin hyvä nepalilainen paikka.

On tullut käytyä kymmenisen kertaa. Isoin ongelma on ollut siinä, että erikoisruokavalioita on huomioitu huonosti. Kaverillani on paha pähkinäallergia ja annoksissa on ollut pähkinää kolmena kertana neljästä - onneksi annoksen päälle ripoteltuna tai olisi henki poissa. Kannattaa siis olla tarkkana allergioiden kanssa.

Monet kasvisruuat on tosi samanlaisia, mutta uudistunut menu on korjannut sitäkin. Ehdottomasti kokeilemisen arvoinen!
Experience: À la carte
•
Price: 17€
•
Added: 23.06.2016
Experience: Lunch
•
Price: 10€
•
Added: 03.05.2016
Mount Sherpa on yksiselitteisesti arvioiden paras ravintola Kuopiossa. 17 euron hinnalla saa niin tajunnan räjäyttävän hyviä annoksia, että kyyneleet meinaa valua liikutuksesta! Olin onnesta soikeana jälleen kerran käydessäni nyt perjantaina ja lauantaina syömässä. Palvelu on erinomaista, työntekijät ystävällisiä ja ruoka käsittämättömän hyvää. En voi ymmärtää miten Kuopiolla on voinut käydä näin hyvä tuuri saadessaan tällaisen ravintolan valikoimaansa. 5/5, söisin tässä paikassa vaikka kalusteetkin. Lämmin kiitos työntekijöille kaikesta siitä onnellisuudesta, mitä olen ravintolasta saanut!
Experience: À la carte
•
Price: 15€
•
Added: 14.02.2016
Fantastisen hyvää ruokaa ja todella miellyttävä paikka. Annokset olivat suoraviivaisia ja täydellisesti valmistettuja. Söimme uusi listalta alkuruoaksi momo, pääruoaksi kokin erikois - Poleko Lamb, sekä jälkiruoaksi the sandwitch dream, jotka kaikki olivat loistavia. Tarjoilijat olivat todella ystävällisiä ja asiantuntevia. Suositeltu viini toimi hyvin. Tänne mennään uudestaan vielä monesti!

Uusi lista on entistäkin parempi. Ei tarvinnut pettyä tälläkään kertaa. Palvelu on aina loistavaa ja tunnelma viihtyisä. Kuopion paras ravintola.
Experience: À la carte
•
Price: 21€
•
Added: 04.01.2016
Ruoka oli todella maukasta, erityisesti Vegetable Korma oli taivaallisen hyvää. Ruoka tuli pöytään nopeasti. Erityismaininta viihtyisästä miljööstä.
Experience: Lunch
•
Price: 12€
•
Added: 04.12.2015
Tämä on ollut kantapaikkani, enkä ole koskaan saanut etäisestikään huonoa ruokaa ja Aivan mahtava ja ystävällinen palvelu aina!

Special Tandoor mix oli todella maittava, kookas annos ja liha mureaa. Palvelu oli nopeaa vaikka ravintola oli aivan täynnä.
Experience: À la carte
•
Price: 26€
•
Added: 02.12.2015
Hyvä ruoka. Erinomainen palvelu.
Experience: À la carte
•
Price: 17€
•
Added: 21.11.2015
---
Community
Images
Fans
These people have marked this restaurant as a favourite.
People interested in this restaurant
---
Location