Customer experience
---
Reviews (

44

)
Reviews older than 2 years
These reviews don't affect the average
Vähän pitkin hampain yleensä käyn S-etukortti ravintoloissa mutta nyt oli oikein miellyttävä kokemus. Hemmetin hyvä salaattipöytä sekä pääruokana grillattua broileria ja bearnaisekastiketta. Ruoka-annos ei ollut päätähuimaavan kokoinen, kuitenkin silti aivan riittävä koska salaattipöydän herkut olisivat jo melkein itsessään riittäneet. Broisku oli grillattu hiiligrillissä ja hemmetin hyvää. Jälkkäriksi kahvi sekä tyrnipannacotta suklaasta valmistetussa kipossa ja jouluhalko joka oli kans maukasta. Lounaspassi? Kyllä kiitos koska käyn toistekin.
Experience: Lunch
•
Price: 11€
•
Added: 22.12.2016
Keskiviikkona 20. 7.2016 olimme kesäturistit syömässä hiljaisessa ravintolassa. Sisäosat (kellari ) on todella upea. Samoin sijainti aivan keskellä kaupunkia. Siksipä hieman ruualtakin odotimme. Alkupaloina valkosipulietanat ja pääruokina grillatut broilerit kuorellisilla rannskalaisilla.
Valkosipulietanat olivat hyvät, mutta annokseen kuului vain yksi kapea siivu patonkia. Kun patonkia maistoi, ei enempää kaivannutkaan, sillä leipä oli vanhaa. Leikkuupinnat olivat kovat, ehkäpä sitä oli aikanaan ollut siivutettuna lounaspöydässä. Samana päivänä...tai edellisenä. Miten ei raaskita tarjota paria palaa tuoretta leipää, vaan kehdataan tuoda vanhaa? Salaattia ei paljon kanan kanssa ollut, ja kanakin oli paistettu, grilliä se ei ollut nähnyt. Ihan syötävää kuitenkin. Lisuke kuorelliset ranskalaiset olivat järkytys. Kahteen kertaan uppopaistetut eväät olivat ihan palanneita(kuva) ja tippuivat rasvaa. Kun mainitsin niistä, ystävällinen tarjoilija sanoi että niistä on keskusteltu ennenkin. Mutta ei siis tehty mitään? Pyysinkin kokin paikalle, kysyäkseni mitä mieltä hän on "ennenkin keskustelluista" ranskalaisista. Kokki ei pyynnöstä huolimatta tullut, vaan lähetti tarjoilijan. Rankalaiset pilasivat sen mikä broilerista oli hyvää jäljellä. Emme tule uudestaan. Jotenkin tulee mieleen, että S-ryhmä on ottanut kalliin paikan hoitaakseen, joten kate tehdään ruualla, vanhaa leipää tarjoamalla ja palaneita ranskalaisia (edullisia?) jne. Samaa mättöä saa ABC:ltä halvemmalla. Sääli, upea paikka hienolla sijainnilla keskellä Kaupunkia. Tällä menolla tulevaisuus voi olla kaljakuppila.
Experience: À la carte
•
Price: 28€
•
Added: 27.07.2016
Viihtyisä paikka. Iloinen ja hymyilevä tarjoilija. Ruoka hyvää ja maittavaa. :)
Experience: Lunch
•
Price: 10€
•
Added: 23.11.2015
Menimme to lounasaikaan kyseiseen ravintolaan. TIlasimme kanataskun. Leipä oli mikrossa lämmitetty ja kaupasta ostettu. Liha ei Kastiketta ei nähnytkään. Odotimme annoksiamme tunnin verran. Emme mene toisten.
Experience: À la carte
•
Added: 08.07.2015
Hyvää ruokaa ja hyvä palvelu.
Experience: À la carte
•
Price: 35€
•
Added: 25.06.2015
À la carte -listalta otettu pihvi oli maultaan loistava, päälle minttusuklaakakkua ja jäätelöä. Parhaita ravintolakokemuksia Kuopiossa.
Experience: À la carte
•
Price: 30€
•
Added: 22.02.2015
Lauantai-ilta, olimme varanneet pöydän etukäteen. Ruokailijoita paljon.
Palvelu oli ystävällistä, ainut pitempi odottelu oli pääruokaa varten, mutta tämä oli ymmärrettävää, sillä ravintola oli melkein täynnä. Kokeilimme uuden listan annoksia, alkuun tomaattia, pestoa ja kotijuustoa, kumppanin annos keisarin salaatti (salaattia, krutonkeja ja savumuikkuja). Hyviä molemmat.
Pääruokina otimme Rustikin leivän naudanrinnalla ja Rustikin pihvin. Varsinkin leivässä ollut pulled -tyyppinen liha oli loistavaa.
Jälkkäriksi suklaakakkua jäätelöllä yms. herkuilla.
Hintaa kahden hengen setille viinipullon ja juomien kera jäi reilut 100€
Experience: À la carte
•
Price: 40€
•
Added: 04.02.2015
Pihvi oli maukas ja hinta laatusuhteeltaan loistava.
Experience: À la carte
•
Price: 22€
•
Added: 10.01.2015
Selleripyre ja sapas hyviä. Myös pihvi toivottua kypsyysastetta. Yleensähän ei medium onnistu suomalaiselta "kokilta".

Lötköä sienipasteijaa ei kannata tilata. Kovin oli mikrossa lämmitetyn oloinen. Myös (muusi)perunakakku oli suuri pettymys. Voisivat käyttää perunaviipaleita tai tehdä oikeaoppiset duchesse perunat.
Experience: À la carte
•
Price: 45€
•
Added: 05.01.2015
Tilaamani kuha-annos oli maukas, erityisesti sienispeltti oli lisukkeena taivaallista. Lisukkeena olleet pyreet/majoneesit olivat turhia, annos maistui ilmankin. Kala oli hieman alisuolattu. Ruokalista oli vaihtunut aiemmin kuulemastani ja ehkä myös henkilökunnassa on tapahtunut vaihdoksia, koska yllätyin positiivisesti ruuan laadusta. Jälkkäreistä omenapannu oli miesten suosikki ja todella herkullista. Palvelu oli melko hidasta ja erityisesti jälkiruoissa kesti poikkeuksellisen kauan. Ravintolan tunnelma ja sisustus oli mukava. Pöydässä olleita kynttilöitä ei tosin kukaan vaivautunut sytyttämään. Mieleen jäi kivana yksityiskohtana naisten vessan varustelu, mm. hiuslakkaa ym. tarpeellista.
Experience: À la carte
•
Price: 22€
•
Added: 28.12.2014
---
Community
Images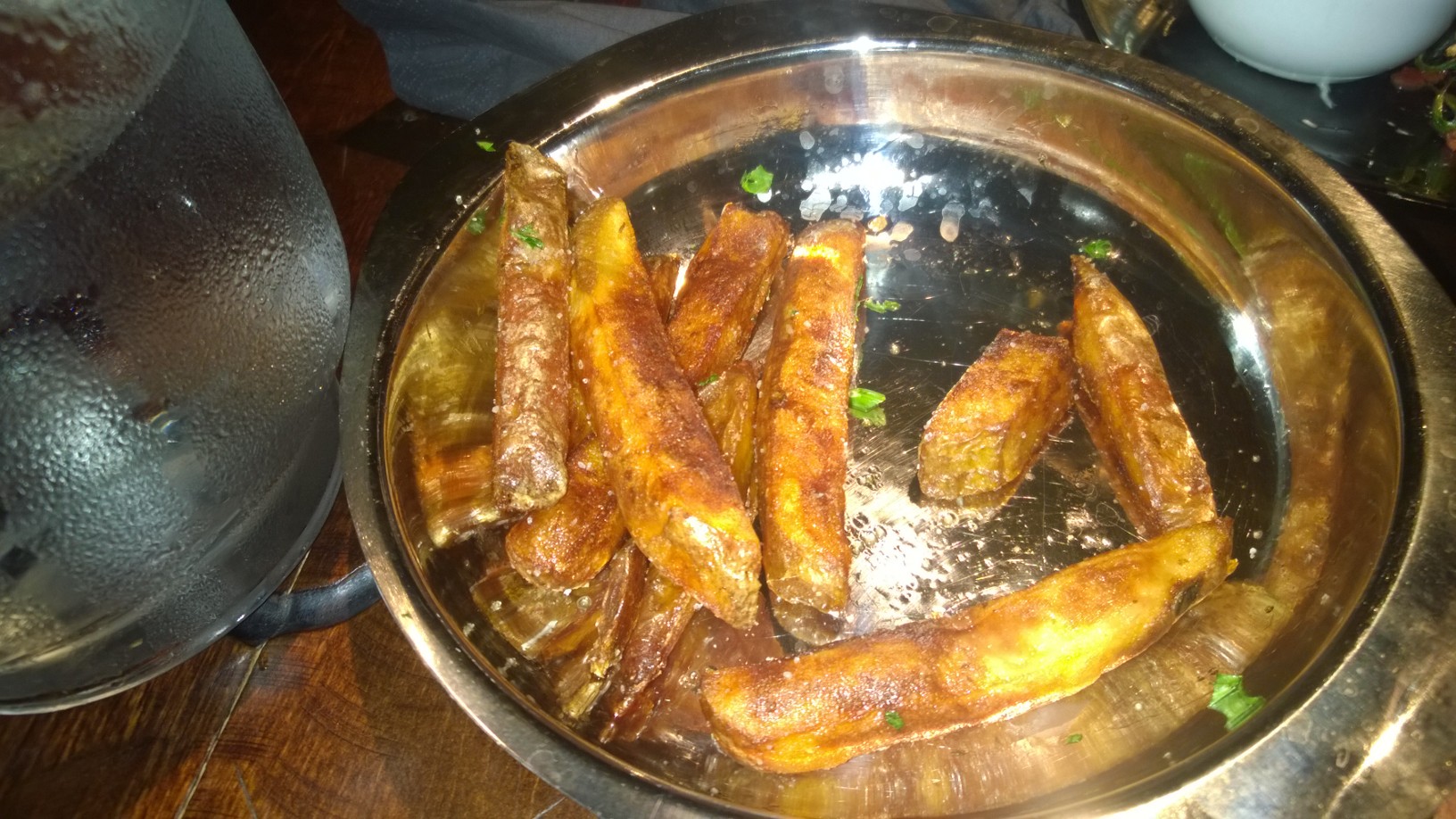 Fans (0)
These people have marked this restaurant as a favourite.
People interested in this restaurant (1)
---
Location
Options
---