Reviews (

18

)
+Ruoka tuli nopeasti.
+Isot annokset (ainakin ostamani rullakebab oli).
+Melko edullinen.

-Maku oli ihan hyvä, mutta ei erityisen herkullinen.

Experience: À la carte
•
Price: 8€
•
Added: 30.01.2016
Kiven kova pizzapohja, jonka päällä tuhti kerros suolaista mössöä. Kinkku esim. oli punaista makkaraa... syömättä jäi myös kanapizza. Henkilökunta tylyä, eikä meitäkään naurattanut -poistuessamme. Sali siisti ja viihtyisä tällaiseksi paikaksi.
Experience: À la carte
•
Added: 28.09.2015
Reviews older than 2 years
These reviews don't affect the average
Kebab ja kastikkeet oikein hyviä. Annokset ovat ainakin omaan makuun sopivan kokoisia, että annoksen saa juuri syötyä ja silti pääsee ulos ravintolasta.

Kuitenkin kannattaa syödä paikan päällä, sillä annokset kutistuvat ja kastikkeet katoavat syystä tai toisesta kotiinkuljetuksessa ja mukaan otettaessa.
Experience: À la carte
•
Added: 16.08.2015
Kebabissa noin teelusikallinen kastiketta, loput kebab ranskalaisista todella kuivia
Mukaan otettuna
Experience: À la carte
•
Price: 8€
•
Added: 02.08.2015
Laadukas HK-liha, suomalaista. Kantapaikkani nykyään. Annokset saapuvat todella nopeasti. (Rullakebabin hinta: 7,50€) Suosittelen!
Experience: À la carte
•
Price: 8€
•
Added: 09.02.2014
Yksi suosikki paikoistani ennen. Hyvänmakuiset kebabit aina olleet, mutta nyt olen lopettanut oikeastaan tässä kebabbilassa asioimisen koska kebabien koko on aivan järkyttävän pieni nykyään! (rullakebabit ok, mutta kebab ranskalaisilla, kebab salaatilla, iskender yms lasten annoksia..) varsinkin mukaan otettaessa. yksi annos ei kovaan nälkään riitä edes alkupaloiksi. Sain joskus niin pienen määrän lihaa take away annokseeni että melkein nauratti, seuraavat 2 kertaa ei enää naurattanut, vaan lihaa yksinkertaisesti on vähennetty todella rankalla kädellä annoksissa. Nykyän käyn mielummin brahenkadulta löytyvässä kebab ravintolassa :)
Experience: À la carte
•
Added: 18.01.2014
Turun paras kebab-paikka, pizzatkin ok. Siisti ja viihtyisä ravintola ja aina ystävällinen henkilökunta.
Experience: À la carte
•
Price: 9€
•
Added: 27.10.2013
Toistaiseksi näkemistäni kebab-paikoista siistein ja viihtyisin. Palvelu ystävällistä ja hyvää: viimeksi poikkesin kaverin kanssa kesken kiireisen päivän syömään rullakebabin puoliksi, mitä vähän nolostelin, mutta henkilökunta ei pannut pahakseen.

En ole kebabin suurkuluttaja, mutta minun makuuni rullakebab on oikein hyvä – kerrankin sopivasti salaattia. ;) Pitsat myös ok, itse tykkään pehmeästä, vähän leipämäisestä pohjasta.
Experience: À la carte
•
Added: 05.10.2013
Olen käynyt täällä pari kertaa vuodessa, mutta en varmaan jatkossa tule käymään. Viimeksi käydessäni tilasin kauheaan nälkään extra-lisukkeilla take-away rullakebabin, mistä maksoin 10,50€. Kotiinpäästyäni huomasin että olinkin saanut tavallisen rullakebabin.
Harmitti aika paljon!
Pizzaa olen käynyt joskus vuosi sitten syömässä siellä, muistaakseni oli aika huono. Kebabit ovat laadukkaampia, ainakin siis yleensä.

Tunnelma paikassa on hyvä, ei nuhjuinen tai epäsiisti niinkuin joissain kebumestoissa. Palvelu on aina ollut ystävällistä.



Experience: À la carte
•
Price: 10€
•
Added: 30.07.2013
10 vuotta sitten turun paras kebab-pitseria.

Nykyään hajuton, mauton ja väritön. Bulkkikamaa, joka maistuu etniseltä kebupitsalta, eli ei oikeasti maistu oikein millekään.
Experience: À la carte
•
Price: 9€
•
Added: 09.07.2013
---
Community
Images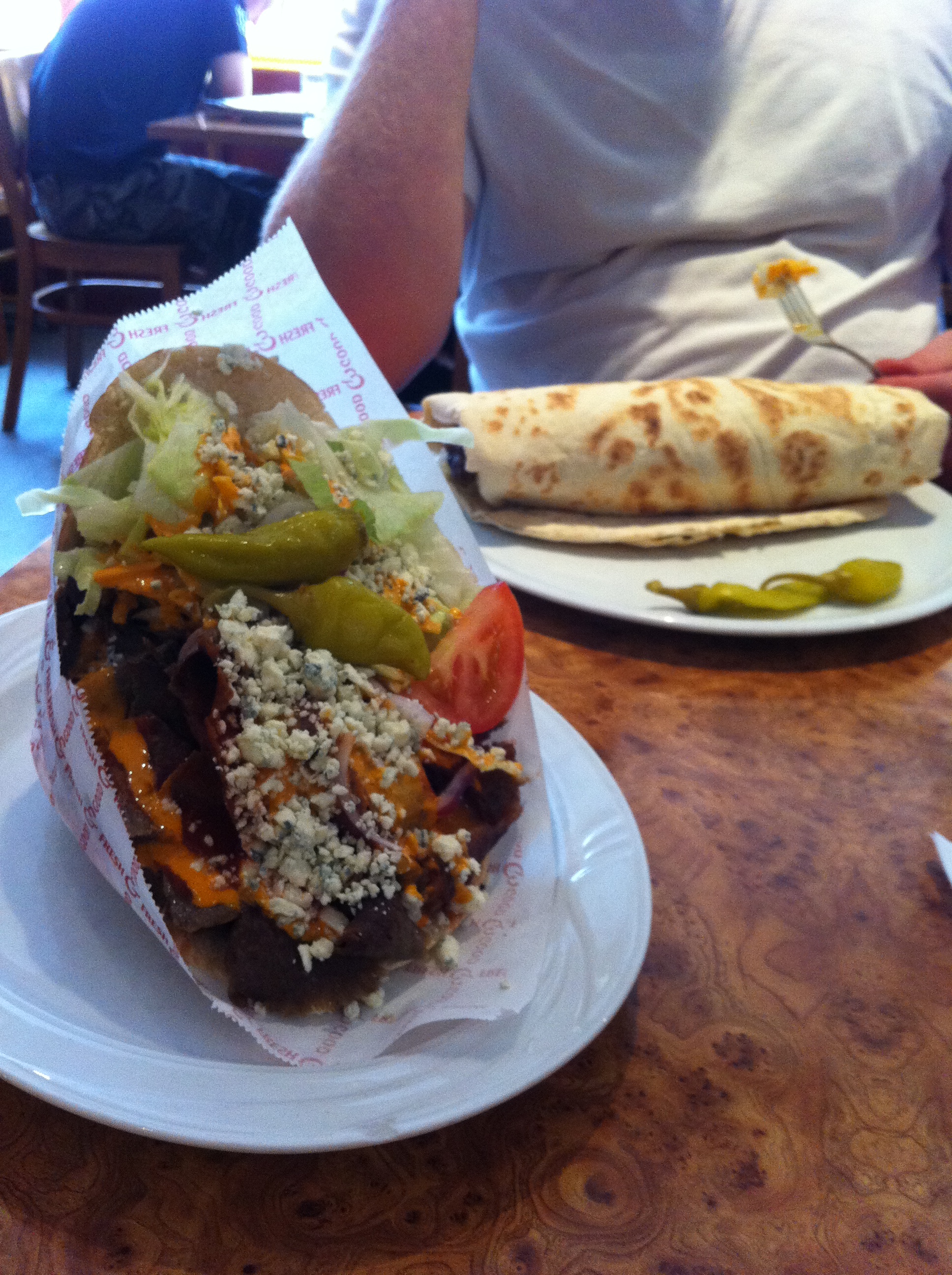 Fans
These people have marked this restaurant as a favourite.
People interested in this restaurant
---
Location
Eerikinkatu 5

,

20100

Turku

- Route

02-2433033