Reviews (

30

)
Surkein paikka, jossa olen Vaasassa syönyt. Hampurilaiset mauttomia, parempaa saa vaikka mäkkäristä. Ranskalaiset vanhassa rasvassa uitettuja, syömäkelvottomia. Palvelu ala-arvoista, kuten myönnettiin palautteeseen vastaaminen - ei mitään ymmärrystä siitä, että ihmisten palvelukokemukset ovat erilaisia eikä kaikille moska maistu. Omistaja erittäin ylimielinen palautteeseen vastatessaan, ei kestänyt tosiasioiden kuulemista. Karttaa tämä ravintola kaukaa! Surkeita kuraa ikinä!
Experience: Lunch
•
Price: 9€
•
Added: 17.08.2016
Reviews older than 2 years
These reviews don't affect the average
Hyvää palvelua ja saakelin hyvät burgerit
Experience: À la carte
•
Price: 16€
•
Added: 05.07.2015
Hampurilaiset ovat mielestäni aina olleet hyviä ja maistuvia. Kastike erinomaista.
Experience: À la carte
•
Price: 25€
•
Added: 09.05.2015
Itse tykkään Panchon hampurilaisaterioista todella paljon! Makua löytyy niin hampurilaisesta kuin ranskalaisista. Edullisin hampurilaisateria taisi olla 12€?

Miinusta pikkuisen siitä että ajan saatossa ranskalaisten määrä on vähentynyt.
Experience: À la carte
•
Price: 15€
•
Added: 09.03.2015
Oudoissa omissa vaatteissa kulkevaa henkilökuntaa? , palvelu hidasta, ruoka tuli nopeasti, oli mikrossa lämmitettyä, mautonta kasvishampurilaista ja perunamausteessa uineita lohkoperunoita. Eli eka ja vika kerta tätä paikkaa.
Experience: À la carte
•
Added: 07.12.2014
Pihvi oli sitkeää.
Experience: À la carte
•
Added: 22.10.2014
Olen käynyt parin vuoden aikana noin kolme kertaa ja jokaisella kerralla kokemus on jälkikäteen ollut korkeintaan välttävä. Ruoka on aika keskinkertaista. Pari kertaa palvelu on ollut ala-arvoista ja kerran ihan hyvää.
Experience: À la carte
•
Price: 18€
•
Added: 09.11.2013
Huono kokemus kaikin puolin, palvelu hidasta ja alkeellista, ja reagointi rehellisesti annettuun palautteeseen jälkiruoan mausta käsittämätöntä - asiakkaan negatiivinen makukokemus oli ilmeisesti tarjoilijan ja kokin mielestä sula mahdottomuus.
Experience: À la carte
•
Added: 01.07.2013
Mukava paikka ja mukavat tarjoilijat. Kahtena iltana kaytiin ja molemmilla kerroilla nopeaa ja sujuvaa palvelua. Parilaruoat todella hyvia! Suosittelen.
Experience: À la carte
•
Price: 24€
•
Added: 13.04.2013
Olemme käyneet täällä muutama kertaa, mutta tämän jälkeen ei enää! Jouduimme odottaa yli puoli tunti ja emme saaneet edes tilata ja sitten tarjoilija otti tiauksia muilta joka olivat saapuneet meidän jälkeen.
Experience: À la carte
•
Added: 23.03.2013
---
Community
Images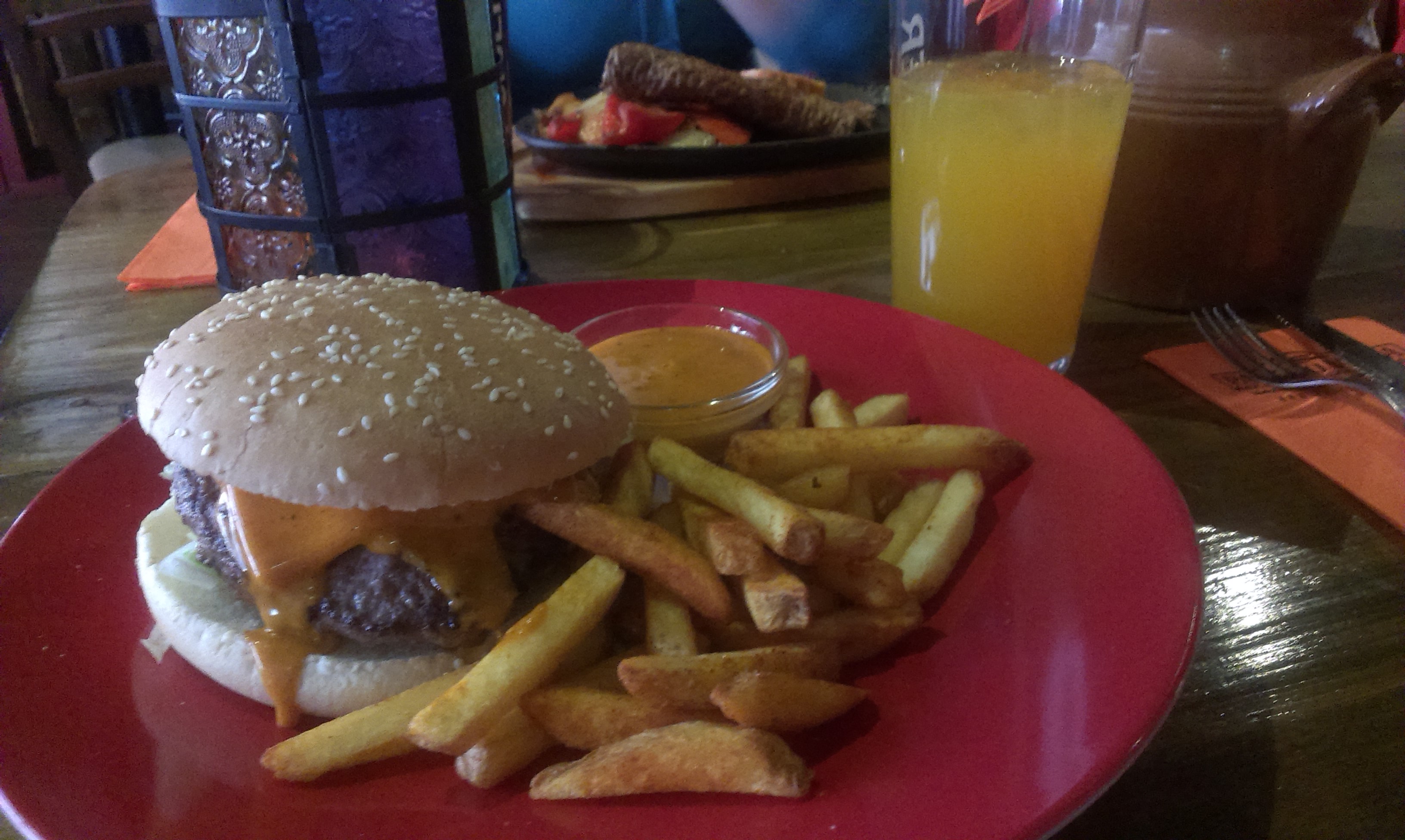 Fans (0)
These people have marked this restaurant as a favourite.
People interested in this restaurant (0)
---
Location
Options
---