Kunderfarenhet
---
Recensioner (

4

)
Kolmen täytteen ns. Fantasia-pizzan hinta ja laatu kohtaavat. Pizzan tilaaminen ilman juustoa ei tuottanut ongelmaa. Täytteistä ananas ja kana vaikuttivat tuoreilta. :) Pizzan pohjassa hieman sitkosta, eikä "räjähdä" purtaessa kuten monien muiden Turkulaispizzerioiden pizzat. Ystävällinen henkilökunta.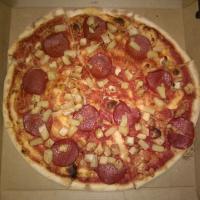 Upplevelse: À la carte
•
Priset: 7€
•
Tillagt: 31.01.2017
Americano pitsa oli ohut-pohjainen ja runsas- täytteinen ja "mehukas" ja valkosipulia sopivasti. Hinta 6.5 €. Hyvä !
Upplevelse: À la carte
•
Priset: 7€
•
Tillagt: 23.12.2015
Över 2 år gamla recensioner
Dessa recensionen har ingen påverka till genomsnitt betyg
Aitoa Shish-kebababbia Turusta. Zagroksen parasta antia ovat aidot shish-kebab vartaat ja grillissä valmistetut hampurilaiset

Paikan henkilökunta on hyvin ystävällinen ja palvelualtis. Ruoka on herkullista ja annokset ovat sopivan kokoiset.Suosittelen paikkaa vaikka matkaa olisi enemmänkin.
Upplevelse: À la carte
•
Priset: 10€
•
Tillagt: 07.09.2015
Definitely worth a visit! Fresh ingredients with tasty seasoning. Stands out as better than average place to enjoy good food. Very friendly staff and affordable prices.
Upplevelse: À la carte
•
Priset: 7€
•
Tillagt: 24.08.2015
---
Läge
Fasaaninkatu 3

,

20610

Åbo

- Route

0400263696