Recensioner (

2

)
Over priced and unexciting brunch offering salads + a choice of "main" courses (pancakes, waffles or egg Benedict). One small cup of coffee included in the price. Additional cups cost an extra 50 cents.

Otherwise, a lovely place with pleasant and smiling staff. Just wish they´d get their brunch offer "in shape"
Upplevelse: Frukost / Brunch
•
Priset: 20€
•
Tillagt: 20.08.2017
Superb service, such good sandwiches (good bread, abundance of fillings, yet they don't burst out everywhere when you bite into the sandwich, so tasty) and cheesecake goodness. Coffee was excellent and French press served two coffee hungry locals well. For sandwiches and desserts the price is slightly higher than one would hope, but then again, they are made by Melt, fresh and good. For French press/coffee the price is moderate to cheap, for 7€ you get a whole pot that is enough for 2-3 cups for two person each. The atmosphere was relaxed and friendly. You got the feeling of "holiday breakfast abroad" while enjoying your time at Melt, which is a rare luxury feeling.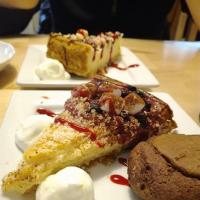 Upplevelse: À la carte
•
Priset: 20€
•
Tillagt: 11.05.2017
---
Läge