ibane
22 Bewertungen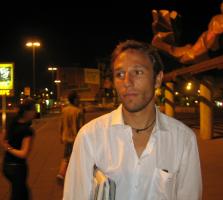 good food and nice atmosphere. Food has a priority over fine cutlery or lighting, though it has an impact.
Abzeichen
Bewertungen (

21

)
Bewertungen älter als 2 Jahre
Diese Bewertungen haben keinen Einfluss auf den Durchschnitt
I wonder what keeps these Cafes Picnics alive and running. Nothing there is good. Coffee is bad, sandwiches are awfully tasteless and disgraceful. Service is sad and depressing. Disappearing and replace them by real cafes would make a favor to the city.
Erfahrung: À la carte
•
Preis: 15€
•
Hinzugefügt: 16.05.2010
---
Probably the best of this restaurant is the location and their interior design, original and clean lines. The big windows provide a very cozy atmosphere. But if the first words of a review about a restaurant is the interior design is not a good sign. I have a full menu, and nothing great to mention, everything was correct. Nothing to jump or to remember. Everything was cooked correctly and flavors are the expected ones. Well executed but no imagination. Service is in the same line, not recommendations, no excitement, nothing extraordinary. It was nice evening but I won't remember in 2 days. And definitely overpriced, which it is a constant in Helsinki.
Erfahrung: À la carte
•
Preis: 55€
•
Hinzugefügt: 12.05.2010
---
Only if you are into masochism and want to hurt yourself would go to this restaurant. Avoid it. Do not go. Skip it. It is really bad.
Erfahrung: À la carte
•
Hinzugefügt: 12.05.2010
---
Visited this trattoria again, well, it is a way to put it. Another way would be, a lack-of-spirit and we are just here to serve some Italian food kind of place. I had a pizza where I asked the removal of an ingredient, and they brought it with that ingredient. Not the worst pizza not the best either. Tasteless experience. You can live without visiting this place and you will be just fine. You won't miss it. Only if you have some other plan around the area and you want something to eat and not to waste time thinking about where to go, then it is ok. Otherwise skip it.
Erfahrung: À la carte
•
Preis: 25€
•
Hinzugefügt: 16.05.2010
---
One restaurant that has brought to Helsinki dinning scene some fresh air and continental European influence. Starting for the good things, the food is incredible, all the recipes tried were executed in a very balanced way, you felt the modernity but also good background base of fresh products. My main course was superb, I loved that I could taste all the flavors that I am supposed to and the combination of them being great. We were advised wisely about the wines though the wine list felt short for a place like this. Desert was the perfect ending with a very refreshing and smooth ice cream. Now if I need to say the bad things then we talk about the service. In a place like that I expect the service at the same level of food, having people with the attitude 'I just work here' makes to feel a bit downgrade. That something to be learned by almost all Helsinki restaurants,smile, being warm with the customers, and show extra attention makes a difference. The guy who served us had the same passion and dedication that the guy serving me the horrible juhla mokka in the r-kioski in Malminkartano train station. Also the place felt noisy despite of being not full, I could take that as a positive thing almost. Positive overall. As always overpriced, another constant in Helsinki.
Erfahrung: À la carte
•
Preis: 70€
•
Hinzugefügt: 31.07.2010
---
One of the best dinning experiences in Helsinki. A must for those who are visiting the city and want to get a feeling of the new Finnish cuisine. We had a series of sapas, the Finnish version of tapas, all of them had the right time of cooking and the flavors were playing very good together. From 4 sapas, 3 were excellent and one was a bit tasteless and playing down the whole set. Jumping into the main courses, the arctic char was superbly cooked and the guarnicion was rich and compensating the light flavor of the fish. As desert we had a table of Finnish cheeses, most of all them had a surprisingly balance taste, I say surprisingly because generally eating Finnish cheeses is a punishment for cheese lovers, not this time.
If I should say something that it did not go well with the food, was the placement of our table, in the middle of the corridor with the stream of cold air. In addition there was not service to hang the coats. Little details that makes this restaurant not to get the perfection.
Erfahrung: À la carte
•
Preis: 60€
•
Hinzugefügt: 26.12.2010
---
Very friendly staff and waiters. Probably that's the best of this restaurant, the food was well executed but nothing to remember. I had the snails as starter which they were swimming in the sauce which was well-balanced. As main course I went for the lamb chops, that did not grab all my attention, something was missing though it was difficult to point out. Prices were excessive in my opinion, for same money I can think of several places in Helsinki with better experience.
Erfahrung: À la carte
•
Preis: 50€
•
Hinzugefügt: 03.04.2011
---
It is a place that if you are really hungry better skip it or have a solid bank account. Minimal amounts. But a good attempt to recreate the tapas culture. Price accordingly to Helsinki but with that prices and amounts tapas would have extinguished some time ago.
Erfahrung: À la carte
•
Preis: 25€
•
Hinzugefügt: 07.09.2009
---
I know that this is iconic place for their pullas in testosterone, but really, the experience of the place is bad. Long queues to get some just fine sandwich, or some salad with nothing special does not justify the place in my honest opinion. The location would invite to do something better, or maybe that's the problem the location is so good that anything goes. Not enjoyable experience and rather to buy a take away coffee and pulla somewhere and sit in Esplanadi park that wait for that permanent queue. Pullas are just average despite of their fame.
Erfahrung: À la carte
•
Preis: 20€
•
Hinzugefügt: 16.05.2010
---
good try and almost there. Nice coffee and tasteless pastries.Service nothing to mention.The whole atmosphere feels like something is missing.One or two step behind Gran Delicatto and kaffecentralen.
Erfahrung: À la carte
•
Hinzugefügt: 13.03.2010
---
---
Bilder
---
Followers
Lists
Bookmarks
---
Favorites