Reviews (

21

)
Reviews older than 2 years
These reviews don't affect the average
Edellisistä vuosista taso laskenut huimasti. Tilasimme pizzat,joita odotimme reilusti yli tunnin. Pizzat olivat mauttomia ja valmispohjaan tehtyjä. Hinta-laatusuhde ei todellakaan kohtaa toisiaan.
Experience: À la carte
•
Added: 13.09.2015
Kävimme hetken mielijohteesta ravintolassa, jota oli kovasti kehuttu lehdissä. Odottelimme tiskillä pitkän tovin,eikä meitä tultu monen ihmisen hääriessä lähellä edes moikkaamaan. Lopulta vain ilmeettömästi jäätiin odottamaan tilauksiamme.

Otin uuniperunan lohitäytteellä.
Ruokia sai odotella melko pitkän aikaa, vaikka asiakkaita ei ollut kuin 10 (?). Valitettavasti annos ei vastannut odotuksiani. Maku oli pettymys, ja vain vaivoin sain syötyä osan ateriasta, kaikkea en pystynyt.

Istuimme ulkoteltassa, jonka kulmilla oli myös tupakkapaikka. Kaikki tupakankäryt tulivat teltan ylärajassa olevasta välistä sisälle...
Experience: À la carte
•
Added: 20.08.2015
Söin hevosen sisäfilettä salaattipedillä, annoksessa oli muutama mätä mansikka sekä kuivahtanutta briejuustoa. Todella ala-arvoista enkä tule uudestaan. En suosittele.
Experience: À la carte
•
Price: 20€
•
Added: 03.08.2015
erittäin hidas palvelu. rahat kelpaa mutta palvelu heikkoa.
Experience: À la carte
•
Price: 32€
•
Added: 28.06.2015
Poikkesimme rauhallisena iltapäivänä ruokailemaan. Asiakkaita meidän lisäksi koko ravintolassa oli vajaat kymmenen henkilöä. Alkuruoka tuli nopeasti, mutta pääruokaa jouduimme odottamaan liki tunnin. Pasta carbonara oli ala-arvoinen, vetinen ja viileä. Ruokalistalla mainittua pekonia sai todella etsiä.Paljon on vielä opittavaa.
Experience: À la carte
•
Price: 25€
•
Added: 08.06.2015
Kävin muutama viikko sitten syömässä tuolla Vääksyssä ja päätin ottaa parsakeittoa, jota mainostettiin tiskillä. En ole ikinä maistanut parsasta tehtyä keittoa ja epäilykset olivat korkealla. Keitto oli kuitenkin todella hyvänmakuinen, sekä reilun kokoinen. Päällä oli pekonia ja jonkinlaisia leivänpalasia? Todella maukasta, ja kyllä oli maha täynnä. Tummatukkainen tarjoilija oli ystävällinen sekä paikka viihtyisä. Tulen varmasti uudestaan, erittäin iso kiitos.
Experience: À la carte
•
Price: 15€
•
Added: 05.05.2015
Rento paikka. Omistaja on kunkku,omantyylisensä.Ei kannata vaivautua tänne,jos annos pitää saada pöytään sekunnissa taikka pipo kiristää muuten. Hyvän lehtipihvin saa ja samalla voi shoppailla ihanaa roinaa putiikista taikka juoda oluen.Ei hifistelijöille vaan perusmakujen ystäville.
Experience: À la carte
•
Price: 20€
•
Added: 18.04.2015
it's unbelievable what you get away with in this country! Substandard food, our pizza had as a 'base' a some kind of dry frozen base, sweet, straight of a tin 'tomatosauce' and discusting frozen cheese to top it up. Never need to go again and I advice strongly others to do the same. A what waste, the place and the location could have had all the makings of a lovely day out.
Experience: À la carte
•
Price: 15€
•
Added: 14.09.2014
Ihana paikka, ystävällinen palvelu ja yhdet elämäni parhaimmat paistetut muikut!
Experience: À la carte
•
Price: 18€
•
Added: 06.08.2014
Kokemus ravintolasta oli surkea, en suosittele kenellekään.

Lauantai 26.7.2014: Tarjoilijan mukaan jonotusaika oli kahdesti kysyttäessä tunnin, joten meille suositeltiin kävelyä. Lähdimme kävelylle ja palasimme 45 min kuluttua. Saimme ensin tarjoilijalta negatiivista palautetta, sillä meitä oli kuulemma etsitty. Ruoat tuotiin pöytään, ja toinen niistä oli haalea ja toinen kylmä. Antaessamme tästä palautetta, siis myös ruokien eri valmistusajankohdasta, saapui omistaja huutamaan meille. Oli kuulemma meidän vikamme, kun emme ymmärtäneet jättää puhelinnumeroamme. Omistajan mukaan (ammattikokkien?) on niin vaikeaa arvioida oikeaa vamistumisajankohtaa, että he sanovat ajaksi tunnin, "koska muuten asiakkaat inisevät". Keskustelumme jatkui omistajan huudon ja syyttelyn maustamana, joten lopulta pyysin rahoja takaisin.

Täällä asiakas ei ole oikeassa.
Experience: À la carte
•
Price: 14€
•
Added: 26.07.2014
---
Community
Images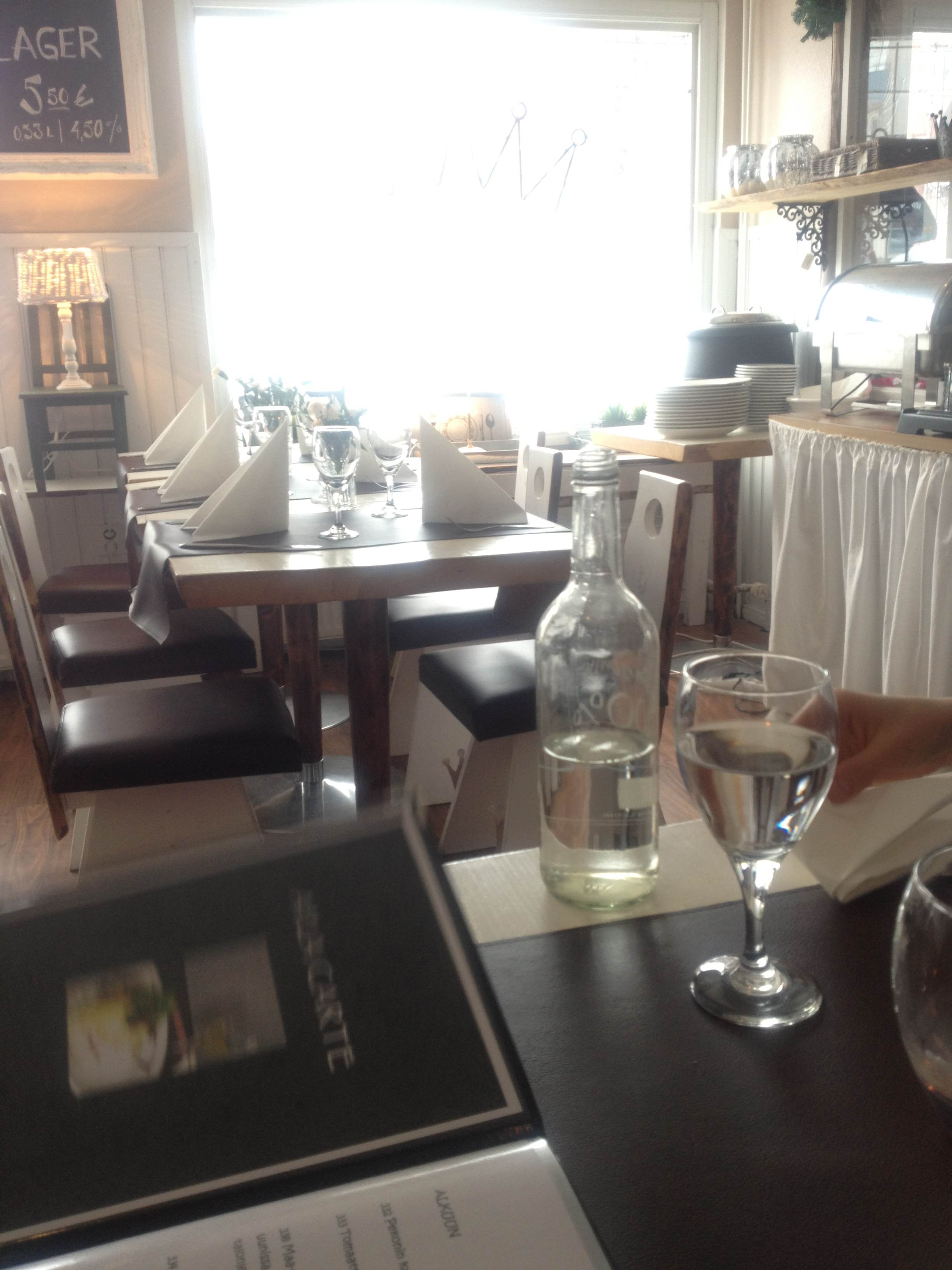 People interested in this restaurant (0)
---
Location
Options
---