Customer experience
Child friendly
Vegetarian
---
Reviews (

45

)
Pad-krapow kanalla.

Ei vakuuttanut, tai sitten odotukset olivat liian korkeat. Tulisuus ja basillika loistivat poissaolollaan. Niljakkaita kananpalasia sekä paljon sipulia, toi mieleen enemmänkin kiinalaiset ruokalajit.

Riisi sentään oli OK, kuten myös palvelu siihen saakka kun piti laskua odotella lähes tyhjässä ravintelissa.
Experience: À la carte
•
Price: 14€
•
Added: 11.06.2018
Reviews older than 2 years
These reviews don't affect the average
Tilasimme Woltin kautta kotiinkuljetuksen. Annokset tulivat suht nopeasti ja olivat vielä lämpöisiä mutta itse ruoka oli pettymys. Keskivertoa. Jäi sellainen olo kuin ainekset olisi otettu säilyketölkistä. Tämä voisi olla vielä muuten ihan ok näin arki-iltana mutta tähän hintaan olisimme kyllä odottaneet paljon parempaa laatua.
Experience: À la carte
•
Price: 25€
•
Added: 19.04.2016
Hyvä thaimaalainen ravintola, jonka ruokalistasta löytyy pohjoisthaimaalaisia ruokia, joita ei muualta meinaa löytää! Chiang mai makkara erittäin herkullinen ja khao soi sekä massaman curry olivat oikein hyviä. Annokset sopivan kokoisia, mutta ehkä aavistuksen ylihintaisia. Menemme ehdottomasti uudestaan!
Experience: À la carte
•
Price: 19€
•
Added: 03.04.2016
Kerrassaan mainio thaimaalainen ravintola, ehkä paras jossa olen Helsingissä syönyt. Söin annoksen "Beef with chili", josta pyysin kasvisversion jossa liha korvataan tofulla. Annos oli maukas ja raaka-aineet vaikuttivat suurimmaksi osaksi tuoreilta ja laadukkailta.

Antaisin varmaan täydet pisteet useaan kohtaan lukuunottamatta seuraavia pikku miinuksia: Herkkusienet kastikkeessa olivat säilykekamaa ja en saanut kokonaishintaan alennusta joka ruokalistan mukaan piti saada mikäli tilaa annoksen kasvisversiona.
Experience: À la carte
•
Price: 16€
•
Added: 01.04.2016
Parasta syömääni thaikkuruokaa! Näin kasvissyöjän mielestä oli mukavaa, että suuren osan ruuista saa halutessaan myös kasvisversiona. Tilasin annoksen 22. kasvisversiona ja voin todella suositella sitä muillekin! Erityisesti täytyy kehua tofua joka oli suussasulavaa. Tänne menen varmasti uudestaan!
Experience: À la carte
•
Price: 13€
•
Added: 01.04.2016
Perus thaikkula, maut kohdallaan mutta ei mitään huikeaa. Alkukeitto ja salaatti melko heikkoja yrityksiä..
Experience: Lunch
•
Price: 10€
•
Added: 10.02.2016
Erinomainen ruoka, aina tuoreesti valmistettu. Pyytämällä saa erikseen joko tulisempaa tai miedompaa oman maun mukaan. Hinta-/laatusuhde on erittäin hyvä. Palvelu on ystävällistä.
Experience: À la carte
•
Price: 15€
•
Added: 28.11.2015
Hyviä, autenttisia thaimaalaisia makuja. Chiliä kannattaa lisätä ruokiin, tällöin maut pomppaavat esiin. Mausteet laitettu arkoja suomalaisia varten. Paras Hgistä löytämäni thaimaalainen ruoka.
Experience: À la carte
•
Price: 35€
•
Added: 22.06.2014
Tilasin suosituslistalta Chiangmai-nuudelia kookosmaidossa ja kanaa Pohjois-Thaimaalaiseen tapaan, ruoka tarjoiltiin paletilta josta sai lisätä haluamiaan lisukkeita ruokaan, ihan hauska idea. Itse ruoka oli tosi hyvää, annos ei ehkä täytä isoa miestä mutta mulle se riitti. Hinta ei paha, viihtyisä paikka, tarjoilu pelas ihan hyvin eikä ruokaa tarvinnut odottaa liian kauaa. Ei kuitenkaan ansaitse täysiä pisteitä, koska maistoin tyttöystävän ruokaa (en nyt muista mikä), ja se oli aika pliisun makunen. Ilmeisesti siis kaikki listan annokset ei ole yhtä hyviä.
Experience: À la carte
•
Price: 16€
•
Added: 03.04.2014
Autenttisen makuista ruokaa, hyvät raaka-aineet, ja sopivan kokoiset annokset. Viihtyisä miljöö ja ystävällistä palvelua. Thaimaalaista olutta myös listalla, mikä on plussaa! Suosittelen!
Experience: À la carte
•
Price: 15€
•
Added: 27.11.2013
---
Community
Images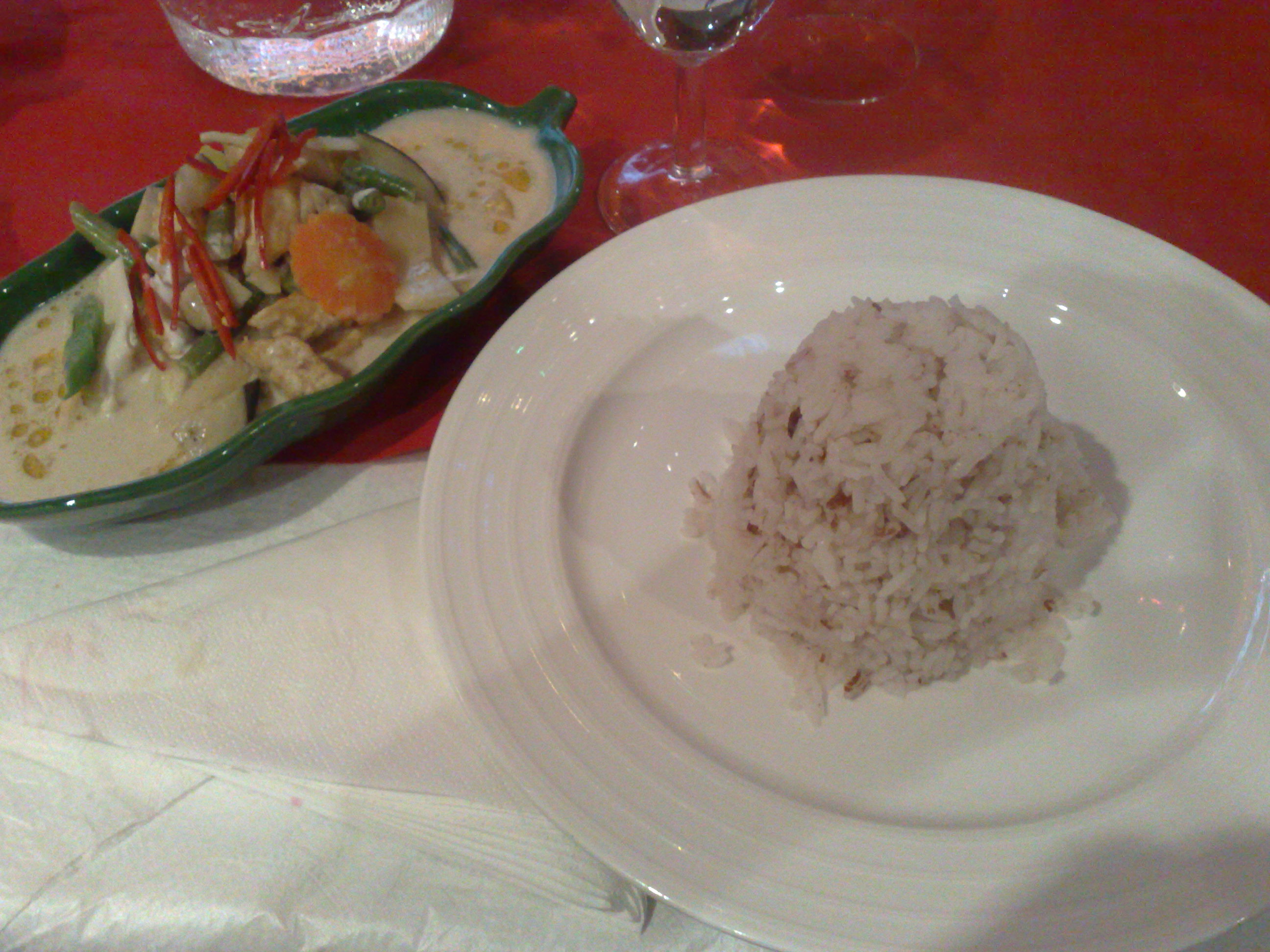 Fans (8)
These people have marked this restaurant as a favourite.
People interested in this restaurant (24)
---
Location
Options
---