Customer experience
Child friendly
Vegetarian
---
Reviews (

11

)
Reviews older than 2 years
These reviews don't affect the average
Ei ei ja ei. Ei voi antaa viittä tähteä vaan sen takia että kahvila on ihanalla paikalla! Suomalaiset, älkää tyytykö niin vähään ja kalliiseen aina!
Kalasatama on kiva ja meri on ihana, mutta:

Elokuun kauniissa illassa perheen kanssa Ihanassa;

Bajamaja haisi koko kahvilaan. Myös syöttötuolit oli haisevassa bajamajakontissa.

Työntekijä nuori nainen oli epäsiisti ja mikä aina pahinta, tympeä ja hymytön.

Kahvila on kallis. Myy ymmärrettävästi kaiken pahvimukeissa. Santsi maksaa 1 euron, yhtään aurinkovarjoa tai muuta varjoa ei ole.

Ja se mikä eniten masensi; oletteko itse tehnyt mustikkapiirakan?
- ei
- no öö, Kukakohan
- tukusta tulee..
( no hitto, kai nyt vaikka tietää onko Fazer vai ym..)

Ja edelleen sama tympeä ilme: Tässä on meidän keittiötilat.. Niin.

Huh. Masentava fiilis jäi, taisi olla masentunut tyttökin. Miten yrittäjillä on varaa tällaiseen?
Experience: À la carte
•
Added: 19.09.2015
Hieno paikka!
Experience: À la carte
•
Added: 25.08.2015
Nimensä mukaisesti ihana. Rauhallinen keidas keskellä Helsinkiä, tosin pienen koukkauksen päässä. Harmi jo etukäteen että jää rakentamisen jalkoihin. Tätä Helsinki (ja varsinkin muu Suomi) kaipaisi lisää!
Experience: À la carte
•
Added: 22.07.2014
Hipsterivihaajat ja nirppanokat voitte mennä sinne Töölöön vihaamaan, että jää tilaa nauttiville asiakkaille. Paikka on kauniina kesäpäivänä fiilikseltään parhaasta päästä missä olen käynyt. Olen juonut monesti kahvia, jonka santsikupit ovat ilmaisia. En ole vielä purtavaan koskenut, mutta kahvi on ainakin erinomaista, eikä mitään juhlamokkaa. Palvelu on myös aivan mahtavaa ja saa fiiliksen nousemaan.
Experience: Breakfast / brunch
•
Price: 3€
•
Added: 07.07.2013
Paikassa saa kahvia pahvimukista ja voi istua asvaltilla entisen sataman konttialueella. Lisäksi hipsterien yliannostus.
Experience: À la carte
•
Price: 5€
•
Added: 01.08.2011
A fantastic coffeehouse to bike over to on a sunny day! A coffeehouse converted from a series of shipping containers, Ihana Kahvila is a secret pocket of a coffeeshop where you can relax on a recycled cushion (or a hammock if you are so lucky) and take in the sights of Helsinki from an ironic distance. I especially appreciated the parasols for use in the blazing sun, and my companions loved the selection of chips and candy on offer! They make an effort to curate some choice snacks - but if you're expecting excellent food served here, do bear in mind that they ARE serving it from a recycled shipping container!
Experience: À la carte
•
Price: 8€
•
Added: 31.07.2011
Todella loistava rantakahvila, josta voi ihailla Helsingin keskustaan avautuvaa rakennusten siluettia uudesta näkökulmasta ! Kuuman kesäpäivän vierailukohde : leppoisa tunnelma, aikuisten, lasten ja jopa koirien viihtymistä huomioitu. Armoton auringonpaiste suojattomalla ´pihalla´ tosin väsyttää, ehkäpä vilvoittava suihkulähde voisi tuoda piristystä solinallaan tai varjoa voisi etsiä vaikkapa kaivonrenkaisiin istutettujen ´palmupuiden´alta ? Lokit eivät vielä ilmeisesti ole boganneet uutta paikkaa ? Verkkoko kuten kauppatorin ylle on viritetty ? Kävelymatka metroasemalta on kohtuullinen ja selkeä opasteiden ansiosta, mutta mikäli opasteissa olisi esim. valokuvia paikasta, niin asiakkaiden kiinnostus lähteä paikanpäälle katsomaan voisi kasvaa, kun näkee mikä perillä odottaa! Lähdin liikkeelle Kotkasta.
Experience: Breakfast / brunch
•
Added: 21.07.2011
Ihana kesäkahvila! Huikeat näkymät!!! Riippukeinussa ja rennossa ilmapiirissä vierähtää helposti puolipäivää.
Lähistöllä on myös telttasauna, mikä on vapaassa käytössä kunhan tuo omat puut.

Experience: À la carte
•
Added: 17.07.2011
Huikea ja hauska paikka! Näkymiltään aivan ainutlaatuinen: harva paljasjalkainen helsinkiläinenkään on aiemmin katsonut Helsinkiä tästä paikasta. Kahvilan ilmapiiri oli tuore ja irtonaisen hauska. Tavanomaisilla mittareilla arvosteltuna kahvila ei saisi huippupisteitä, mutta tämän kahvilan avut ovatkin ensisijassa siinä, että se tarjoaa asiakkailleen uuden ja tavanomaisesta poikkeavan kokemuksen. Kahvi oli silti aika hyvää.
Experience: À la carte
•
Price: 3€
•
Added: 16.07.2011
Aivan ihanaa tuplasuklaamudcakea! Palvelu oli vaisua, mutta lapun mukaan pääbarista oli sairaana, joten kyseessä oli tuuraaja.
Experience: À la carte
•
Price: 5€
•
Added: 03.07.2011
---
Community
Images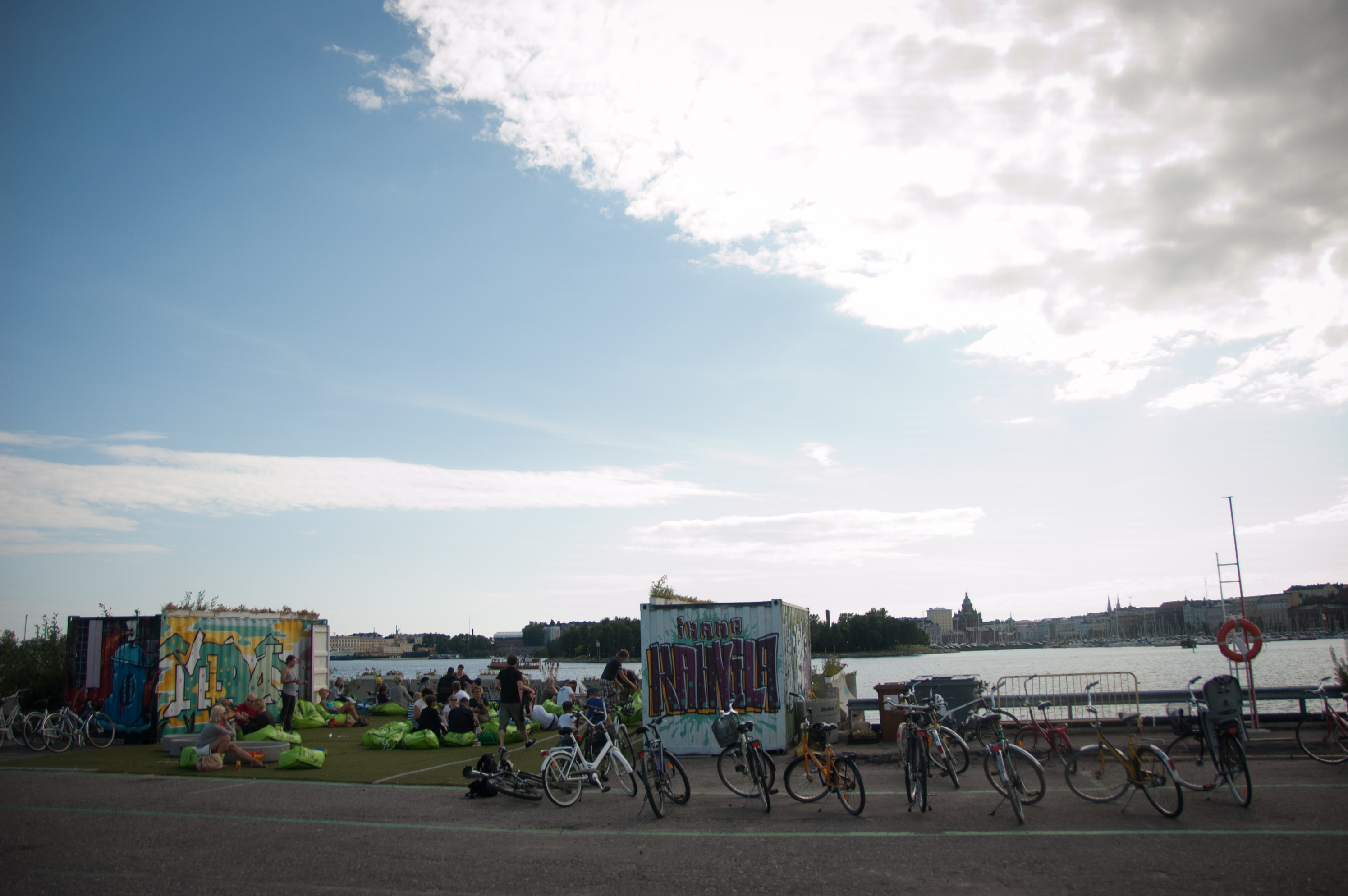 Fans (7)
These people have marked this restaurant as a favourite.
People interested in this restaurant (17)
---
Location
Options
---