In Restaurant Andrea Nordic and Anatolian kitchens meet. Sharing plates, finger food, low & slow meats, hearty vegetables dishes, freshly baked flat breads with toppings. Anatolian flavours meet Nordic. Sumac, horse radish, tahini, bleak roe, aubergines, blueberries, pomegranate, smoked salmon and lahmacun; eclectic flavour combinations brought to Helsinki by world acclaimed Finnish-Turkish chef Mehmet Gürs. Fun dining rather than fine dining!
---
Customer experience
---
Reviews (

1

)
Andrea nosti hotelliravintolakonseptin tasokkaalle jalustalle ja tarjosi tasaisesti hyvän kokemuksen. Kävimme ravintolassa pari kuukautta sitten edellisen menun aikana, tässä välissä se on jo ehtinyt uudistua. Ravintolan sisustus on lämmin ja miellyttävä, valaistusta voisi kutsua tunnelmavalaistukseksi, mutta se ei ole lainkaan ärsyttävän pimeä. Pitkä baaritiski ravintolan toisella seinustalla on kaunis, mutta sen vierestä on näkymä keittiöön tiskinurkkaukseen, mitä ei tietenkään ole mielekästä tuijotella.

Tilaamme muutaman alkupalan (mezzen) sekä yhden kasvispääruoan ja yhden lihapääruoan. Kasvisruokia on mezzejen muodossa enemmänkin, mutta pääruoaksi vaihtoehtoja on vain yksi. Tämä on ymmärrettävää, sillä pääruokia on muutenkin vain yksi "lajiaan". Lista on mielenkiintoinen ja monipuolinen ja siitä löytyy tuttuja makuja hieman jännittävämmässä muodossa.

Mezzet osoittautuvat erinomaisiksi ruokahalun herättäjäksi ja niistä pystyy jakamaan kolmelle henkilölle pienet maistiaiset oikein oivasti. Maistamme myös vegepiden, välimerityyppisen pizzan, joka on todella maukas ja myös hyvin kaunis annoksena. Pääruoaksi valitsin kokonaisen munakoison, josta oli hauskasti poistettu kuori (toisaalta kuori on kyllä munakoison kaunein osa) ja täytetty. Tämäkin annos oli todella kauniisti aseteltu ja makukin oli kohdallaan. Ei välttämättä maailman eksoottisin munakoisoannos, mutta oikein hyvää. Jälkiruoka jatkoi esteettistä linjaa, kermavanukas tahinilastuilla oli ihana kombinaatio suolaista ja makeaa, eikä missään suhteessa liian överi. Kaikissa annoksissa kauniit tarjoiluastiat korostivat ruokaa loistavalla tavalla, mikä oli ilahduttavaa.

Palvelu toimi koko vierailumme ajan, ruokalista selitettiin hyvin ja tarjoilija osasi kertoa myös viineistä. Hyvällä paikalla sijaitsevaan Andreaan voi ehdottomasti mennä vierailemaan, vaikka ei hotellissa yöpyisikään.
Experience: À la carte
•
Added: 24.01.2019
---
Community
Images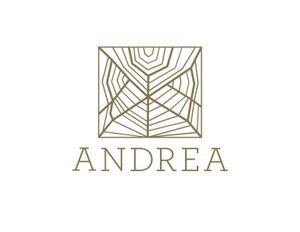 Fans (1)
These people have marked this restaurant as a favourite.
People interested in this restaurant (0)
---
Location
Options
---