Reviews (

65

)
Ihan hirveä luokaton palvelu ja ympäröivä asiakaskunta syrjäytyneitä avohoitopotilaita. Kuset ja paska housuissa istuvat pöydissä. Ei missään nimessä voisi tarjoilla asiakkaille enempää kaljaa. En suosittele kenellekään. Ruoka on vetistä todennäköisesti viimeviikkoista jäämistöä. Ylihintainen. Ehdottaisin paikan sulkemista.
Experience: À la carte
•
Added: 12.07.2016
Saba kaikin puolin huippu ja rento mesta, Saba on Intilainen ravintola ja tarjoilee Intialaista ruokaa, mutta koko listalla on varmaan joku 70 eri vaihtoehtoa. Sabasta saa mm. monenlaisii pizzoja ja kebuja, falefeveleja ja jopa burgereita. Sekä Paljon liha kala ja kana ruokia sekä fegevaihtoehtoja.

Saba on erittäin hyvä hinta-laatusuhde paikka. Intialainen ruoka ollut aina tosi hyvää. Chicken tikka masala suosikkini. Tekevät mielestäni tosi hyvin intialaisen ruuan ja hintataso hyvä!

Pizzat myös hyviä ja suosikkini Hot Beef. Pizzaa saanut jopa 5 euron päivä hintaan.

Olut Sabassa taitaa olla myös suomen halvinta:)

Tikka Masala sinänsä ihan hyvän makuista, mutta aivan törkeän kallista tasoonsa nähden. Riisiä liikaa, kanaa vähän ja salaatti on oikea vitsi.
Experience: À la carte
•
Price: 17€
•
Added: 12.11.2015
Reviews older than 2 years
These reviews don't affect the average
Yöllinen pizza oli hinta/laatu-suhteeltaan ala-arvoinen. Lisäksi pizassa oli kyseenalainen voimakas sivumaku. Suurin osa jäi syömättä.
Experience: À la carte
•
Price: 9€
•
Added: 15.03.2015
Muutaman kerran tullut täällä syötyä yömyöhään ja propsit aukioloajasta, mutta viime kerta jäi nyt kyllä viimeseks. Aikasemmin olen syönyt paikanpäällä ja isoksi yllätykseksi tykännyt siitä intialaisesta. Jopa astioihin on panostettu. Olen siis testannut sitä menestyksellä muutaman kerran ja suositellut jopa ihmisille, kunnes nyt. Tilasin mukaan jonkun kasvisannoksen leipäjuustolla ja pähkinöillä ja ensimmäiset havainnot kotona oli annoksen suuri koko mutta järkytyksenä ällöttävät pakasteporkkanat. Ne sellaset mitkä on leikattu aaltoileviks kolikoiks, ettei voisi erehtyä. Söin vähän siinä heti ja loput seuraavana päivänä. Tälläisen ruuan pitäisi maistua vielä paremmalta seuraavana päivänä, mutta maku oli edelleen sama. Sanoinkuvailemattoman mautonta ja pahaa samaan aikaan. Seasta löytyi kaksi (mikä lie suomeksi) cardamom pods, mutta muuten intialaiset mausteet oli jätetty täysin pois, samoin kuin pähkinät. Niin törkeetä huijausta että tää kokemus virallisesti kumosi nyt ne muutamat positiiviset.
Muita arvosteluja lukiessa muodostuu se fiilis että heillä säästetään mm. kotona syövien kustannuksella, "unohtamalla" raaka-aineita.
Never again!
Experience: À la carte
•
Price: 14€
•
Added: 27.01.2015
Yöpizzan hinta oli 10€. Ei hintansa veroinen.
Experience: À la carte
•
Price: 10€
•
Added: 12.11.2014
Halpaa olutta ja erikoinen valikoima ruokia useiden maiden keittiöistä. Ravintola tarjoilee muun muassa intialaista ruokaa, hampurilaisia, pitsaa ja kebabia. 0,5 l tuoppi maksoi 3 €. Söin pitsan ja join oluen.

Paikka oli hieman nuhjuinen ja hiljainen, muttei missään nimessä vastenmielinen. Ruoka valmistui melko nopeasti ja palvelu oli perusystävällistä.

Pitsa oli odotuksiin nähden maittava, jossa oli riittävästi täytteitä ja rapea pohja. Voisin syödä täällä toistekin, kun tekee mieli olutta ja edullista ruokaa. Odotuksia paikan suhteen ei kuitenkaan kannata asettaa liian korkealle.
Experience: À la carte
•
Added: 27.10.2014
Kaks kertaa oon tilannu Sabasta ruokaa. Ekalla kerralla veloitettiin enemmän kuin netissä luki. Tokalla kerralla maksoin kyseisestä syystä verkkopankissa. Maksun jälkeen soitettiin että tilaamiani ruokia ei voidakkaan toimittaa kun kana on loppu. Ei minkäänlaista pahoittelua asiasta, ehdotti vaan jotain kanacurrya. Lopulta sain tilattua eri ruoat. Laitoin ovikoodin ja muut tiedot kuljetukseen mutta kuljettaja soitti jo matkalta että tulisin hakemaan. Pyörin ympäri korttelia etsimässä kuskia joka oli hukassa. Noin vartin etsimisen jälkeen löysin hänet ja sain vihdoin ruoat. Ruoka oli jopa palvelua surkeampaa. Hampurilainen oli kuiva ja mauton ja ranskalaiset olivat yhtä kiinteää mössöä. "Burrito" oli salaattia ja kanaa leivän sisällä. Ruokiin kuului 0,33dl juomat, jotka olikin todellisuudessa 0,25dl. Tilasin myös "valkosipulileipää", joka olikin normaalia leipää, jonka keskelle oli ripoteltu valkosipulimaustetta. Odotukset eivät todellakaan olleet korkeat pikaruokapaikasta, mutta Saba on suoraan sanottuna säälittävä pizzeria. Kotiinkuljetuksen piti olla 3,90 yöllä mutta yllättäen se olikin vain "alkaen" ja todellinen hinta oli lähes 7 euroa. Maksoin lopulta 35 euroa kahdesta ruoasta ja palasta leipää, johon oli laitettu valkosipulimaustetta. Todella surkea paikka, enkä varmasti enää mene lähellekään tätä "pizzeriaa". On muuten ensimmäinen pizzeria/ravintola ylipäätään, jota olen kritisoinut. Sen verran törkeää toi Saban toiminta.
Experience: À la carte
•
Added: 15.10.2014
tilauksessa kana biriyani ateria. sisälsi 90% riisiä,kana mitä riisin alta löytyi oli kuivaa. salaattiateria mukana mikä sisälsi salaatinlehtiä sekä kurkkua. kaiken kruunasi mango smoothie mikä oli makunsa puolesta juoma kelvotonta. hintaa tuli yli 30e ja kuljetus ei edes sisälly hintaan vaan oma lisänsä. sekä 1.5km matkaan meni 1.30h. aikaisemmin pitsat ovat olleet ok, mutta intialaista ruokaa täältä en suosittele kuin näkö/maku vammaisille.
Experience: À la carte
•
Price: 29€
•
Added: 24.07.2014
Saba is one of the hidden gems Helsinki - at least when it comes to value for money. It is by no means a gourmet restaurant, but what you get for money spent is nothing short of amazing. This is something that the rating doesn't give justice to. At least I don't think it's reasonable to expect more than a decent pizza together with a large beer for 7 €. On top of this, it's a cozy, unpretentious place where you get a glimpse to the whole demographic structure of Helsinki. The owners are friendly and honest as far as i know. I have spent some really good times here and have grown to have a kind of an affection to it. I recommend Saba to anyone for it's pizza, beer and atmosphere.
Experience: À la carte
•
Price: 5€
•
Added: 29.05.2014
---
Community
Images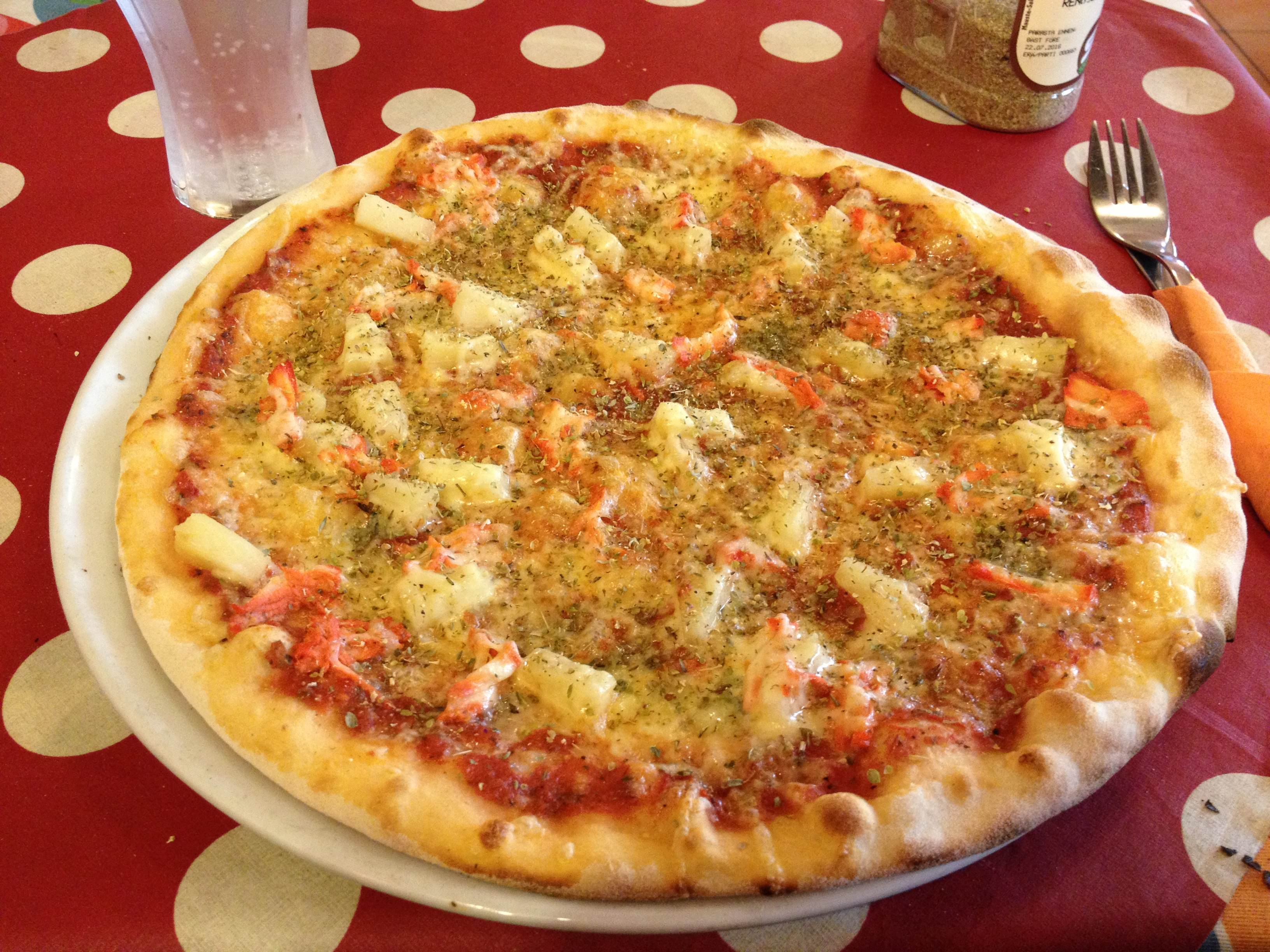 ---
Location