Reviews (

17

)
Kaverin kanssa aloitettiin kesäterassikausi Glückaufin laivankannella hyvän oluen parissa. Samalla tilasimme "Makkarakorin". Heittomerkit siksi, koska makkaraa se kori ei ollut nähnytkään. Korissa oli isoja löysähköjä ranskalaisia ja noin 8 PRINSSINAKKIA jotka maistuivat raa'alta. Kolme kuvuneen näköistä suolakurkkua, sekä kaksi siivua tuoretta kurkkua. Ketsuppi ja sinappi jouduttiin puristamaan työläistä pikku pusseista purkkien sijasta. Ei mielestämme ihan kympin arvoinen suoritus. Muuten olen aina suosinut kyseistä terassia, mutta tänä kesänä taidan siirtyä täysin uusille terasseille.
Experience: À la carte
•
Price: 10€
•
Added: 09.05.2016
Reviews older than 2 years
These reviews don't affect the average
Asiakkaita ei ollut kuin kourallinen, mutta kanakoria joutui odottamaan 1t 15 min. Törkeää! Tarjoilija pahoitteli, että on uusi kokki, mutta se ei ole puolustus. Olin lounastunnilla. Siinä meni viikon lounasajat.
Experience: À la carte
•
Added: 13.07.2015
Ruuan tulossa kestää aina yli 30 minuuttia vaikka asiakkaita olisi vain muutama. Ruoka on ihan ookoo. Caesar-salaatti tosin ui kastikkeessa, mutta se taitaa olla valitettavan yleistä muuallakin. Burgereiden itsetehdyistä pihveistä plussaa mutta isoa burgeria oli ikävä syödä korista, jonka pohjalla oleva paperi vetistyi ja hajosi jokaisella haarukallisella ja burgerinesteet valui pöydän lautojen välistä polville. Majooneesit on hyviä ja sitä on yleensä reippaasti. Hinnat aika karvaita keskinkertaisesta ruuasta.
Experience: À la carte
•
Price: 16€
•
Added: 05.07.2015
Hyvällä paikalla sijaitseva terassi jonka osana on hieno ravintolapurjelaiva. Terassiannokset ovat perus baariruokaa (purilaisia, salaatteja jne) ja ruoka on tarkoitettu vain syötäväksi. Ei huonoa, mutta ei kovin hyvääkään, perusmättöä. Heinäkuussa oli jonkin verran jonoa keittiössä ja annokset tarjoiltiin muovikoreista.
Experience: À la carte
•
Price: 15€
•
Added: 05.09.2014
Keskiviikko päivä ja asiakkaita ravintolassa yli puolessa pöydistä. Jonotuksen jälkeen odotimme ruokia max 10 min. Kanakori ja savulohisalaatti maistuivat, eikä kaivanneet lisämausteita. Jos olisimme lukeneet arvostelut etukäteen, tämä paikka olisi jäänyt harmittavasti väliin.
Experience: Lunch
•
Price: 12€
•
Added: 30.07.2014
Väsyneet parikymppiset pirkot tekivät tympeällä naamalla töitä. Epäsiistit vessat. Aukioloaikoja ei näkynyt missään, eivät vastanneet puhelimeen, kun aiemmin halusimme kysäistä keittiön aukiolosta. Emme suosittele.

Experience: À la carte
•
Added: 24.07.2014
Tyypillinen huono palvelu: menet ravintolaan sisään, isolla kyltti ITSEPALVELU - eli pitääkö mennä itse kokkaamaan? ?

Jonotan ruokaa pitkässä jonossa (ok, sesonki, lauantai..Porvoo..) Ruokaa tilatessa tyly vastaus: kestää 45 minuuttia. Miksi ei voi todeta: kiitos tilauksesta, mukavaa iltapäivää merellisessä Porvoossa ja kokkimme tuo teillä ruoat heti ku ne ovat valmistuneet. Hieman on keittiö ruuhkainen, mutta ottakaa odotellessa vaikka siiderit yms yms yms.., ruoan tulo kesti 48 minuuttia, joten krediittii siitä että annettu tieto piti paikkaansa.

Todellisuudessa paikoista oli 40% täynnä ja ruokailijoita oli vain puolet joten todellisuudessa maksimikapasiteesista oli käytössä vain viidennes. Nuoret blokkarit säntäily kyllä päättömästi ja pitivät pöytiä tyhjinä.
Experience: À la carte
•
Price: 16€
•
Added: 19.07.2014
Kävimme puolisoni kanssa tässä ravintolassa ensimmäistä ja varmasti viimeistä kertaa. Terassikori sisälsi täysin mauttoman sitkeän pihvin ja haaleita makkaroita ja vihanneksina oli kaksi kurkun viipaletta.Surkea annos ja itse piti käydä pyytämässä suola ja pippuri, että sai sen annoksen syötyä ja kaiken tämän valmistus kesti lähes 40 min. Uskomaton suoritus kokilta puolityhjälle salille. Sitten vielä se wc, jossa ei ollut edes saippuaa, hyi.En suosittele kenellekään.
Experience: À la carte
•
Price: 13€
•
Added: 15.07.2014
Oli vaihtoehtoina vain á la carte-, aamiais- ja lounaslista. Olin kuitenkin iltapäivällä siellä koiran kanssa pyörälenkillä ja tilasin Terrace Basketin, eli terassikorin. Siinä oli ranskalaisia, naudan ulkofileepaloja ja bratwurstia sekä kaksi aivan ihanan makuista kastiketta.

Erittäin hyvän makuista, ja ruokaa oli ihan tarpeeksi!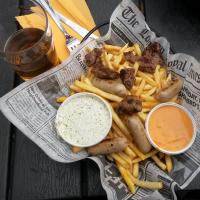 Experience: Lunch
•
Price: 13€
•
Added: 12.07.2014
Perus hyvä setti, kanakori hoiti tehtävänsä oluen seurana. (en mitään michelin-pöperöä odottanutkaan)
Experience: Lunch
•
Price: 8€
•
Added: 11.06.2014
---
Community
Fans
These people have marked this restaurant as a favourite.
People interested in this restaurant
---
Location