Customer experience
Child friendly
Accessible
---
Reviews (

10

)
Maukas, raikas ja runsas muikkuateria tuoreista raaka-aineista. Makunautintoja täydensi talon oma tumma olut. Nopea ystävällinen palvelu ja viihtyisä valoisa ympäristö lasiseinien ansiosta.

Jos tulee asiaa Savonlinnaan poikkean toisenkin kerran.
Experience: À la carte
•
Price: 15€
•
Added: 25.09.2017
Reviews older than 2 years
These reviews don't affect the average
Palvelu hyvää, muikut tuoreita ja juuri oikealla lailla paistettuja. Annos muikut dippikastikkeella, oli jopa niin suuri, etten jaksanut ihan kaikkea syödä. Muikut paahdetulla ruisleivällä, on ihanan oivaltava makean ja suolaisen sekoitus, suosittelen kokeilemaan!
Experience: À la carte
•
Price: 10€
•
Added: 15.07.2015
Muutaman kerran olen täällä käynyt ja on suorastaan lottovoitto saada Suomessa 15 eurolla vatsa täyteen hyvän makuista ruokaa. Annokset tulevat nopeasti ja lisukkeet ovat laadukkaita.
Experience: À la carte
•
Price: 15€
•
Added: 09.07.2015
Erinomaisia muikkuannoksia. Eikä ihmekään, koska Kojun toiminnassa on mukana savonlinnalainen kalastus-/kalojen jalostusyritys. Tämän paikan porukalla on siis tuotantoketju näiltä osin varmasti hanskassa.

Useamman käyntini perusteella uskallan kehua muikkujen ja annosten laatua ja ehkäpä parasta hinta-laatusuhdetta tarjoaa ruispalojen väliin tehty muikku"hampurilainen". Tämä tuote kannattaisi mielestäni savonlinnalaisten yrittäjien brändätä samalla tavoin kuin kuuluisat lörtsyt.

Sijainti parin metrin päässä Savonlinnan vilkkaimmasta kadusta ei ole täysin ihanteellinen ainakaan silloin, kun liikennettä on paljon.

Kehitysehdotuksena toivoisin, että veloituksetonta hanavettä olisi saatavilla. Nyt alkoholitonta haluava asiakas "pakotetaan" juomaan kallista pullovettä ja selitykset tälle ovat vaihdelleet eri käynneilläni laidasta laitaan. Tässä syy, miksi laitoin hinta-laatusuhteen aika alas Kojun kohdalla.
Experience: À la carte
•
Added: 14.07.2014
Kävimme syömässä ystäväni kanssa kyseisessä paikassa muikut viikolla.
Mukava palvelu oli ja 15 euron muikkuannos perunoilla ja salaatilla oli todella maittavaa ja vei nälän kyllä. Ruoka tuli myös melko nopeasti.
Suosittelen paikkaa muillekin :)
Experience: À la carte
•
Price: 15€
•
Added: 07.06.2014
Hiukan ruokalameininkiä, kassalle maksettiin etukäteen,kassa hiukan kypsyneen oloinen, muikut tuli nopeasti, pieniä, hyvin leivitettyjä, mutta rapeus puuttui.

Experience: À la carte
•
Price: 8€
•
Added: 21.07.2013
Hyvät muikut.
Hintalaatu suhdeollut tähän asti parempi kuin viereisellä ravintolalla
Mutta tänäkesänä petyin pahasti.
Muikkuja paistetaan "varastoon" ja annos oli lähes kylmä
Annoksen kokokin oli pudonnut aikaisempiin kesiin nähden kymmeneen muikkuun.
Toivottavasti eivät pilaa hyvän ravintolan mainetta
Experience: À la carte
•
Added: 30.12.2012
Lähdin keväällä tempaisemaan muikut toritapahtuman yhteydessä (niin oli tarkoitus). Ilmeni kuitenkin, että keittiön kapasiteetti on pahassa epäsuhteessa asiakaspaikkojen määrään: paikka ei ollut erityisen täynnä, mutta muikkuannoksen odottamisessa meni varmaan puoli tuntia ja kärsivällisyyttä koettelevaa oli 'pikaruoan' odottelu. Odotukset ja palvelu eivät kohdanneet. Parannusehdotuksena voisi olla että henkilökunta kertoisi odotusajasta ennen tilauksen ottamista niin kiireisimmät voisivat toimia sen mukaan.

Ihan perusannos paistettuja muikkuja on kyllä aivan huippu. Kypsyys on loistava. Mielestäni paistettujen muikkujen ei tarvitse olla kuivia käppänöitä vaan sisältä sopivan kypsiä ja mehukkaita. Meikäläisellä lienee samanlainen käsitys asiasta tämän paikan pitäjän kanssa.

Mahdollisesti täältä saa Savonlinnan parhaat paistetut muikut ja aivan varmasti hinta-laatusuhde on täällä paras.
Experience: À la carte
•
Price: 9€
•
Added: 01.08.2012
Muikut eivät ole rapeita ja turhan suuria :(
Experience: À la carte
•
Added: 23.07.2012
Savonlinnan paras hinta-laatusuhde muikkuannoksissa. Kesän suosikki pikkunälkään muikkutortilla. Voittaa 6-0 ketjuravintoloiden viritykset.
Experience: À la carte
•
Price: 10€
•
Added: 22.07.2012
---
Community
Images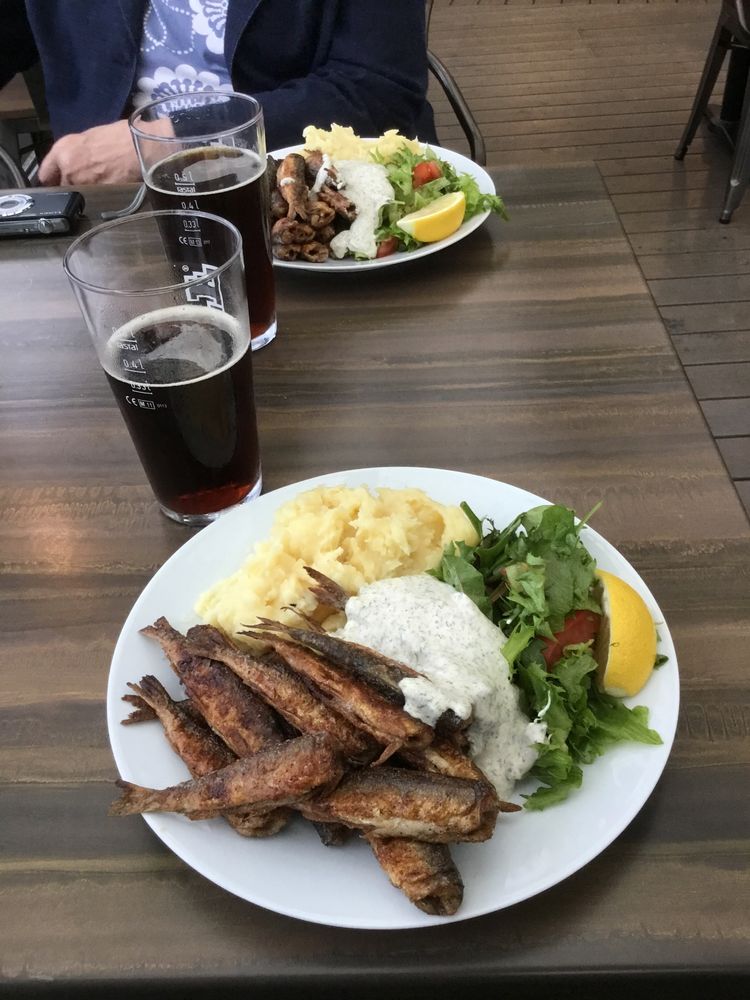 Fans (0)
These people have marked this restaurant as a favourite.
People interested in this restaurant (0)
---
Location
Options
---