Pikkukiinalainen Nguyen Cao Su
Customer experience
---
Reviews (

49

)
Parhaat kiinalaiset mitä Suomessa on tullut testattua. Kanaa kääg varsinkin todella hyvä jos tulisuus ei haittaa!
Ruoan mausteisuus vaihtelee aikakausittain millainen chilisato on tullut. Välillä todella tulista ja välillä melko paprikaa.
Experience: À la carte
•
Price: 9€
•
Added: 23.05.2019
Reviews older than 2 years
These reviews don't affect the average
Aikoinaan parasta ikinä. Ei enää samaa :( currykana mauton kookoskermakasa. Chilikana edelleen syötävää. Niin epäystävällistä palvelua ettei voi kuin nauraa.
Experience: À la carte
•
Price: 8€
•
Added: 03.11.2017
Ruoka vähintään hyvää perustasoa, vaikkei ehkä kovin autenttista. Ainakaan samanlaista ei Kiinassa ole itsellä tullut vastaan. Palvelu aika tyypillistä edulliseksi kiinalaiseksi ravintolaksi maailmalla. Annoskoko on riittävän suuri raavaallekin miehelle. Soijapohjaiset kastikkeet itselle turhan suolaisia, mutta Kääg-kana ei petä. Tilat ovat pienet, eikä lounaalla aina mahdu sisään. Hinta on erittäin edullinen annoksen kokoon ja laatuun nähden. Minkäänlaista salaattia annoksissa ei tule mukana, eikä muutenkaan mikään kalorinlaskijan paikka, sen verran reilusti öljyä ruokiin käytetään.
Experience: Lunch
•
Price: 7€
•
Added: 31.05.2017
Opiskeluaikoina currykana oli ehdoton suosikki, nykyään tofu kääg, jota saan liian harvoin. Aivan parasta!
Experience: À la carte
•
Price: 8€
•
Added: 31.03.2017
Kiinalainen lounas 7-8 euroa. Iltapäivällä ja illalla tilattu annos on euron hintavampi. Menu on järjestetty kuuteen ryhmään: 1) kana, 2) naudanliha, 3) tofu, 4) korvikkeet, 5) merenantimet ja 6) nuudeli. Vaikka kiinalainen ruoka maistuu hyvälle, sitä ei kannata syödä joka päivä, koska annoksen kilokalorimäärä ylittää 1 000.
Experience: Lunch
•
Price: 8€
•
Added: 30.05.2016
Nopeaa ja hyvää kiinalaista ruokaa. Hinnat olivat myös hyvät. Riisi oli suorastaan erinomaista ja hapanimeläkastike myös erittäin hyvää.
Experience: À la carte
•
Added: 23.01.2016
Nautaa mustapapuilla. Äkäisen ja hätäisen oloista palvelua. Ruoka maistui lähinnä suolalta ja liha sitkeää. Ei niitä parhaimpia kokemuksia mutta ainakin juomalasit ja ruokailuvälineet olivat puhtaat.
Experience: À la carte
•
Price: 10€
•
Added: 16.09.2015
ostin paistettu riisikanalla. ruuassa oli kananmunan kuoria ja syömä kelvotonta !!! Oisik mennyt takaisin pyytämään uutta ateriaa mutta myyjä nais henkilö oli niin törkeä että en astu enään jalallakaan siihen paikkaan
Experience: À la carte
•
Price: 7€
•
Added: 13.08.2015
Halvat, isot annokset, joilla saa kyllä vatsansa täyteen - ja samoin tein myös tyhjenemään. Söimme kanaa mustapapukastikkeella sekä Pekingin kanaa. Molemmat annokset olivat todella öljyisiä ja niin suolaisia, että syöminen jäi puolitiehen. Molemmat saivat käynnistä myös lievät ruokamyrkytykset, eli kiitokset vaan loppuviikonlopun pilaamisesta. Joskus aiemmin olen take-awaytä täältä hakenut ihan hyvälläkin menestyksellä, mutta nyt jäivät Pikkukinkissä käynnit kyllä tähän, halpa ruoka ei ole ihan terveydellään leikkimisen arvoista.
Experience: À la carte
•
Price: 7€
•
Added: 15.07.2015
Itsekin tilaan ravintolasta yleensä käägin mukaan ja taso tosiaan vaihtelee. Joskus on ollut niin mausteista, että on jäänyt osa syömättä. Toisaalta juuri tuo mausteisuus on annoksessa kova juttu. Jos olisi puolikkaat tähdet käytössä antaisin arvosanaksi 3,5.
Experience: À la carte
•
Added: 31.05.2015
---
Community
Images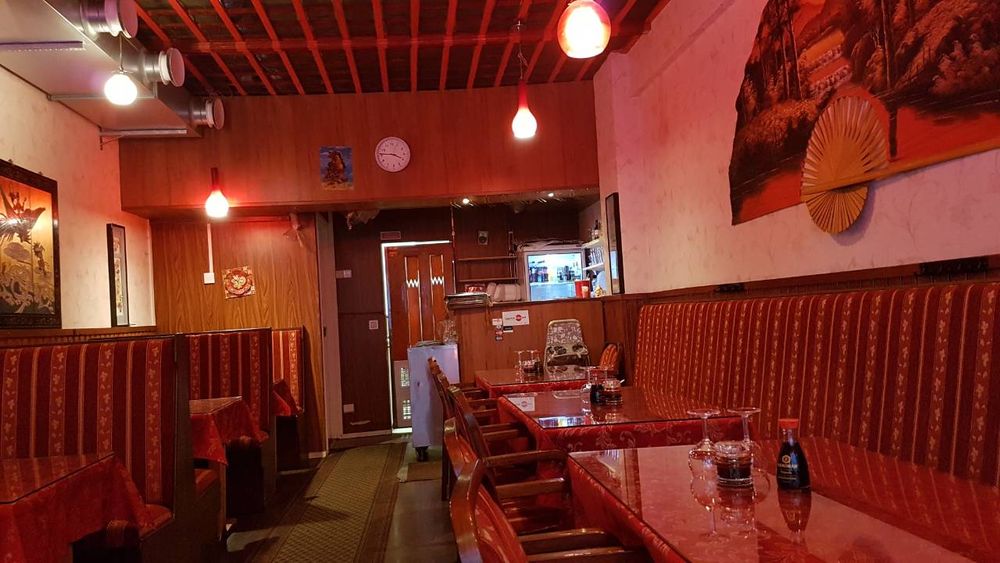 Fans (6)
These people have marked this restaurant as a favourite.
People interested in this restaurant (0)
---
Location
Tuomiokirkonkatu 34

,

33100

Tampere

- Route

0405164178

Options
---