Panttitalon Vohvelikahvila
Customer experience
---
Reviews (

6

)
Kivasti sisustettu viihtyisä paikka. Ystävällinen palvelu ja kohtalaisen laaja valikoima vohveleita. Täytettä vohveleissa on reilusti ja vinkiksi kermavaahdon sulamisesta valittaville; sen voi laittaa jäätelön tai hillon päälle, niin ei kovastikaan sula.
Experience: À la carte
•
Price: 6€
•
Added: 23.08.2016
Reviews older than 2 years
These reviews don't affect the average
Vohvelia. Maalaisromanttisesti sisustettu vohvelikahvila. Puitteet on kyllä kohdillaan ja sisustus sopii paikkaan todella hyvin. Kahvila ei ole mikään iso joten ruuhkaaikaan voi istumapaikat loppua. Erilaisia vohveleita löytyy niin suolaista kuin makeaa. Itse otin Mokkavohvelin joka näytti hyvältä ja makukin ihan ok. Vohveli suorastaan ui suklaa kastikkeessa ja kermavaahtoa oli reilu kasa päällä. Ymmärrän tuon kermavaahdon painepullosta, koska paikassa käytetään paljon kermavaahtoa. Itse myös kuitenkin tykkäisin enemmän itse vatkatusta kuohukermasta! Palvelu oli iloista ja ystävällistä asiakas otettiin hyvin vastaan. Vohvelin valmistus kesti mielestäni hiukan liian kauan.
Kyllä täällä toistekin voisi poiketa.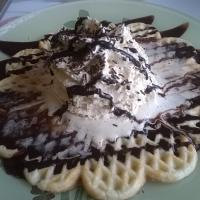 Experience: À la carte
•
Price: 6€
•
Added: 17.05.2015
Ikävää että täällä kerrotaan väärää tietoa kahvilan tuotteista eli olen ollut harjoittelussa Panttitalon Vohvelikahvilassa. Kaikki kerma mitä vohveleihin käytetään on aitoa vispikermaa. Kerma laitetaan painepulloihin siksi että ainoastaan niissä kerma säilyy säällä kuin säällä hyvänä. Kaikki jotka joskus ovat vispannut kermaa tietävät ettei se säily kauaa hyvänä.
Experience: À la carte
•
Added: 13.08.2014
8e ja "kermavaahto" painepullo kasvisrasvasekoitetta. Onhan se kermavaahto hirmu raskasta tehdä itse
Experience: À la carte
•
Price: 2€
•
Added: 12.05.2014
Kovat ennakko-odotukset kun moni kehunut paikkaa, ja pettymyshän tämä oli. Kahvi+mansikkahillo/kermavaahtovohveli 8e, ihan normi vohveli ja hillo ei mitenkään hyvää, karvasteli kurkussa ikävästi. Kermavaahto iso kasa joka sitten suli lämpimän vohvelin päällä...ei kovin esteettistä eikä mukavaa syödä. Vinkki: vohvelin voisi hyvin tarjoilla viileämpänä!

Muuten viihtyisä paikka mutta täynnä rasvan käryä, palvelu kuivan asiallista, hymy ei olisi pahitteeksi. Sanottava vielä että kahvi oli hyvää! Ettei mene liian negatiiviseksi :)
Mutta en aio poiketa enää täällä, korttelin päässä saa loistavat pullakahvit 3 eurolla.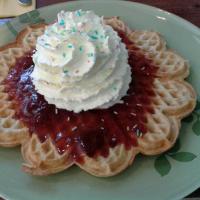 Experience: À la carte
•
Price: 8€
•
Added: 12.05.2014
Vapunpäivänä kahvila oli auki ja tupa täynnä, mutta vohvelia joutui odottamaan kohtuuttoman kauan. Kolmas työntekijä olisi voinut olla paikallaan. Vuohenjuusto/mansikkahillo/kermavaahto-vohveli oli aika köppäisesti tehtyeikä makukaan hurmannut. En tilaisi uudestaan.
Ystävällinen palvelu ja viihtyisä sisustus kylläkin.
Experience: À la carte
•
Added: 01.05.2014
---
Community
Fans
These people have marked this restaurant as a favourite.
People interested in this restaurant
---
Location
Puutarhakatu 11

,

33210

Tampere

- Route

0449727002