Reviews (

124

)
Kysyin tarjoilijalta risoton gluteenittomuudesta ja varmisti sen minulle mutta seuraavaksi toikin seurueelle yhteisen leipäkorin suoraan minun eteeni. Onneksi vaisto sanoi että ovat vehnäleipiä eikä vahinkoa tapahtunut, mutta miksi hän ei laittanut sitä sen eteen joka ei gluteenitonta annosta tilannut. Juomat olivat hintavia ja risotto myöskin aika vaatimaton sen hintaiseksi.
Experience: À la carte
•
Added: 28.03.2017
Tunnelmallinen paikka. Ravintolapäällikkö hoiti itse tarjoilun, joka oli kerrassaan loistelias. Koko seurueen ruuat maistuivat. Tonnikala oli erinomaisen hyvin valmistettu. Poikkeamme ehdottomasti toistekin.
Experience: À la carte
•
Price: 34€
•
Added: 06.02.2016
Juomia sai melko kauan odottaa. Ruoka tuli tilauksen jälkeen nopeasti ja oli maistuvaa. Ehkä palvelussa olisi ollut parantamisen ja nopeuttamisen varaa
Experience: À la carte
•
Price: 20€
•
Added: 30.01.2016
Reviews older than 2 years
These reviews don't affect the average
Edellisen kerran jälkeen totesin: menen uudestaan, jos kaksi syö yhden hinnalla ja näin myös tapahtui.

Alkuruokana oli lautasella oliiveja, Parman ja jotain muuta kinkkua ja juustoa. Alkupalat oli lähinnä lyöty lautaselle, melko mielikuvitukseton asetelma. Erittäin suolainen maku peitti muut alleen vaikka juusto oli raikasta.

Limsapistoolin ollessa rikki, oli juomana vettä.

Pääruokaa odoteltiin puolitoista tuntia. Ankka oli muuten hyvänmakuinen ja nahka maukkaan rapea, annos kuitenkin melko pieni. Hieman liian vähän kastiketta oli/ lientä annoksen ympärillä. Tätä jos olisi ollut lisää, niin paljon parempaa olisi ollut. Ei kuivaa nytkään.

Jälkiruokana suklaakakkua ja valkosuklaa moussea. Tässä vaiheessa olimme olleet jo yli kaksi tuntia istumassa. Tämä oli itse leivottua ja hyvän makuista - parasta tällä kertaa.

Tolkuttoman hidas palvelu. Salia hoiti kaksi tarjoilijaa, joista toinen harjoittelija, hyvä sellainen. Keittiössä ei näkynyt kuin yksi kokki, joka on aivan liian vähän näin isoon paikkaa.
Yhteensä 2 tuntia ja 20 minuuttia kesti.

Edelleen sama tuomio: menen uudestaan, jos kaksi syö yhden hinnalla.
Paikka on siisti ja tunnelmallinen, näkymät mahtavat.

Palvelu oli todella ystävällistä, joskin hieman hidasta. Harjoittelijatyttö tuli ottamaan tilauksemme, mutta ei osannut kuitenkaan kertoa ruoista ja viineistä mitään - piti toinen tarjoilija erikseen pyytää paikalle (ja odottaa..ja odottaa..).

Ruokahan kyseisessä paikassa on ihan hyvää, muttei mitään erikoista kuitenkaan. Alkupalat olisin osannut väkertää itsekin (tiikerirapuja, kylmäsavulohta, artisokkaa). Neljäsosan herkkutattirisotosta syötyäni olin jo aivan ähkyssä ja halusin jotain raikkaampaa tilalle.

Silti tunnelma oli niin hyvä ja palvelu ystävällistä, että menisin uudelleenkin. Tilaisin varmaan sitten jotain muuta.
Experience: À la carte
•
Price: 40€
•
Added: 22.02.2015
Ankkaconfit ankanrasvassa paistettujen perunoiden kanssa. Jälkiruuaksi Comon tiramisu. Etenkin pääruoka oli todella herkullinen eikä jälkiruuassakaan valittamista. Mukavan viihtyisä pöytä ikkunan vieressä. Henkilökunta oli ystävällistä, mutta palvelu oli hiukan viipyilevää. Positiivisen kokemuksen puolelle kallistuu selkeästi kuitenkin.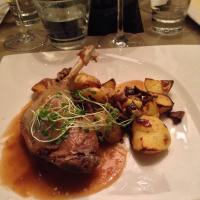 Iberico-possu hyvää ,samoin kastike ja jälkiruoka maukas! Kiva paikka!
Experience: À la carte
•
Price: 39€
•
Added: 12.12.2014
Pikkujoulumenussa ainoastaan alkukeitto saa kiitosta. Pääruokana kuha ja porsas olivat mauttomia vaikkakin kauniisti aseteltu lautaselle. Jälkiruokana riisifruttia.
Experience: À la carte
•
Price: 39€
•
Added: 08.12.2014
Tarjoilija toi viinilasilliset, josta huomautimme kaksi kertaa, että näyttää epäilyttävän pieneltä annokselta. Tarjoilija vakuutti, että siinä on oikea määrä. Kolmannella kerralla suostui menemään mittaamaan lasissa olevan viinin määrän. Siinä olikin puolet tilatusta määrästä! hinta olisi ollut kuitenkin koko lasillisesta! tätä hän vähätteli! Toisen pääruoka (kuhaa) oli ylisuolaista. En suosittele, en käy toista kertaa.
Experience: À la carte
•
Price: 20€
•
Added: 04.12.2014
Ruuan tulo keski valitettavan kauan kun oli lapsikin mukana. 2 tilasi etanat, jotka olivat aivan mauttomat!! 2hlö antipasto-annos sisälsi 4 oliivia per naama, pienen kikkareen juustoa ja 3 onnetonta siivua lihaa ja kinkkua... Ei varsinaisesti pahaa, mutta ei maistunut miltään. Myös pääruuat olivat täysin mauttomat, ei siis mitään makua kanassa eikä ankassa. Kyllä oli aika kova pettymys. Paras annos oli lapsen pasta. Ei tarvitse toista kertaa mennä. Jos jotain pitää kehua, niin viini ja olut ei pettänyt tälläkään kertaa... =P
Experience: À la carte
•
Price: 21€
•
Added: 07.11.2014
---
Community
Fans
These people have marked this restaurant as a favourite.
People interested in this restaurant
---
Location