Reviews (

11

)
Reviews older than 2 years
These reviews don't affect the average
Haalean annoksen päälle oli heitetty sulamaton valkosipulivoi. Kaiken kruunasi joku v# pirkka thousand islands -salaattikastike. Otin annoksen mukaan ja yhden haukun jälkeen nöyrästi loppusijoitin sen roskikseen. Kaikkea sitä ruokana ihmisille myydään.
Experience: À la carte
•
Price: 7€
•
Added: 12.07.2015
Epärehellistä toimintaa. Älkää menkö.
Experience: À la carte
•
Added: 07.06.2015
Hän näköinen lätty siis tuli mukaan. laitoin aikaisemmin jo arvosteluun. eli palvelu oli hidasta ja töykeää, on minun kommenttini.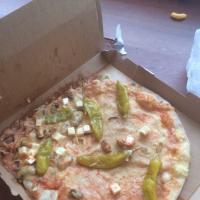 palvelu oli hidasta ja töykeää. Kotona pizzalaatikon avatessani odotti karmeampi näky: aivan kuin okennusta! Täytteet olivat ympäriinsä laatikkoa, vain muutama fetapala oli pizzan päällä ja jalapenot olivat kokonaisina. Tomaattikastike oli oranssia ja laatikon reunoilla. Lisäksi pohja oli raa'ahko ja "pizza" haisi omituiselle. Lisäksi me oltiin pyydetty slaisseksi, mutta ei. En halunnut nähdäkkään saati edes maistaa "pizzaa". Täysin syömäkelvoton. Hintaa tälle pizzaällötykselle kertyi melkein kymmenen euroa! Hyi helvetti! En koskaan astu enää pizzeriaan, vaikka maksettaisiin!
Experience: Lunch
•
Price: 9€
•
Added: 06.06.2015
Maksoin lisätäytteistä joita en saanut. Palautteen perusteella en ole ainoa, jolle on näin käynyt. Kysyessäni asiasta minulle oltiin tylyjä. En suosittele.
Experience: À la carte
•
Added: 14.02.2015
Tilasin pitsan, mutta en saanu täytteitä mitä halusin. Valittaessani käskettiin itkemään äidille. Ei ehkä parasta palvelua mielestäni.
Experience: À la carte
•
Added: 14.02.2015
Rulla.
Vinojen talojen kaupungin vanhan liiton kebappila tuntuu ainakin öiseen aikaan pitävän suosionsa. Päivisin meininki on tuoreemmalla puolella jopa asteen verran viihtyisä, yöllä homma menee oksennuksensekaiseksi touhoiluksi - juhlakansa muokkaa mestasta varsin epämiellyttävän. Palvelu on siihen nähden aina ollut melko kiitettävää.

Monesti paikan tsekanneena, aikoinaan falluihin ja rulliin vähän pettyneenä, päätös oli selvä siirtyä perinnekebuosastolle. Niissä on pärjätty. Pizza erittäin perus. (10.1.2011)

* * *

Pakollinen Ada-päivitys. Laatu ja meininki ovat edelleen hyvää keskiluokkaa. Öisenä vierailuna Ada on klassikko. Pakollinen jokaisena kesänä.


Experience: À la carte
•
Price: 6€
•
Added: 26.07.2014
Experience: À la carte
•
Added: 09.03.2014
Oltiin ainoat asiakkaat kun tilattiin kaksi pizzaa ja huolella valitsin semmoiset joissa ei ole katkarapuja. Tilaus meni ihan ok, vasta kotiin päästyämme avattiin laatikot. Miten voi olla mahdollista että toisessa oli sitten niitä katkarapuja ja toisessa kaalin lehtiä sekä jotain lokin p*skan näköistä eritettä. Kumpikaan pitsoista ei ollut sitä mitä tilattiin.
Pitsat jäivät syömättä.

Aikaisemmin parit kerrat rullakebabit tilanneena olisi pitänyt jo silloin oppia välttämään tätä paikkaa. Rullat olivat todella pieniä ja lähinnä koostui siitä pitsa pohjasta. Makuaisteja ei todellakaan kutkuttanut.
Experience: À la carte
•
Added: 28.07.2013
Good rollo kebab. Consistent service and great location next to my favorite hotel.
Experience: À la carte
•
Added: 15.03.2009
---
Location
Kauppiaskatu 5

,

20100

Turku

- Route

(02) 251 6782