MissAlice
1 Bewertung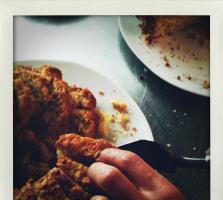 Enjoying fresh, good, quality food put together in a manner that even a non-food lover would make an 'ohhh la la'
Abzeichen
Bewertungen (

1

)
Bewertungen älter als 2 Jahre
Diese Bewertungen haben keinen Einfluss auf den Durchschnitt
We went there (group of 3) for an early dinner and to my surprise there was no one in the front for around 5 mins until we saw one waiter. I was almost scared for the fact that he 'was' the only waiter there (until our service was over and another waitress started her shift) But I have to say all in all he was very professional. We had order a bottle of wine and etc even had some small chat and he didn't seem to rush even though he was taking care of around 5 tables. Maybe he was just starting his shift of the lunch was going into dinner and he had to fix up the place alone.. who knows all I kno is that he was handling it perfectly. BUT The only negative thing was.... the wine glasses... oh my oh my, they had so many grey water stains, smudge marks, etc on them that 'ahhhhhhhhhh' in my opinion if your going to be serving wine anywhere you polish your wine glasses especially if you have pretty red wine glasses. simple as that.

As for the food my spouse and his son ordered the 'burger with bacon' and I order the BBQ pig. Supposedly from what they have told me is that the burger is not on the menu but a lot of people do order it. The hamburger portion to my surprise was HUGE, kinda reminds me of the united states and for me my piece of pork was reasonable because that they did list it was only 180g, but it did come with a huge side dish of fries. The fries were ok, nothing special really. I was thinking some nice wedge styled or even hang made fries with some great spices on them but no... normal fries the kind you get in school. On the side of my plate was some cole slaw one sun dried tomato on top and then in the center of the plate was a lovely very tender piece of pork covered with just enough BBQ sauce. mmmm mmmm good.

All in all our total price for 3 people was around 85 euros. And I think the highest thing on that menu was this steak that cost 27 but all the rest were good reasonable price and the sizes are good enough to leave you walking down the street rubbing your tummy.
Erfahrung: À la carte
•
Preis: 18€
•
Hinzugefügt: 09.09.2011
---
---
Bilder
---
Followers