Customer experience
Child friendly
Vegetarian
Vegan
Accessible
Special diets
Free wifi
---
Reviews (

5

)
Garlic Burger oli OK mutta en tätä vielä gourmet burgeriksi luokittelisi muuten kuin hinnan puolesta (17e). Lisukkeina ranskalaiset (vaatimatonta perustasoa) sekä coleslaw ja puolikas suolakurkku.

Kori on erittäin epäkäytännöllinen alusta burgerin syömiseen. Todella ahdasta leikata burgeria ja kun kaataa ketsuppia paperin päälle niin se imee sen samantien ja paperi on rikki.

Sinänsä paikka on viihtyisä ja oikein sopiva illanviettoon tai urheilun seuraamiseen isoilta TV-ruuduilta. Palvelu oli nopeaa ja OK.

Experience: À la carte
•
Price: 17€
•
Added: 13.10.2018
Kiva ystävällinen henkilökunta. Iso baari.Hyvää ruokaa.Löytyy myös Vegaani/Vege ruokaa. Suosittelen.
Experience: À la carte
•
Price: 16€
•
Added: 20.03.2018
Reviews older than 2 years
These reviews don't affect the average
Paikka on oikein miellyttävä, siis baariksi/illanviettopaikaksi. . Ja se hieman parantaa lounaskokemustakin.. Lounas ei nouse paikan tasolle, mutta on ok. Pieni parannus laatuu, ja olisi ihan hyvällä tasolla. Paikan omat lisäsoossit yms. ovat hyvät. Pikkaisen raakoja tahattomasti lienee muutaman kerran juurekset olleet, mutta ei tämä paha ole, mutta ei mitenkään loistavaan. Kyllä sinne tekee mieli hörpille jäädä, pitänee joku päivä testata Oumph! Burgeri, siitä heille etukäteen plussa =) ..Alunperin harmitti tässä paikassa, että käsitämättömästi kolmella ekalla käynnille ei ollut kukaan tiskillä ottamassa vastaan lounasmaksua, piti kuikuilla muutama minuutti, arkena 11.15, jeesus. Mutta viimeksi oli, hyvä.
Experience: Lunch
•
Price: 10€
•
Added: 04.01.2017
16,90 € juusto-bbq-hampurilaisessa on einespihvi, josta lienee turha sanoa, että maku oli kamala. Annos tuodaan korissa ja on yhtä sekasotkua, kastikkeet menevät heti paperin läpi ja paperi mössööntyi ruoan sekaan. Nachot ja kastikkeet mauttomia ja teollisen makuisia. Suht viihtyisä, sporttinen miljöö ei pelasta, kun ruoan taso on täysin ala-arvoinen.
Experience: À la carte
•
Added: 12.11.2016
Kerran käyty lounaalla. Punaviinikastikkeessa oleva härkä haisi ja maistui niin palaneelle, että jäi syömättä. Buffetin toinen vaihtoehto kana oli mauton. Salaattipöytä ok. En testaa lounasta hetkeen uudelleen, viimeksi elokuussa siis käyty
Experience: Lunch
•
Price: 10€
•
Added: 25.09.2016
---
Community
Images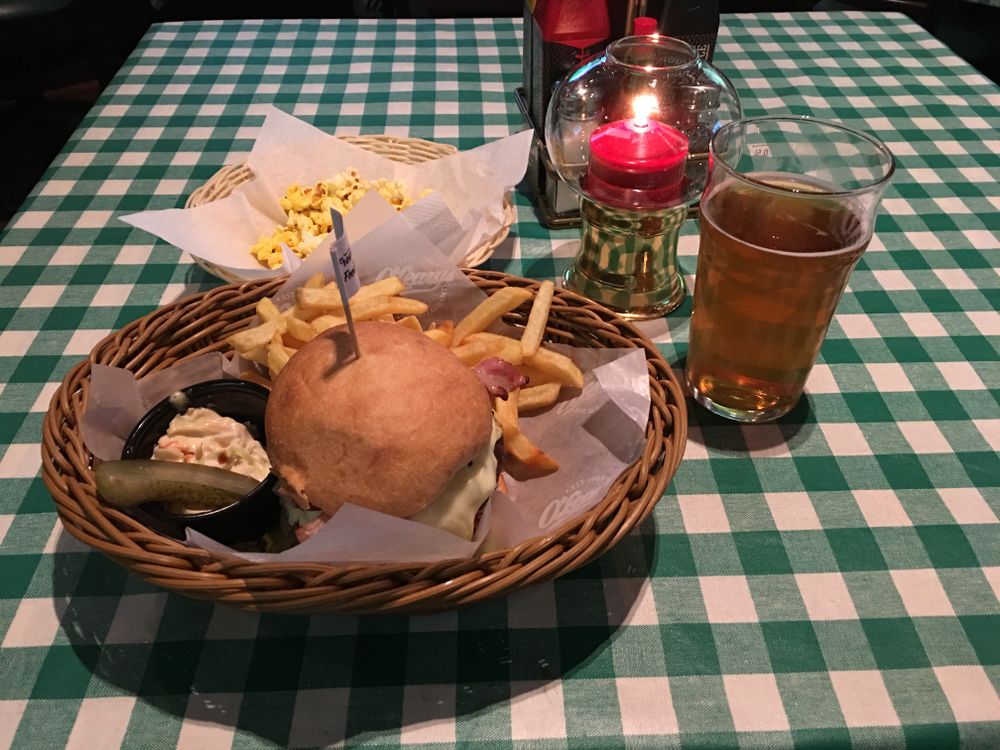 Fans (0)
These people have marked this restaurant as a favourite.
People interested in this restaurant (0)
---
Location
Options
---