Paisano is the latest venture by the chefs behind the successful Pobre Filipino in Kamppi. Paisano cranks up creativity and unleashes the vibrant flavours of the New Filipino kitchen to the Helsinki restaurant scene. You just need to be here.
---
Customer experience
---
Reviews (

1

)
Pobren pikkuveli Paisano hurmaa erilaisilla mauillaan ja jaettavilla annoksillaan. Paisano on sisustettu miellyttävästi entisen Gastonen ja Corson tiloihin. Tilan reunassa on osa keittiötä, mikä häiritsee aavistuksen verran sieltä kaikuvan keittiömetelin vuoksi, mutta äänet loppuvat onneksi pian saapumisemme jälkeen. Palvelu Paisanossa on aivan mahtavaa ja lista mukavan yksinkertainen. Valitse ne annokset, joista pidät, ei alkuruokahässäköitä. Jälkiruokia löytyy kolme. Cocktaileja ja viinejä löytyy yllättävän paljon.

Valitsin käsintehdyt nuudelit, pratha-rieskan ja munakoisoa. Listalla on useita kasvisruokia, joista monia saa myös vegaanisena. Ruoat jatkavat Pobren hyväksihavaittua linjaa, joissa filippiiniläisvaikutteinen keittiö tarjoilee suomalaiseen ravintolakattaukseen uudenlaisia makuja, jotka sopivat hyvin yhteen ja ilahduttavat umamisuudellaan myös kasvissyöjän. Nuudelit ovat paksuja ja ihanan tahmaisia, munakoiso kypsää ja maukasta, ja rieska sooseineen häviää lautaselta ennen aikojaan. Ainoana miinuksena täytyy antaa ruokien suolaisuus/soijaisuus, sillä suolaisuutta kyllä löytyy. Jälkiruoat jäivät tällä kertaa testaamatta, mutta ne ehkä olisivat tasapainottaneet tuota annosten suolaa ja umamia. Kokonaisuutena ihana kokemus, jossa tulen varmasti vierailemaan uudestaan.
Experience: À la carte
•
Added: 07.08.2019
---
Community
Images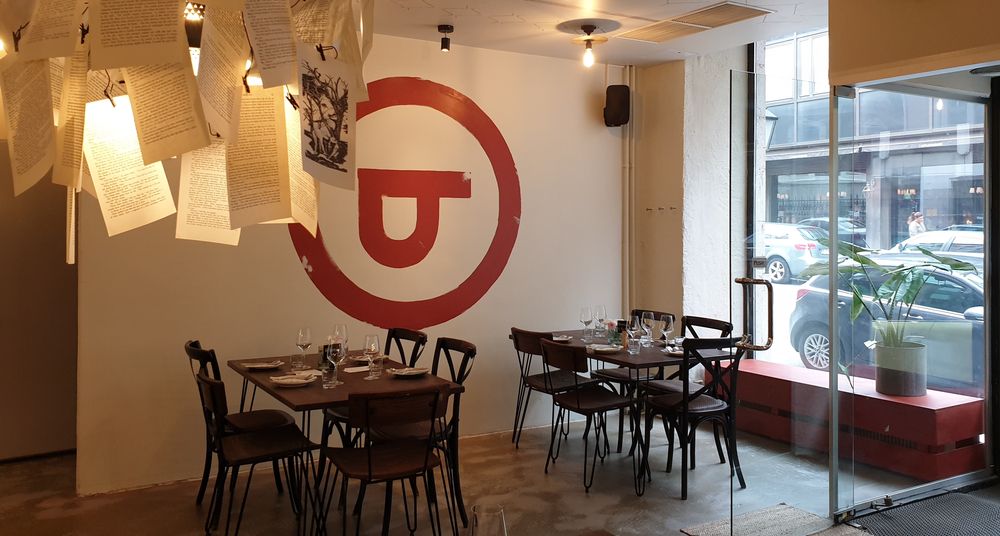 Fans (1)
These people have marked this restaurant as a favourite.
People interested in this restaurant (0)
---
Location
Options
---