Reviews (

5

)
Tiskillä maksu hoidettiin ilman yhtään sanaa henkilökunnan puolelta, tai taidettiin kerran mörähtää. Ruokaa puuttui buffasta tai sitten se oli kylmää. Kaikki ruoka järjestään melko ala-arvoista, ei ikinä enää.
Experience: À la carte
•
Price: 940€
•
Added: 26.04.2017
Ruoka järjestäen kylmää. Asiasta on mainittu moneen kertaan eri henkilön toimesta, mutta mitään ei asian eteen tehdä. Nyt säästetään väärästä paikasta...
Experience: Lunch
•
Price: 9€
•
Added: 03.11.2016
Reviews older than 2 years
These reviews don't affect the average
Voin suositella.
Experience: À la carte
•
Price: 9€
•
Added: 21.01.2016
Tuoretta, herkullista ruokaa ja sydämelliset ravintoloitsijat. Keittiöstä vastaava mies on aiemmin Kampissa olleesta Roll House-ravintolasta tuttu, ja jo silloin lounaalla legendaariseen maineeseen noussutta chilikastiketta sekä omaan tyyliin tehtyjä rullia saa täältäkin! :) Suosittelen ehdottomasti käymään. Lämmin tunnelma, valoisa henkilökunta ja laadukasta ruokaa, jossa on sydäntä ja ajatusta mukana. Käynnistä jäi todella hyvä mieli. Myös piristävä löytö tältä alueelta!
Experience: À la carte
•
Price: 12€
•
Added: 19.12.2015
Muutaman kerran olen käynyt lounaalla ja erottuu kyllä selkeästi postiivisella tavalla alueen lounasmestoista!

Ruoka on maistuvaa ja tuoreen oloista. Kivasti sisustettu pikkuravintola, jossa on aina ollut lämmin vastaanotto. Listalla myös pizzoja jotka täytteistä päätellen myös laadukkaampia kun lähialueen peruskebabbiloissa. Pitäkää laatu samalla tasolla myös jatkossa!
Experience: Lunch
•
Price: 10€
•
Added: 16.12.2015
---
Community
Images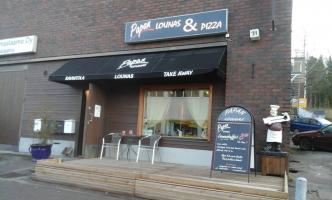 Fans (0)
These people have marked this restaurant as a favourite.
People interested in this restaurant (1)
---
Location
Options
---