Customer experience
Child friendly
Vegetarian
---
Reviews (

13

)
Palvelu tylyä. Ruoka Helsingin Nepalilaisten ravintoloiden ylivoimaisesti kehnointa.
Experience: À la carte
•
Added: 27.01.2018
Kenttäkeittiötyyppistä mättöruokaa. Kun menen sunnuntaina ulos syömään à la carte -annoksen, odotan saavani eteeni muuta kuin pelkkää ruskeaa mössöä ja valkoista riisiä. Ruoka oli kenttäkeittiötyyppistä mättöä, jonka asettelussa ei ollut mitään esteettistä silmää. Lisäksi ateriasta puuttuivat kaikki vihannekset - ei salaattia, ei kypsennetyjä vihanneksia. Tavallisesti nepalilaisissa ravintoloissa tuodaan ohuen alkupalaksi syötävän papadum-leivän kanssa jotain dippikastiketta, mutta riisuttuun ateriaan ei kuulunut edes sitä. Kaiken kaikkiaan ravintola menee ali siitä, missä aita on matalin. Hinta-laatusuhde todella huono.
Experience: À la carte
•
Price: 16€
•
Added: 29.10.2017
Reviews older than 2 years
These reviews don't affect the average
Todella huomaavainen naistarjoilija oli parasta, muuten ruoka oli hyvää ja annos iso. Tunnelma oli tyypillinen perusaasialainen vähän hienompi ravintola.
Experience: À la carte
•
Price: 10€
•
Added: 29.01.2017
Täällä on tullut käytyä jo useampaan kertaan ja olen rakastunut paikan kasvispyöryköihin. Herkullista ruokaa, isot annokset joihin kuuluu vielä naanleipäkin, nam! Siisti ja mukava paikka, vaikka ei mikään kaikkein halvin niin kaikkiin hyviin puoliin katsottuna oikein hyvällä hinnalla maukasta ruokaa. Täällä tulee melko varmasti käytyä jatkossakin. Alvarinkin voisi käydä testaamassa joku kerta.
Experience: À la carte
•
Price: 15€
•
Added: 08.08.2016
Otin yhden päivän tarjouksista, joka oli nimeltään saag kofta. Oli herkullista kuin mikä. Suosittelen 5/5

+naan leivät tuli kaupan päälle mikä on suuri plussa
Experience: À la carte
•
Price: 11€
•
Added: 24.09.2015
Kiva perusnepalilainen. Omaan annokseeeni olisin kaivannut lisäksi jotain kasviksia, mutta muuten maku oli oikein hyvä. Viini on täällä tosi halpaa! Palvelu oli todella ystävällistä ja nopeaa.
Experience: À la carte
•
Price: 16€
•
Added: 08.09.2015
Suosikkinepalilaiseni Helsingissä. Palvelu on aina todella ystävällistä. Olen käynyt lukuisia kertoja ja listalta syön aina dal makhanin. Lounasaikaan sen sijaan vaikeampi löytää miellyttävää annosta.
Experience: À la carte
•
Price: 14€
•
Added: 04.09.2015
Siisti perusnepsu.

Muutaman kerran lounaalla käytyäni ja eri annoksia syöneenä voin todeta, että Satkar tarjoaa piirun verran keskitasoa parempaa nepsua.

Mikään annoksista ei ole erityisesti jäänyt mieleeni, mutta ei ole myöskään mitään negatiivista sanottavaa. Kerran naan oli hieman raakaa. Palvelu ystävällistä. Parasta Satkarissa on kuitenkin sijainti.

Experience: Lunch
•
Price: 10€
•
Added: 25.08.2015
Paras nepalilainen ravintola missä olen käynyt. Annoskoot täyttäviä ja ruoka maistuu tuoreelta. Erinomainen naan-leipä kuuluu annoksiin. Ystävällistä palvelua. Runsas valikoima. Muihin nepalilaisiin verrattuna siisti ja hyvin sisustettu.
Experience: À la carte
•
Added: 17.07.2015
---
Community
Images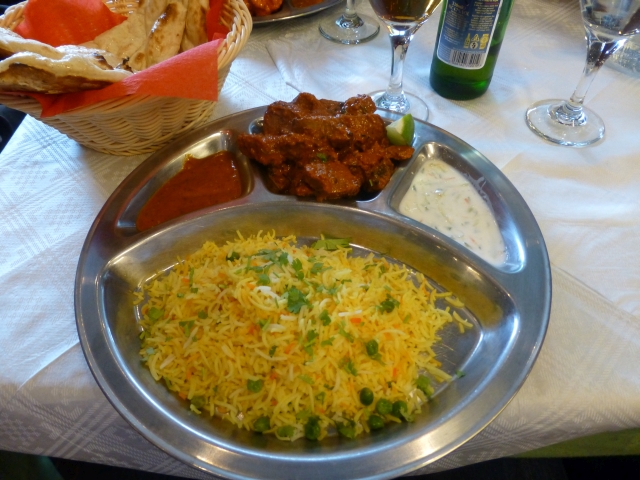 Fans (0)
These people have marked this restaurant as a favourite.
People interested in this restaurant (1)
---
Location
Options
---