Customer experience
Child friendly
Vegetarian
Vegan
Special diets
---
Reviews (

21

)
It's a buffet that costs 9,70€.
They have a good salad buffet with many different vegetables and toppings (i.e. seeds).
There are three varying vegetable dishes which are also vegan most of the time.
There's always pizza, varying deserts and a soft ice machine.
Nice atmosphere and a good place for having a lunch with yout colleagues!
Experience: Lunch
•
Price: 10€
•
Added: 02.05.2018
Savorissa on jokaiselle jotakin. Ruoka (tai ainakin omalle lautaselle päätyvät asiat) tuppaavat olemaan hieman rasvaisen puoleista, mutta lohtulounaan ainekset on kaikki koottu yhteen paikkaan - pitsaa, jätskiä, uppopaistettuja juttuja!
Experience: Lunch
•
Price: -4€
•
Added: 14.12.2017
Lounaspaikkojen luottomesta ja vakiopaikka. Lämpimiä ruokia löytyy todella monta erilaista, osa ihan peruskauraa, ja osa kiinalaistyylistä, johon Savor tuntuu siirtyneen enemmän viime aikoina. Lisäksi tarjolla on varsin maistuvaa pizzaa - päivittäin vaihtuvat kaksi eri makua - joskin jotkut mauista ovat hieman eksoottisia.

Lounaan hintaan kuuluu myös salaattibuffet, jonka taso on valitettavasti hieman laskenut viimeisen puolentoista vuoden aikana. Tätä ehkä kompensoi jälkiruokapöydästä löytyvä pehmiskone!
Experience: Lunch
•
Price: 10€
•
Added: 10.10.2017
Halusin testata yhden alueen suosituimmista lounaspaikoista. Avara ja siisti linjastolounaspaikka. Kassalla erittäin ystävällistä henkilökuntaa. Vaihtoehtoja oli runsaasti ja bonusta päivän pizzasta. Hehkutetun pehmiskoneen annin jätin väliin, mutta kokeilen varmasti seuraavalla kerralla!
Experience: Lunch
•
Added: 21.09.2017
Suosikkilounaspaikkani tällä alueella. Valikoima on erittäin kattava. Peruslinjaston lisäksi tarjolla on keittoa, pizzaa, aasialaista, lämmintä kasvisruokaa ja erillinen varsin pätevä salaattipöytä. Perusjälkkärin lisäksi löytyy pehimskone, siitä plussaa.

Paikka on avara, valoisa ja suht siisti mikä tekee kokemuksesta paremman kuin monessa lounasmestassa.
Experience: Lunch
•
Price: 10€
•
Added: 20.09.2017
Erittäin hyvää tofua! Joka kerta ollut myös vegaanista ruokaa.
Experience: Lunch
•
Price: 10€
•
Added: 07.09.2017
Erinomainen ja varma lounasvalinta, joka päivä myös kolme lämmintä kasvisruokaa. Pöytä löytyy isomallekin porukalle. Suosittelen.
Experience: Lunch
•
Added: 06.09.2017
Yksi alueen parhaita lounasmestoja. Monipuolinen valikoima salaatteja, lämpimiä ruokia, pizzaa, keittoa, kasvisruokaa ja aterian huipentumana pehmis suoraan pehmiskoneesta annosteltuna (makuina vaihtelee vanilja, suklaa ja lakritsi).
Valtava määrä valittavaa mistä löytyy jotain kaikille. Plussana kaiken päälle hyvät pizzat ja pehmiskone. Tosin jälkkärit muuten aika keskivertoa. Vakio lounasmesta
Experience: Lunch
•
Added: 26.06.2017
Reviews older than 2 years
These reviews don't affect the average
Kattava valikoima.
Experience: Lunch
•
Price: 9€
•
Added: 02.06.2016
---
Community
Images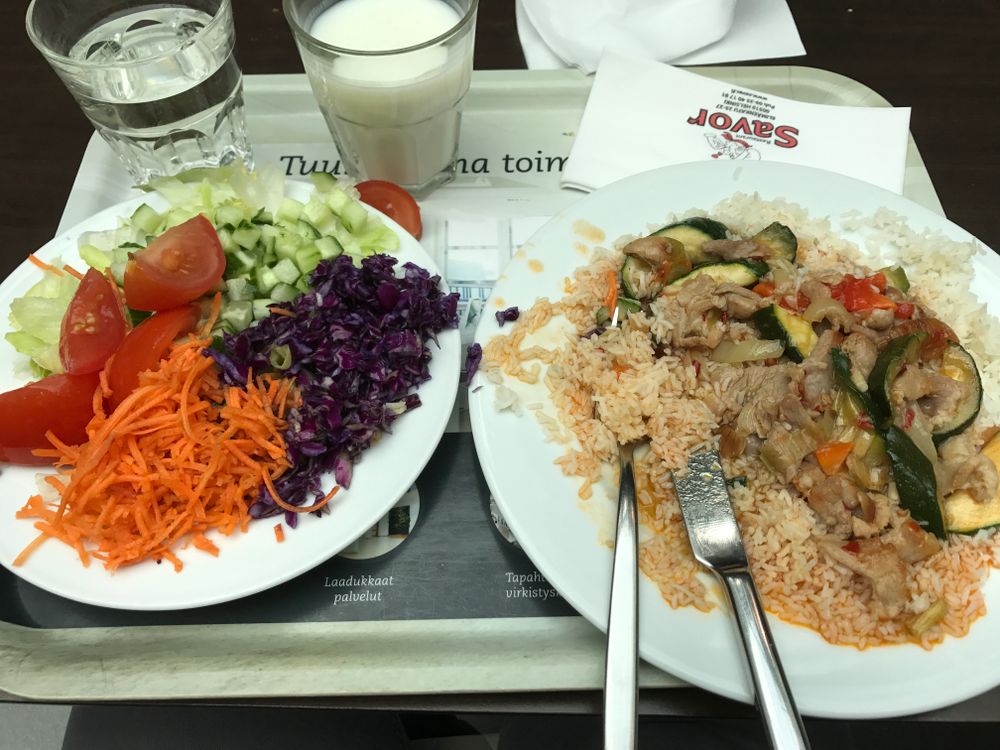 Fans (1)
These people have marked this restaurant as a favourite.
People interested in this restaurant (1)
---
Location
Options
---