Reviews (

10

)
Lauantaina 3. 11. oli jälleen tuttu ikävä näky. Ruokailijoita oli mukavasti, mutta vain yksi tarjoilija asiakkaita palvelemassa. Tarjoilija oli ammattitaitoinen ja asiakasystävällinen, mutta itseäni harmitti katsoa hänen kiirettään. Millainenhan tilanne on isänpäiväbrunsilla? Taidamme mennä muualle.
Experience: À la carte
•
Added: 05.11.2018
Reviews older than 2 years
These reviews don't affect the average
Ruoka oli todella hyvää, kauniisti tarjoiltu. Hyvä ja nopea palvelu! Hinta- laatusuhde kohdillaan ja tulemme varmasti toistekkin
Experience: À la carte
•
Price: 20€
•
Added: 31.10.2015
Kävin syömässä 16. 10, 2015 lounasaikaan. Otin riistakäristystä perunamuusin kanssa. Käristyksestä löytyi metallikiekko, reikä keskellä. Palautin tiskille ja kerroin, että tälläinen löytyi ruuasta. Eivät sanoneet sanaakaan, ei anteeksipyyntöjä tai mitään vastaan tulemista. En kyllä turhasta valita, ehkä jotain kommentia olisin toivonut. Olen kuitenkin ollut keittiöalalla jo 30 vuotta, Ei näin toimita maksavan asakkaan kanssa!
Experience: Lunch
•
Added: 16.10.2015
Super super yllätys

Eksyttiin ensimmäistä kertaa tarjoilijan sisäänheittämänä sunnuntaina syömään tänne. Mukava puheensorina, välitön ja hyvä palvelu.
Lohisalaatti niin kauniisti aseteltu että sitä söi silmillään ja valkosipulihärkä, paistettu juuri toivomusten mukaan ja senkin esillepano oli todella upeata. Ensin söimme silmillämme ja maut olivat odotusten mukaiset. Tänne palaamme varmasti koko perheen voimin.
Experience: À la carte
•
Price: 20€
•
Added: 08.06.2015
Asiakaspalvelusaa toivomista. Lisäkesalaateissa on paljon kehittämisen varaa. Isot kaljaporukat pilaavat tunnelman.
Experience: À la carte
•
Price: 17€
•
Added: 28.01.2015
Syön usein lounasta Suskissa, koska se tarjoaa Malmin seudun parasta kotiruokaa. . Lounaslistalta löytyy usein hyvää ja edullisemmnin kuin lounasbuffetista. Kesällä harvoja paikkoja, jossa voi syödä terasilla.
Experience: Lunch
•
Price: 9€
•
Added: 06.08.2014
Surkeaa palvelua varsinkin ravintolapäälliköltä.
Experience: À la carte
•
Added: 27.04.2014
Suski on ehdottomasti Malmin paras ja tunnelmallisin ravintola! Kattava erikoisolut-lista kokemisen arvoinen!! Uusi BBQ Pulled Pork Burger on stadin PARAS BURGERI. Löytyy makua ja kokoa, NAM!
Experience: À la carte
•
Added: 14.11.2013
Paras lehtipihvi ikinä!
Experience: À la carte
•
Added: 14.10.2013
Yllättävän monipuolinen lista Malmilaiseksi räkäläksi, iltaisin ihmiset ainakin enemmän alkoholin kuin ruuan perässä.
Olen syönyt listalta lohta, muikkuja, salaatteja ja kanaa, osa oikein onnistuneita osa tosi perustasoa. Kiva salaattipöytä, jossa hyvä valikoima.
Experience: À la carte
•
Added: 14.10.2013
---
Community
Images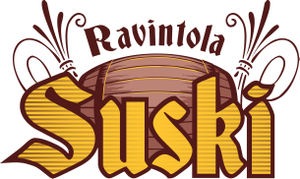 Fans (0)
These people have marked this restaurant as a favourite.
People interested in this restaurant (1)
---
Location
Options
---