Liisantalon leipomo - Tuhannen tuskan kahvila
Customer experience
---
Reviews (

10

)
Kävimme kahvilassa Loviisan Wanhat Talot -tapahtuman yhteydessä luettuamme täältä hyviä arvosteluja. Valikoima oli kuitenkin todella suppea - muutamia tuotteita. Olisiko johtunut erityisestä päivästä? Vohvelin ostoon kuului mehu, mutta hinta oli sama vaikka ei olisi mehua halunnutkaan... ihmiset näyttivät kysyvän kahvia mehun sijaan, mutta se oli sitten erillinen ostos. Ei tuntunut kovin hyvältä asiakaspalvelulta. Pöydissä olevat ampiaisansat olivat hyvä keksintö, mutta kyllä Loviisasta (ja Suomesta) löytyy parempiakin kahviloita.
Experience: À la carte
•
Added: 27.08.2016
Reviews older than 2 years
These reviews don't affect the average
Niin Ihana että ei sanotuksi saa! !!Kannatti käydä,ja tullaan myös uudestaan.
Experience: À la carte
•
Added: 27.04.2016
Luumumunkit ovat ihania! Ja kaikki muut vaihtoehdot myöskin loistavia! Parasta palvelua koko kaupungissa.
Yksi suomen parhaista kahviloista, jollei jopa paras !
Experience: À la carte
•
Added: 13.11.2015
Tuhannentuska:Todella elämys käydä siellä-Pavelu 5 tarjoamiset 5 hinta /laatu+5
Loviisaasa kannattaa käydä vaikka vain Tuhannentuskan takia-SUPER
Experience: À la carte
•
Added: 17.08.2015
Yhdellä sanalla: ihana!
Rento ja hyvä palvelu, tasokkaat tarjoilut ja kohtuulliset hinnat. Tunnelma ihan omanlaisensa. Suosittelen lämpimästi!
Experience: À la carte
•
Price: 8€
•
Added: 25.07.2014
Ihanaa sillitilli-piirakkaa, raparperiherkkuja, nopea ja hyvin ystävällinen palvelu. Tunnelmallinen sisäpihaterassi, suosittelen!
Experience: À la carte
•
Added: 09.06.2014
Aivan täydellinen pikku paratiisi! Pieni hirsirakennukseen tehty kahvila ja sen aurinkoinen sisäpiha vanhalla puutaloalueella, yrttipuutarha ja kukkia, perhosia ja TUNNELMAA! Sisällä seinillä taidetta ja ulkona myös. Valtavan hyvä palvelu ja rajoittamaton santsikahvimäärä. Söin "suolaisen munkin" (itse tehtyyn munkkitaikinaan tehty piirakka, jossa oli kasviksia, minisuolakurkkua, majoneesia ja kananmunaa) ja silli-tillipiirakkaa, seuralainen söi juustosämylän (oikeastaan minipatonki, sekin itse tehty paikan päällä). Tarjoilijaneiti oli todella avulias (ja nätti), samoin kuin kahvilan emäntä. Ideaalitilanteessa aloittaisin jokaisen aamuni täällä.
Experience: Breakfast / brunch
•
Price: 7€
•
Added: 03.08.2013
Tämä paikka on niitä helmiä, joihin harvoin törmää. Kahvin kera nautitut voileivät ja leivonnaiset osui ja upposi. Pakko päästä uudelleen.
Experience: À la carte
•
Added: 14.06.2013
---
Community
Images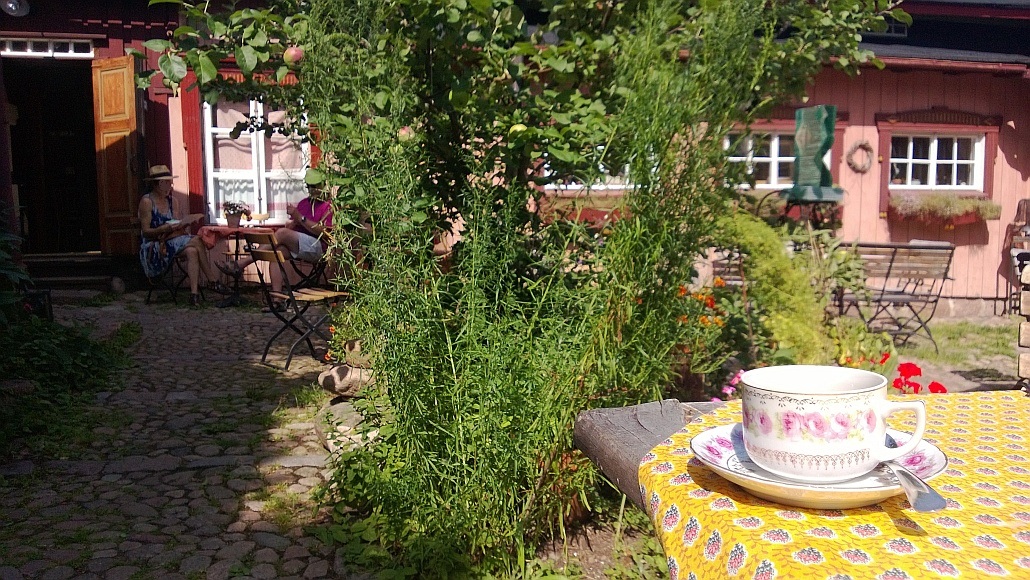 Fans (1)
These people have marked this restaurant as a favourite.
People interested in this restaurant (0)
---
Location
Options
---