Customer experience
---
Reviews (

3

)
Cuban frita.

Mehukas kokonaisuus, laadukaskin. Jos kunnon hamppari kiinnostaa kun sattuu olemaan torin kulmilla, tai miksei kauempanakin, suosittelen suuntaamaan tänne suurempien ketjupaikkojen sijasta.

Palvelu kesätyöläismäisen innokasta, sopi paikan henkeen, niinkuin kai periaatteessa sisustuskin, josta tulee kaikessa sekavuudessaan mieleen lähinnä huvipuisto tai vastaava.

Tälläisten paikkojen miinus tunnetusti on se, että jos mielii saada hampparin sijasta kokonaisen aterian, niin hinta karkaa kyllä äkkiä ihan oikean ravintola-illallisen kanssa samoille euromäärille..
Experience: À la carte
•
Price: 18€
•
Added: 06.06.2018
Käytiin poikani kanssa erittäin suurin odotuksin. Otettiin molemmat NYC burgerit+ranskalaiset+dipit ja juomaksi vesi. Näiden kahden hampurilaisaterian hinnaksi tuli yli 33 euroa. Itse otin ahneuksissani tuplapihvillä, joka osoittautui virheeksi. Hampurilaisen pihviosuudesta tuli niin paksu ja jytäkkä, että naudan maku hallitsi kokonaisuutta ja se alkoi jossain vaiheessa jo tökkimään. Poika otti yhdellä pihvillä ja se oli varmastikin tasapainoisempi kokonaisuus, ja pojan mielestä hampurilainen olikin ok-tasoa. Ranskalaiset erittäin ohuita tikkuja, jolla lienee haettu rapeutta. Itse tykkään enemmän isommista lankkumaisista ranskalaisita jotka ovat mielestäni rapeina miellyttävämpiä ja helpompia syötäviä. Miljöö lienee suunnattu nuorisolle, ja paikassa soikin vahva nuorisomusiikin jytke joka sekin alkoi jo häiritsemään. Kuitenkin paikan hintataso on kova aikuisillekin. Jos ateriaan olisi otettu juomiksi limpparit, olisi se tehnyt lähes 8 euroa lisähintaa! Teinipoikani kanta oli myös että kokemus oli ylihinnoiteltu.
Experience: À la carte
•
Price: 17€
•
Added: 30.12.2017
Reviews older than 2 years
These reviews don't affect the average
Hyvät hampurilaiset, plussaa hyvästä valikoimasta chilikastikkeita. Ruuan valmistuminen kesti aavistuksen kauemmin mitä tällaiselta paikalta odottaa mutta ei mitään katastrofaalista. Ruoka oli kuitenkin hyvää, arvosana nousisi pykälän jos odotus ei olisi ollut aivan niin pitkä.
Experience: À la carte
•
Price: 15€
•
Added: 17.08.2017
---
Community
Images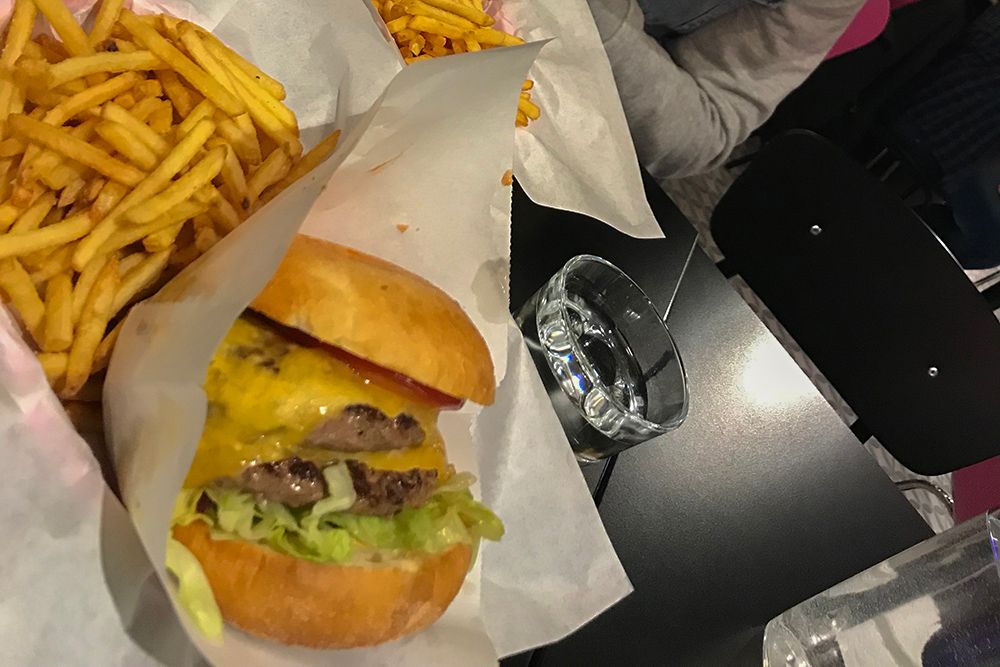 Fans (0)
These people have marked this restaurant as a favourite.
People interested in this restaurant (0)
---
Location
Options
---