Customer experience
---
Reviews (

9

)
Harvoin ravintolassa käynti jää siihen että ei edes syömään asti päästä. ..

Päätimmä 21.8. oikein asiaksi ottaa ja lähteä, useiden suositusten jälkeen, kokemaan tätä Vesilahden aarretta. Vaikka matkaa meille tuli noin 30km, ajattelimme nähdä sen vaivan, jos ei muuta niin kannattaaksemme pienen paikkakunnan ravitsemusliikettä.

Miljööhän ravintolalla on vallankin viihtyisä - arvokkaassa vanhassa pihapiirissä pöytiä sekä sisällä että ulkona. Lämpimän ilman takia päätimme jäädä ulos. Pöytään asettuessamme tarjoilija oli neuvottelemassa viereisessä pöydässä tilauksesta ja siihen liittyvistä juomista. Meitä tervehtien hän purjehti sisälle - kohta varmaan tulisi jo ruokalistat!

Minuutteja kului viisi, kului kymmenen, varttikin suhahti nopeasti, mutta listoja ei kuulunut. No, pieni paikka ja vähän henkilökuntaa, kyllä ne sieltä tulevat. Toinen tarjoilija hiippaili kovin pelokkaan oloisena keräilemässä astioita - katsekontaktin tavoitteluun ei vastausta tullut ja lautaset vilahtivat sisään ilman elettäkään meidän huomioimiseksemme.

Liki puoli tuntia odotettuamme päätin hakea itse listat sisältä. Toimenpiteeni kyllä huomattiin, tästä huolimatta kymmeneen minuuttiin ei edelleenkään mitään tapahtunut. Menimme listojen kanssa sisälle, jolloin huomasimme 15 x 15 cm kyltin jossa seisoi "tilaa tästä".

Kiireisen oloinen tarjoilija sapui tiskille. Hieman hämmästyneenä hänelle kerroin, että olimme yli puoli tuntia odottaneet pöydässä turhaan - koska emme sisällä käynet, ei meillä ollut tietoa itsepalvelutilauksesta - henkilökuntaa kun pihalla oli käynyt tänä aikana. Ilman minkäänlaista pahoittelua (jolla tilanne olisi pelastettu hienosti - palveluammatti, muistuttaisin!) tarjoilija totesi meille melko nokkavaan sävyyn:
"Kyllä huomasin kun tulitte, mutta tässä on nyt ollut aika paljon asiakkaita!". Hieno homma - ilmeisesti niin lujasti käy kauppa että tuollaiseen on varaa. Tämän jälkeen edelleen yhtä nokkavasti ilmoitettiin että "meillä on sitten tunnin jono, että onko teillä kiire?". Tässä vaiheessa rupesi koteloon ottamaan siksi varten paljon että marssimme ulos ko. pyydyksestä. Ja ei varmaankaan ihan heti kokeilla uudestaan.

Ruuan laadusta ja hinta/laatu-suhteesta arvosana tuli näköhavaintojen ja muiden kertoman mukaan.
Experience: À la carte
•
Price: 10€
•
Added: 22.08.2016
Hyvä pitsapaikka, maukkaat pitsat. Erikoisuuksiakin löytyy. Viihtyisä ympäristö. Ainoa miinus siitä, että jälkiruokajäätelö on ollut välillä vähän jäähileistä eli päässyt jossain vaiheessa hieman sulamaan.
Experience: À la carte
•
Price: 9€
•
Added: 16.07.2016
Reviews older than 2 years
These reviews don't affect the average
Muutaman vuoden jälkeen palasimme Makasiiniin (asuimme kaukana). Ja paikka on pysynyt entisellään nämä vuodet. Siisti, viihtyisä, kaunis ja kekseliäs sisustus, hyvän ja ystävällinen henkilökunta, maukkaat pizzat, joissa hinta kohdallaan. Aivan varmasti menen uudelleen ja uudelleen.
Experience: À la carte
•
Price: 10€
•
Added: 21.07.2015
Saimme tietää puskaradion kautta tästä idyllisestä ravintolasta. Meille jauhelihapizza on ollut syy mennä tai olla menemättä pizzerioihin. Voimme sanoa, että Makasiinin jauhis on yksi parhaimpia tuntemiamme. Hienoa, että löytyy näin kiva ravintola, jossa on laadukas ruoka, palvelu, ympäristö ja silti rento, kotoinen, perisuomalainen tunnelma. Hyvää työtä näiltä yrittäjiltä! Voimia jatkossa, näistä vaikeista ajoista huolimatta!
Experience: À la carte
•
Added: 05.03.2014
Ihanan kotoinen tunnelma, hyvät pizzat.
Experience: À la carte
•
Price: 10€
•
Added: 09.02.2014
Loistava miljöö!
Experience: À la carte
•
Price: 13€
•
Added: 16.08.2013
ainutlaatuinen ympäristö, hyvä palvelu ja tietenkin erinomainen ruoka - edustan 4 ruokailijaa
Experience: À la carte
•
Added: 21.07.2013
Makasiinissa on hyvät pitsat ja ihana tunnelmallinen miljöö nauttia pitsat paikan päällä. Täällä on kiva käydä vieraiden kanssa syömässä ja mukaan voi ostaa tuliaisia mm. teetä, kahvia, nameja, kortteja ja sisustustuotteita. Täällä voi käydä myös jäätelöllä. Pitsamenu on perinteinen, joten "gourmet" versioita listalta ei löydy. Palvelu on loistavaa ja jokaiselle loihditaan halutunlainen pitsa täytelistan puitteissa. Täytteisiin voisi lisätä vaihtoehdoiksi esim. suolakurkun ja rucolan sekä paistetun jauhelihan jauhelihakastikkeen lisäksi. Suosittelen ehdottomasti vierailua Makasiinissa Vesilahden Kirkonkylällä! Aukioloajat kannattaa tsekata Makasiinin kotisivuilta ennen visiittiä.
Experience: À la carte
•
Price: 10€
•
Added: 26.04.2013
---
Community
Images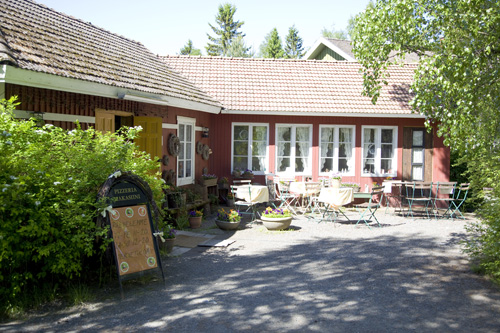 Fans (1)
These people have marked this restaurant as a favourite.
People interested in this restaurant (1)
---
Location
Options
---