Macsatz
3 Recensionen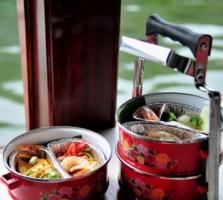 A great restaurant experience is food true to it's origin. If it's ethnic I want feel like I am really there. Seasonality & change in your menu. Definitely no pre-made processed frozen food reheated as FRESH! And friendly, helpful, attentive customer service with a smile! Oh and please don't start stacking chairs & cleaning whilst I am eating!!!
Badges
Recensioner (

3

)
Över 2 år gamla recensioner
Dessa recensionen har ingen påverka till genomsnitt betyg
Beautiful Thai food experience! Shared meal of Thai Fish cakes, Larb Gai (Chicken mince salad),Thai Fried chicken & Curries. All were prepared beautifully with distinctive flavors and quality that comes when made by hand. I love chili and these dishes delivered on their suggested chili rating. I Highly recommend that you enjoy several dishes shared over a Singha beer or two! Excellent customer service! Hope they keep up the great work!
Upplevelse: À la carte
•
Priset: 20€
•
Tillagt: 14.07.2012
---
Shared dishes included Tom yum soup, Thai red curry, Yum nua (Thai beef salad). The flavors were nice, it was presented lovely but the flavor was mellow and lacking distinctiveness and strength from the beautiful Thai flavors I know. The biggest disappointment was from the young team who seemed rather keen to close up. Cleaning started at 2130 and customers were refused at 2145 (even for take away). The prices are high for the quality and location.
Upplevelse: À la carte
•
Priset: 30€
•
Tillagt: 14.07.2012
---
Buffet lunch midweek was very busy. Food was good, hot and constantly replenished. I would prefer a little more distinctiveness in my flavors and salad with a little more Chinese influence.
Upplevelse: Lunch
•
Priset: 8€
•
Tillagt: 14.07.2012
---
---
Bilder
---
Followers