peremech
9 Recensionen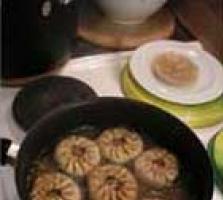 Badges
Recensioner (

9

)
Över 2 år gamla recensioner
Dessa recensionen har ingen påverka till genomsnitt betyg
The wasabi was almost completely tasteless. I have never tasted anything like that - you get stronger stuff by grating an average Finnish horseradish! This was a big disappointment, and I really should have talked to the staff, but they seemed somehow mournful and distressed while taking our orders. I felt like a spoiled child and ate my food obediently. The sad mood and the awful wasabi did not spoil my evening, but I would hesitate to come back here. It should be noted that I was here with a larger group of friends who wanted to eat sushi, and none of them noticed anything off in the mood or in the dishes. But truly tasty wasabi should make you cry!
Upplevelse: À la carte
•
Priset: 20€
•
Tillagt: 08.07.2011
---
Perjantain lounaaksi valitsin seisovan pöydän, joka oli niin runsaasti katettu etten jaksanut maistaa kaikkea. Harmitti että kurpitsakeitto jäi maistamatta, mutta lohicoulibiac oli suussa sulavaa ja salaattipöydän rapeat vihannekset täydensivät. Seuralaiseni valitsi riistakäristyksen, mutta se ei näyttänyt läheskään yhtä houkuttelevalta kuin lohi lehtitaikinassa. Jälki"ruoaksi" valitsin sencha-teepussin, mikä saattaa kuulostaa askeettiselta, mutta olin todella kylläinen! Hauska yksityiskohta Perhossa on oven vieressä seisova palauteautomaatti jonka hymiönmuotoisilla nappuloilla voi ilmaista mielipiteensä ravintolakokemuksesta.
Upplevelse: À la carte
•
Priset: 9€
•
Tillagt: 15.10.2011
---
Excellent lunch thanks to the generous soup buffet, with three different soups and plenty of garnishing of the customer's choice (including smetana, pesto, croutons and nuts). The bouillabaisse was especially recommended by a seasoned customer, but all the soups were equally tasty (tomato soup and ... the name of the third one escapes me). Definitely worth the money. I must visit more often to discover all the other varieties of soup that were mentioned by previous reviewers.
Upplevelse: Lunch
•
Priset: 9€
•
Tillagt: 09.07.2011
---
As lunch buffets go, this was average. I don't understand why Asian buffets include sushi here, it seems to be a Finnish thing. I wouldn't touch any sushi that has been lying around within sneeze distance of restaurant guests during several hours, but hey, that's just me. I usually enjoy fusion cooking if it results in new tasty experiences, but this is just the same old selection of Chinese and Thai standards, adapted to the unadventurous North European palate. Not very flavorful, and not many vegetarian options, but certainly digestible. The restaurant was quiet and our largish lunch group easily found a table big enough for all of us. I wouldn't take my own guests here, but it is good enough for a quick lunch with colleagues. Perhaps the dinner menu is more exciting, though?
Upplevelse: Lunch
•
Priset: 9€
•
Tillagt: 08.07.2011
---
Another place that I come back to again and again, whether I want it or not! Café Engel used to be a trustworthy, if pricey, lunch spot on an almost perfect location - I'm always surprised that it isn't full of tourists enjoying the view. More importantly, it is one of the few cafés in Helsinki where you actually get table service (Café Aalto on the second floor of Akateeminen Kirjakauppa also springs to mind). However, the recent refurb changed that, temporarily I hope! The portions are generous and the soups are tasty.
Upplevelse: À la carte
•
Tillagt: 08.07.2011
---
One of the few cafés in Helsinki with table service. I don't mind paying extra for that, and the location is nice - in the Akateeminen bookstore, making it a perfect spot for resting one's legs after browsing the bookshelves. The café area itself is not very cosy, with its small and clanky furniture, probably designed to keep the customers from feeling too comfortable. The coffee, cakes and food are alright, nothing remarkable.
Upplevelse: À la carte
•
Tillagt: 08.07.2011
---
I've never tasted a vegetarian hamburger before - now I want to go back for more. And bring my skeptical carnivore friends! I tasted the "standard" soy burger Päivän Pelastus (there are English-language menus available on the spot) and lo and behold, my day was saved. Sure, it's not cheap, and service may be a bit grumpy, and there's nowhere to sit during rush hour... But it's tasty, and well-selected ingredients make the burgers even tastier. I recommend to mix something hot and spicy with something sweet and sour, like ajvar sauce, and an ananas slice.
Upplevelse: À la carte
•
Priset: 7€
•
Tillagt: 09.07.2011
---
It was a dark and chilly night, and Café Ekberg had just closed (shockingly early at 6 PM). So this was the next best thing, and my companion kept a brave face, although he was served an awful instant cocoa drink for the same price as a proper cocoa at a decent café in his own native country. I felt a bit ashamed for the poor quality of the place, for the dirty tables, for the disinterested staff, for the uninteresting sandwiches drying on the counter... And apparently the waitress felt some sympathy for us, because she treated us to extra cookies and prompted us to sit in some comfy chairs at the window (an old trick to make the place look popular to passers-by).
Upplevelse: À la carte
•
Priset: 6€
•
Tillagt: 08.07.2011
---
This is my favourite pizza place. It is very small, a "hole in the wall", but genuine and warm. The staff is always friendly and there always seems to be a little table corner free during lunchtime. I've had both pizza and pasta here, and especially the pasta al forno has earned high praise among my colleagues and friends. The pizza francese was also a delightful discovery (thanks to my Parisian boyfriend who did not hesitate to order it once he spotted it on the menu). In a place like this, I don't mind that the menu rarely changes, because the people at Pompei stick to what they know and do it excellently.
Upplevelse: Lunch
•
Priset: 8€
•
Tillagt: 08.07.2011
---
---
Bilder
---
Followers
Lists
Bookmarks
---
Favorites