steve
19 Bewertungen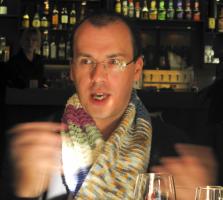 Good service
Abzeichen
Bewertungen (

19

)
Bewertungen älter als 2 Jahre
Diese Bewertungen haben keinen Einfluss auf den Durchschnitt
Firstly, the food wasn't bad, there was a lot going on at each course, my problem was nothing was explained about the dishes. They were just placed in front of us & we ate.
The wines were explained, the waiter had knowledge of each of them, & was happy to explain them.

It was rather overpriced for the overall experience, which was 3 courses.
I won't be back, unfortunately.
Erfahrung: À la carte
•
Preis: 50€
•
Hinzugefügt: 22.11.2015
---
Its very good, but. ..
Ive now had sushi from this place twice now, it came highly recommended by a few friends.
I held back from reviewing from the first visit, but the second time I was not so happy.
Taste, wonderful. Probably the best in Helsinki. But the sushi itself I found in poor shape, falling apart easily, which is very annoying. This has happened now on both occasions, & im not in the mood for a third visit. If the junior member of staff is preparing, I would like to think that he is being looked after & that some kind of quality control is monitored before leaving the place. The sushi is not cheap, so I expect quality all round.
Erfahrung: À la carte
•
Preis: 20€
•
Hinzugefügt: 27.05.2013
---
This place is a hidden gem, with fresh ideas & good service its one of the best in Helsinki.

This is my third visit to Aito & it gets better every time. The staff are very friendly & professional, I trust them with even wine choice, & ive never been let down.
Erfahrung: À la carte
•
Preis: 37€
•
Hinzugefügt: 04.11.2012
---
There is a wonderful burger place in Oulu, Kauppari 5, every time I go there I visit the place & enjoy the best burger in Finland. WHen I seen NYC Burger I though it could challenge Kauppari 5, & oh how Helsinki needs a good burger bar.
My suspicion started when I arrived for lunch, lots of seats. my second suspicion came when my burger arrived quite quickly, & it was undercooked, tastless & swimming in sauce.
I guess I still need to visit Oulu for a great burger, but its worth it.
Erfahrung: À la carte
•
Preis: 9€
•
Hinzugefügt: 16.01.2013
---
A cool little place with fine sushi & a very nice choice of wines.

The service can be a little slow, but they recognise this if/when it happens & look after you.
Tuna has been taken off the menu for obvious reasons, so they have done well to update their menu with some nice new surprises.
They also do take-away, which I often use.
I highly recommend.
Friendly staff too.
Erfahrung: À la carte
•
Preis: 25€
•
Hinzugefügt: 10.01.2012
---
Its great to have a new restaurant in this area, Kerhonen had gone downhill over the past 5 years, so this was always going to be an improvement.
The menu wasn't very imaginative, but it was interesting none the less. Although there was a little too much cucumber, celery & broccoli in the entire menu for my liking.

The fish main course was very good, but the side plate of potatoes & chorizo didn't mach well, it felt like it was there for just being there.
Wine match to the courses was excellent, their wine selection is impressive & I will find myself popping in for a glass in the bar section.

All in all, I feel Meche was good, & I do feel it will improve.
Erfahrung: À la carte
•
Preis: 39€
•
Hinzugefügt: 03.08.2012
---
Carelia is a very nice restaurant, unique and kinda quirky. Its classy, with professional staff.
The menu was interesting & had various options with a very very healthy & extensive wine list.

I had the scallops with hazelnut butter for starters, pork for main, and creme brûlée for dessert.
I had the waitress reccomend wine for each course, and they were matched very well, & with confidence.

The overall experience was enjoyable, and there is more to this place than meets the eye.
Erfahrung: À la carte
•
Preis: 55€
•
Hinzugefügt: 08.03.2012
---
I had high expectations after reading some of the reviews on this site, sometimes its not a good thing.

One thing that stood out for me was the service, not just the food, this was very well presented by the head chef & made my choice rather difficult.
I enjoyed the whole experience and loved the use of Finnish produce and the different ways to create the menu.
Well done to the guys there, they have a passion for food, and it really shows.

Erfahrung: À la carte
•
Preis: 50€
•
Hinzugefügt: 08.01.2012
---
The emphasis on my visit to A21 Dining can be summed up in one word, 'experience'.
The menu was inspired and influenced with Remy Martin cognac cocktails, and the fusion was perfect.

Service was impeccable, and there was no feeling of being rushed with courses, and at the end of the night the staff found time to sit and discuss the menu's development and future plans.

Just book & enjoy! I did.
Erfahrung: À la carte
•
Preis: 99€
•
Hinzugefügt: 17.11.2011
---
---
---
Followers
Lists
Bookmarks
---
Favorites