Customer experience
Child friendly
Vegetarian
Accessible
---
Reviews (

23

)
Erittäin viihtyisä paikka meren rannalla ja hyvä palvelu. Hyvä ja lämmin tunnelma.
Experience: Lunch
•
Price: 15€
•
Added: 29.09.2018
Reviews older than 2 years
These reviews don't affect the average
Tämä paikkahan on helmi. Mainio kahvila / ravintola uimarannan kupeessa. Varsinkin kauniilla säällä viikonloppuisin melko ruuhkainen.
Lounas on tasoa perus, mutta pizzat on 5/5. Paikalla paljon lapsiperheitä ja paikallisia viettämässä aikaa
Plussaa mutkattomasta ja rennosta meiningistä. Miinusta pizza uunin aukeamisesta vasta iltapäivästä.
Experience: Lunch
•
Added: 06.09.2017
Much too salty lasagne
Experience: À la carte
•
Price: 11€
•
Added: 01.11.2015
Pizzaa aurinkorannalla. Tältä kesältä on kaksi kokemusta Mellstenin pizzoista. Ensimmäisellä kerralla Pizza Mellsten vei kielen mennessään. Mutta yhdelle seurueen jäsenistä tuli väärä pizza. Myyjä ei tunnista pizzoja numeron perusteella. Pizzan nimeä yritettiin vielä korjata, mutta sitkeästi vain eri pizza myytiin. Toisella kerralla onnistuin tilaamaan sen pizzan, jota aiemmalla kerralla yritettiin tilata. No se olikin sitten kuivin pizza mitä olen koskaan syönyt, joten ehkä ensimmäisellä kerralla tilalle myyty kasvispizza olikin sitten ihan onnistunut erehdys. Ensi kerralla kokeilen salaattia, ne näyttivät hyviltä ja olivat kokonsa puolesta houkuttelevia. Miljöön takia täällä kannattaa pyöräilyretkellä poiketa säiden niin salliessa.
Lohipizza oli taivaallista! Pizza oli todella raikas ja maut olivat kohdallaan. Terassi oli ihana lämpimänä kesäiltana. Kaikki olivat hyvin kohdillaan paitsi pizzan saamisessa kesti lähemmäs 45 min, mutta jonosta ilmoitettiin kassalla. Palvelu oli hieman korutonta ja mitään sanomatonta, mutta ihan ystävällistä. Mukava paikka.
Experience: À la carte
•
Price: 13€
•
Added: 01.09.2014
Kävimme viimeksi pari vuotta sitten. Meidät häädettiin pois tyhjältä terassilta, kun mukanamme oli 5,3 kiloinen pikkukoiramme. joka olisi istunut kiltisti sylissä sen ajan kun olisimme siellä viipyneet. Kohtelu oli todelle töykeää. Siitä lähtien olemme käyneet naapurissa, jossa koiramme toivotettiin terveyulleeksi vesikupin kanssa. Siis nolla pistettä teille.
Experience: À la carte
•
Added: 01.03.2013
Pizzan pohja oli erittäin kiva ja sitkeä. Sormet tuli kipeäksi leikkaamisesta ja leuat pureskelusta. Muuten pizza oli vahvaa keskitason puurtamista.
Experience: À la carte
•
Price: 14€
•
Added: 09.06.2012
Päivittäinen maittava pastabuffet on ihan hyvä ja harvoin viikonloppuna syö alle kympillä näin merimaisemissa. Joskus ulkonakin,
Experience: À la carte
•
Price: 9€
•
Added: 28.05.2012
Loistava kesäpaikka!
Experience: À la carte
•
Added: 24.08.2011
Hyvät erikoiskahvit (maitovammaisillekin). Jätskit kylmiä :) ja Fajitas-buffakin oli perus hyvä. Suurin osa täytteistä oli "purkkikamaa", mutta siis ihan hyvää.
Tosi kiva kesäinen terassikahvila!

Experience: À la carte
•
Price: 12€
•
Added: 12.08.2011
---
Community
Images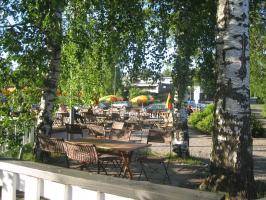 Fans (4)
These people have marked this restaurant as a favourite.
People interested in this restaurant (2)
---
Location
Options
---