Customer experience
Child friendly
Vegan
Accessible
Special diets
---
Reviews (

48

)
Reviews older than 2 years
These reviews don't affect the average
Tilasin pihvin, ranskalaisilla. . Pientä pinaattia kylkeen ja hinta 37€!!! Söin pihviä ja syljin yli puolet takaisin lautaselle kun oli niin sitkeetä. Tarjoilija kysyi maistuko niin vastasin että en muista koska olisin viimeksi syönyt näin sitkeetä pihviä. Tarjoilija otti annoksen pois ja sanoin että tämmöistä sattuu ja unohti mut siihen. Kävelin kassalle ja maksoin annokseni pois, ei tarvitse enään mennä enkä kyllä suosittele kenellekkään kyseistä paikka.. ABC huoltoasemaltakin saa paremman laatusta ruokaa..
Experience: À la carte
•
Price: 37€
•
Added: 19.01.2015
Ylioppilasjuhlat 31. 5.2014 - etukäteen tilattu buffet 30 hengelle (minimiveloitus 30 henkeä). Ruoka oli oikein hyvää ja kaikki toimi kuten etukäteen oli suunniteltu. Mansikkakakkua moni kehui.
Experience: À la carte
•
Price: 40€
•
Added: 02.06.2014
Äitienpäivälounas 2014. Gourmet -kokoinen alkuruoka (n.75 grammaa) ja pääruoka (n.160 grammaa) kaikkine lisukkeineen. Kys. kokoisia annoksia tulisi tarjoila 4-7 kappaletta, jotta vatsa täyttyisi. Jälkiruoka oli loppunut jo ensimmäisessä kattauksessa, paitsi Fazerin siniset, jotka korvasivat petit fourit ja kemakakku, joka oli nimetty mansikkakakuksi. Googlasin sanan "mansikkakakku" tarkistaakseni, olenko tähän asti ymmärtänyt mansikkakakun käsitteen täysin väärin. En ole. Ainakin viiden ensimmäisen hakutuloksen perusteella kys. kakkuun tarvitaan muutakin, kuin harvakseltaan pilkottuja tuoreita mansikoita kakunkoristeena. Lagunan kakun täyte oli omenaa ja kermaa tai jotain kermantapaista. Keittiömestarin vastaus palautteeseeni kertoo aika paljon:

kiitos rakentavasta palautteestanne.

Olen valtavan pahoillani tapahtuneesta.

Valtava asiakasmäärä tuona päivänä ylitti kaikki odotuksemme jonka johdosta tilanne osittain riistäytyi käsistämme, vaikka kaikki tiimissämme yrittivät parhaansa. Pyrimme jatkossa palvelemaan asiakkaamme paremmalla lopputuloksella.

Olen myös hyvin pahoillani tiedosta menettää teidät asiakkaanamme.

Eniten minua harmittaa se, että varasimme pöydän vasta äitienpäivänä kello 14.15, jolloin ruoan riittävyyteen liittyvät ongelmat olivat varmasti jo henkilökunnan tiedossa. Lounaamme olisi voitu pelastaa myymällä "ei oota", eli ilmoittamalla yksinkertaisesti: "Meillä ei ikävä kyllä ole enää tilaa tänään."


Experience: Lunch
•
Price: 59€
•
Added: 15.05.2014
Really nice service and Lamb & Day's Fish was excellent. Starter Salmon carpaccio was average (littlebit too "light" and wet) but it was served with shirmps which was great.


Experience: À la carte
•
Price: 140€
•
Added: 01.01.2014
Tunnelmallinen hirsi/lohkokivi-baari heti sisään tullessa. Kiva ja siisti paikka käydä oluella tai viinilasillisella. Takkaankin saisi varmaan tulet jos pyytäisi kauniisti?
Ruuan hinta/laatusuhde niin heikko etten enää mene baaria pidemmälle.
Experience: À la carte
•
Added: 03.09.2013
Mahtava sijainti sekä laadukkaat raaka-aineet, valitettavasti mediumina tilaamani sisäfile oli lähempänä medium +:aa. Laadukasta lihaa ei olisi ihan näin kypsäksi tarvinnut päästää. Kokonaisuudessa ei kuitenkaan mitään niin erikoista ollut, että hinta olisi ollut täysin perusteltavissa. Ymmärrettävää tietysti on, että miljöö nostaa hieman hintoja.
Experience: À la carte
•
Price: 40€
•
Added: 23.07.2013
Ruoka on valmistettu hyvin mutta raaka-aineet ovat lähinnä välttäviä. Caesar salaatti oli raaka-aineiltaan ja vähän "eilistä".

Annokset ovat onnettoman pienie hintaan nähden. Kympin hintainen suklaakakku oli yhden suupalan kokoinen ja sen sisällä oli jotain kovaa pohjaa. Paikoitustilaa ei juuri ole kuten muutkin jo huomauttivat. Palvelu oli ystävällistä mutta erittäin vähäsanaista.
Experience: À la carte
•
Added: 09.03.2013
Todella miellyttävä ympäristö, siisti. Ruoka hyvää, menu 1, pihvi medium+ kuten tilasinki. Palvelu hidasta, pikkulasten jälkiruoat tuotiin odottelun jälkeen viimeisenä. Pihan parkkipaikat olivat täynnä, eikä henkilökunta varoittanut kadunvarsiparkkeeraus kiellosta, vaikka kyselin asiasta. Kieltomerkkejä emme nähneet, mutta seurueemme 4 autoa saivat kaikki 60eur parkkisakon muistoksi muutoin mukavasta illasta. Iso miinus tästä ravintolalle, varoitus asiakkaille on myös asiakaspalvelua. Jäi paha maku suuhun.
Experience: À la carte
•
Price: 53€
•
Added: 06.03.2013
Kävin Lagunassa viime viikolal ystäväporukalla syömässä, perushyvää ruokaa nätisti tarjolla, asiakaspalvelu erinomaista. Ruoka hieman keskivertoa ylempi. mutta mitkä puitteet! Maksan 5 euroa enemmän ruoasta ihan vaan näköälan takia, mutta se on sen arvoista
Experience: À la carte
•
Price: 32€
•
Added: 25.02.2013
Sama kuin edellä: mediumina tilattu pippuripihvi täysin kypsä, olin ainoa asiakas klo 11 päivällä eli syy ei ole kiire tms.
Ruoka sinänsä oli hyvää ja paikka hieno, varsinkin kesällä voisi olla upeat näkymät.
Mainitsin maksaessa pihvin kypsyydestä jolloin tarjoilija vähensi 15% hinnasta pois.
Tarjoilija oli ystävällinen ja ymmärsi homman kun ei saa sitä mitä tilaa.
Saatan mennä uudestaan.
HINTA ON KYLLÄ YLIMITOITETTU KUN EI SAA SITÄ MITÄ TILAA!!
Experience: À la carte
•
Price: 38€
•
Added: 14.01.2013
---
Community
Images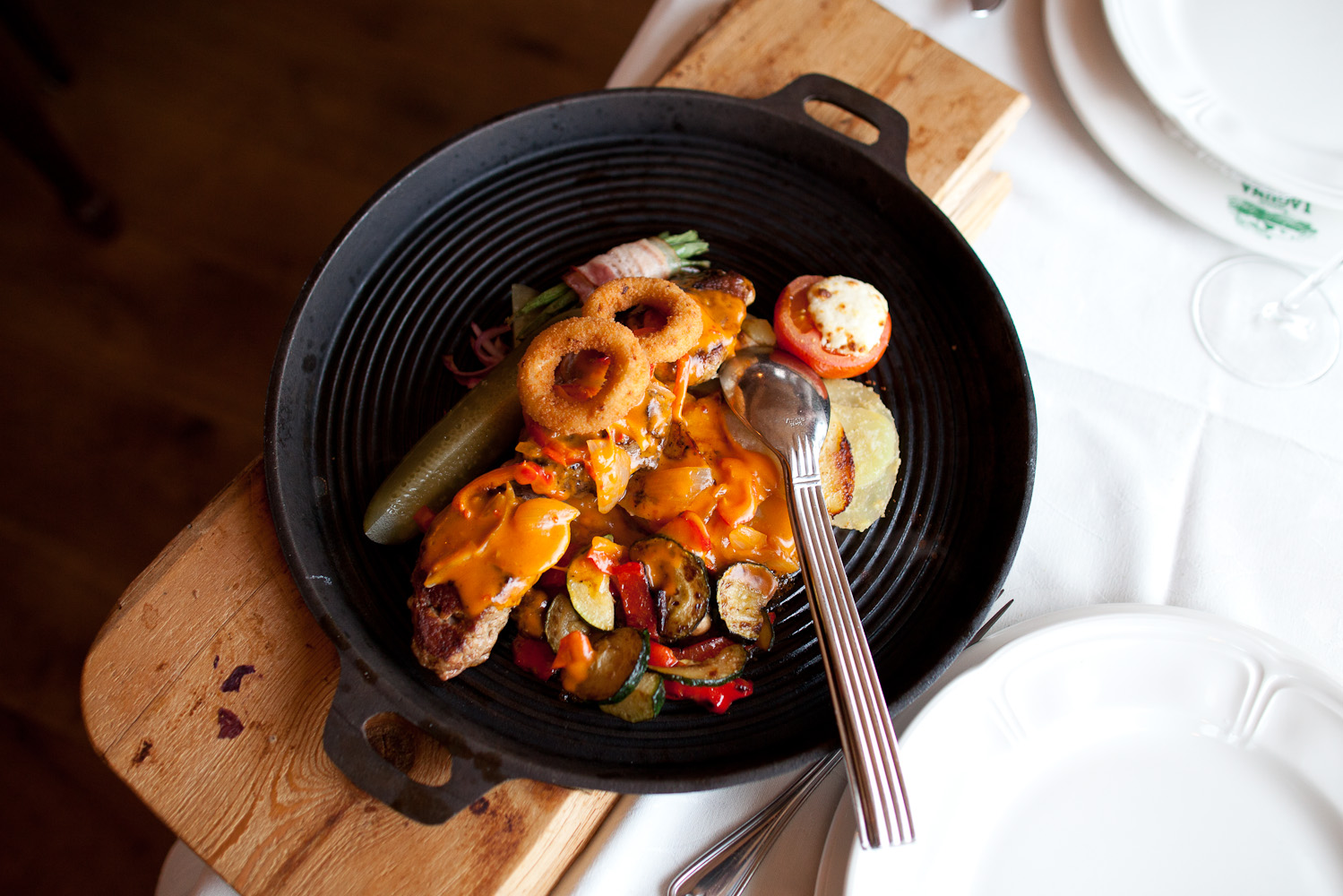 Fans (1)
These people have marked this restaurant as a favourite.
People interested in this restaurant (1)
---
Location
Options
---