Reviews (

21

)
Reviews older than 2 years
These reviews don't affect the average
If you want reasonably priced yet good Vietnamese food - this is definitely the place for you! If you are more into bulk Chinese, then I'd recommend you go elsewhere. Chinese dishes are better elsewhere.
Experience: À la carte
•
Price: 12€
•
Added: 15.10.2017
Pettymys. Haimme neljä ruokaa mukaan. Kaukana aidosta vietnamilaisesta. Kolme ruokaa ihan syötäviä, koostumukseltaan hyvin vetistä "peruskiinalaista". Paistetun riisin kohdalla jokin oli mennyt pieleen; maussa oli jotain samaa miltä koiranruoka haisee - jäi osin syömättä. Melkein tekisi mieli antaa 1/5 ruoan laadusta, mutta menkööt nyt 2/5:llä. Ehkä keitot tai muut ovat paikassa sitten parempia, mutta sen verran masentava esitys oli tämä, että toista kertaa ei enää testata...
Experience: À la carte
•
Added: 20.12.2015
Pho-keitto on reilun kokoinen ja erittäin maukas. Olen testannut sen sekä kanalla että naudanlihalla, joista jälkimmäinen on ollut selvästi paras.

Muita ruokia en ole maistanut, mutta seuralaiseni on niitä ainakin kehunut.
Experience: À la carte
•
Price: 8€
•
Added: 20.11.2015
Erittäin hyvää vietnamilaista ruokaa, phon lisäksi muutamia muita vietnamilaisia ruokia tarjolla edulliseen hintaan.
Experience: À la carte
•
Price: 8€
•
Added: 15.11.2015
Ihan hyvää phota, jossa hinta kohdallaan! Lounasajan jälkeen iltapäivällä paikka oli aivan tyhjä.
Experience: À la carte
•
Added: 14.09.2015
Paikka sijaitsee hämeentiellä hyvien kulkuyhteyksien varrella.

Otin erittäin kehutun Pho keiton naudanlihalla.

Keitto oli erittäin suuri ja syötävää riitti. Lisäksi siihen kuului alkusalaatti noutopöydästä.

Liemen maku oli kohdillaan ja sitä pystyi omaa makunystyröitä kunnioittaen tuunaamaan mielensä mukaan.

Kuitenkin verrattuna esimerkiksi Lie Mi:n vastaavaan jäin kaipaamaan lisää kasviksia, kuten korianteria ja ituja.

Kertakaikkia hyvä kokemus, jonka hinta/laatu suhde oli kohdallaan. Ravintola mainitsee myös kotiinkuljetus mahdollisuuden, joten pitää testata kyseistä vaihtoehtoa.

Menen ehdottomasti uudestaan asioimaan kyseiseen paikkaan.
Experience: À la carte
•
Price: 8€
•
Added: 13.07.2015
Erinoimainen Pho keitto, kaikku maut kohdillaan, ja nopea kotiinkuljetus. Suosittelen kaikki vietnamilainen safka mitä niillä on tarjolla, mutta valitettavasti muut ruuat ovat olleet melko mauttomia, Satay kastike oli isoin pettymys. Mutta palvelu on hyvä ja toimitus nopea niin Pho keitto syödään vielä monesti !
Experience: À la carte
•
Price: 11€
•
Added: 14.04.2015
Kävin buffella ihan pikaseltaan - maistoin tavoistani poiketen keittoakin: se oli tosi ihanan makuista. Buffen ruoat kiinalais-oloisia, mutta kun kehuin keittoa henkilökunnalle, minulle kerrottiin sen olevan Vietnamilaista Pho-keittoa. Minusta tuli sen keiton intohimoinen ystävä kertaheitolla. Suosittelen.
Experience: Lunch
•
Added: 05.02.2015
Ravintolan vietnam annokset vievät kielen mennessää, sekä grillattu possu ja grillattu nauta olivat herkullisia. Lisukesalaatti, oli tosi hyvä. Pho keittokin hyvä, oli valtavan kokoinen. Ehdoton suositus vietnam annoksille!!

Experience: À la carte
•
Added: 06.01.2015
Mitä parhainta sapuskaa nopealla toimituksella.


Experience: À la carte
•
Price: 12€
•
Added: 19.12.2014
---
Community
Images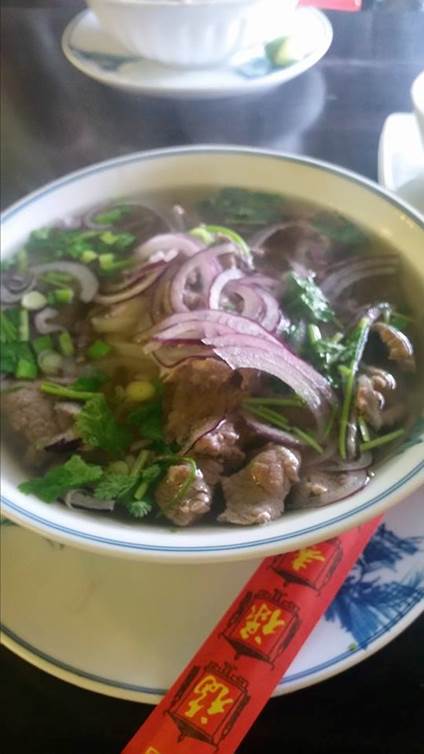 Fans (1)
These people have marked this restaurant as a favourite.
People interested in this restaurant (3)
---
Location
Hämeentie 101

,

00550

Helsinki

- Route

0405312389

Options
---