Reviews (

9

)
Erinomainen.
Experience: À la carte
•
Price: 12€
•
Added: 27.12.2015
Lounasaikaan hinta-laatusuhde oli erinomainen. Lempeä misokeitto ja raikas 12 palan sushilajitelma. Sympaattista asiakaspalvelua. Sijainti sopivasti piilossa mutta kuitenkin keskeisellä paikalla.
Experience: Lunch
•
Price: 10€
•
Added: 28.11.2015
Lounasikaan sushi- ja misokeittoannoksilla erinomainen hinta/laatusuhde. Kasvisnuudeliannos ei niin hyvä, nuudeli jäi paksuudessaan ehkä mauttomaksi. Itsetehtyä kuitenkin! Erittäin kaunis esillepano ja ystävällinen palvelu. Maultaan yksi parhaimmista lajissaan.
Experience: À la carte
•
Added: 10.10.2015
Syrjässä oleva paikka, jossa tarjolla erinomaista sushia. Ystävällinen ja mukava palvelu. Itsetehdyt leivonnaiset suorastaan suussa sulavia. Hieman huolimaton ulkoasu pettää, tämä paikka on löytö
Experience: À la carte
•
Price: 10€
•
Added: 27.09.2015
Reviews older than 2 years
These reviews don't affect the average
Hyvää aidolta kiinalaiselta maistuvaa ruokaa. Nuudeli ja sushi hyviä ja mukava palvelu. Eräällä kerralla oli saatavilla Rou Jia Muo kiinalais "burgereita" ja oli ehkä jopa parempia kuin koskaan Kiinassa syömäni. Toivottavasti saatavilla joskus uudestaankin.
Experience: À la carte
•
Price: 15€
•
Added: 18.07.2015
Suosittelen!

12 palan lajitelma + misokeitto 10 euroa ainakin lounasaikaan. Erinomaisen maukas ja tuoretta sushia. Maistuu enemmän autenttiselta, Japanista saatavalta sushilta kuin muissa keskustan vastaavan hintaisissa paikoissa. Take-awayta odotellessa sai herkullista vihreää teetä. Paikka on todellinen löytö! (Kunhan tuonne löytää ensiksi... sijainti on vähän syrjässä, mutta ainakin Kampista ja Ruoholahdesta jaksaisin kävellä tuonne. Ja Espoon suuntaan menevät bussit pysähtyvät kuitenkin ravintolan edessä.) Todella positiivinen yllätys. Suosittelen! Saivat ainakin minusta uuden kanta-asiakkaan.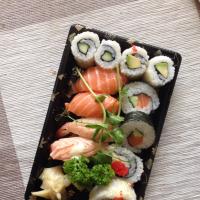 Experience: Lunch
•
Price: 10€
•
Added: 08.07.2015
Mukava ja huomiovainen palvelu, hyvä sushi.
Experience: Lunch
•
Price: 9€
•
Added: 13.06.2015
Maukasta ruokaa ja herkullisia leivonnaisia viihtyvässä miljöössä. Erityisesti kannattaa kokeilla keittoja höystettynä itsetehdyllä chilikastikkeella.
Experience: À la carte
•
Added: 06.06.2015
Mukavan kodikas ja siisti kahvila josta saa myös ruokia, mm. sushilajitelmia ja nuudeleita. Tilasin mukaan pienen lajitelman joka sisälsi kymmenen sushia (muistaakseni neljä nigiriä ja loput erilaisia ja -kokoisia makeja) sekä melko reilun kulhollisen keittoa. Hinta yhteensä vain 8,90 euroa illalla lounasajan jälkeen. Palvelu oli ystävällistä ja pöytään tuotiin vihreää teetä kun odottelimme annoksia. Kaikki maistui hyvältä, lohinigirit olivat ehkä parhaita. Suosittelen paikkaa ja käyn varmasti uudelleenkin! :)
Experience: À la carte
•
Price: 9€
•
Added: 22.05.2015
---
Community
Images
Fans
These people have marked this restaurant as a favourite.
People interested in this restaurant
---
Location
Lapinrinne 2

,

00180

Helsinki

- Route

0449716641

cafeplushome@gmail.com