Customer experience
Child friendly
Vegetarian
---
Reviews (

38

)
Reilu ja simppeli korttelipizzeria joka pitänyt yllä tasaisen hyvää laatua jo useamman vuoden ajan. Lättyjen annetaan paistua loppuun asti rapeaksi ja raaka-aineet ovat OK. Peruslistalta löytää helposti haluamansa alle kympillä, lounakset vielä edullisempia.
Experience: À la carte
•
Price: 9€
•
Added: 25.09.2017
Reviews older than 2 years
These reviews don't affect the average
Hyvä paikka tilata kotiin jos asuu keskustan alueella. Toimituskin on ilmainen, jos tilaus maksaa 11,50. Yhden perhepizzan hinta oli 12e ja siitä jaksoi vajaan puolikkaan kerralla syödä, joten ei kalliiksi tullut. Hyvä pohja, ei liian kuiva ja sopivasti täytettä ja juustoakin.
Experience: À la carte
•
Price: 12€
•
Added: 05.03.2016
Kebab oli kohtuullista, olen syönyt parempaakin. Ihan tavallinen korttelipizzeria.
Experience: À la carte
•
Price: 12€
•
Added: 20.08.2015
Kebab oli todella hyvää, parasta mitä olen kotiin kuljetuksena saanut. Pizza oli myös hyvää. Täytteet pysyivät pizzassa ja pohja oli sopivan paksuinen jne
Experience: À la carte
•
Price: 8€
•
Added: 31.05.2015
Surkeeta
Experience: À la carte
•
Added: 22.03.2015
Monta kertaa tullut tilattua pizzaa, jotka ovat osottautuneet erinomaisiksi. Makujen puolesta parhaimpia pizzoja ulkomaalaisten pyörittämistä paikoista, joskin käyttävät reiliusti juustoa, niin joskus tulee rasva liikaa läpi ruuista. 4/5 mesta kaikesta huolimatta!
Experience: À la carte
•
Price: 8€
•
Added: 18.03.2015
Päivä päivältä, palvelu menee huonosti
Experience: À la carte
•
Price: 9€
•
Added: 01.08.2014
Täältä on tullut muutaman kerran tilattua kotiin. Ensimmäisellä kerralla kaveri otti pitsan, minä iskenderin. Oma annokseni oli syötävä, mutta ei lähellekään sitä mitä naapurin kebabilasta tottunut saamaan. Kaveri sanoi pitsansa olevan hyvää.
Nyt tuli taas pari päivää sitten tilattua uudestaan, ihan vain pelkkää pitsaa. Näiden kokemuksien perusteella voisin sanoa, että ehdottomasti pitsapaikka. Hakkaa lähellä olevan Koti Pizzan ihan 6-0, niin hintojen kuin makujenkin puolesta. Tilauksesta meni vajaa tunti että olivat oven takana. Pitsa juuri syötävän lämmintä ja, niin, ne maut. Täältä tulen ehdottomasti tilaamaan jatkossakin! Suosittelen (pitsojen osalta)!
Niin, ja lisätään vielä tämä - pitsareuna täydellisen pehmeää, eikä sellaista höttöstä mitä monesta muusta paikasta saa.
Experience: À la carte
•
Added: 24.06.2014
Eira Plaza on ollut vakipizzeriani jo vuosia. Hyvät hinnat ja kuljetuspalvelu. Mutta eilen söin elämäni parhaan pizzan, kannattaa kokeilla tätä: Juusto Craze lisätäytteinä kana ja tuore tomaatti. Pohja oli hyvä vaikka juustoa tässä pizzassa on naurettava määrä (nam) ja paistoaste oli täydellinen, pinta kauniisti ruskettunut. Maku herkullinen!
Experience: À la carte
•
Price: 10€
•
Added: 24.03.2014
Eira Plazan olemassaolosta tulin tietoiseksi Grouponin pizzatarjouksen kautta. Sen jälkeen sieltä on säännöllisesti tilattu ruokaa. Ensin negatiiviset: Pasta oli hirveää, täysin mössöksi keitettyä spagettia mitäänsanomattomalla kastikkeella. Annos näytti koiranruoalta. Kerran tilasin myös kebua, liha ei ollut samaa laatua kuin joidenkin muiden take-away paikkojen. Syy miksi Eira Plazasta pidän ovat pizzat. Ne ovat suhteellisen edullisia, rapeapohjaisia, ja täytteistä löytyy epätavallisiakin vaihtoehtoja. Ovat harmikseni poistaneet tosin savuhärän mikä ei varmasti ravintoloitsijalle ollut se kustannustehokkain raaka-aine. Lisäksi ilmaisen kotiinkuljetuksen ostoraja on todella matala, voi tilata yhdellekin hengelle. Olen paikalla käynyt vain yhden kerran, ravintola oli siisti ja suomalainen naistyöntekijä ystävällinen.
Experience: À la carte
•
Added: 14.03.2014
---
Community
Images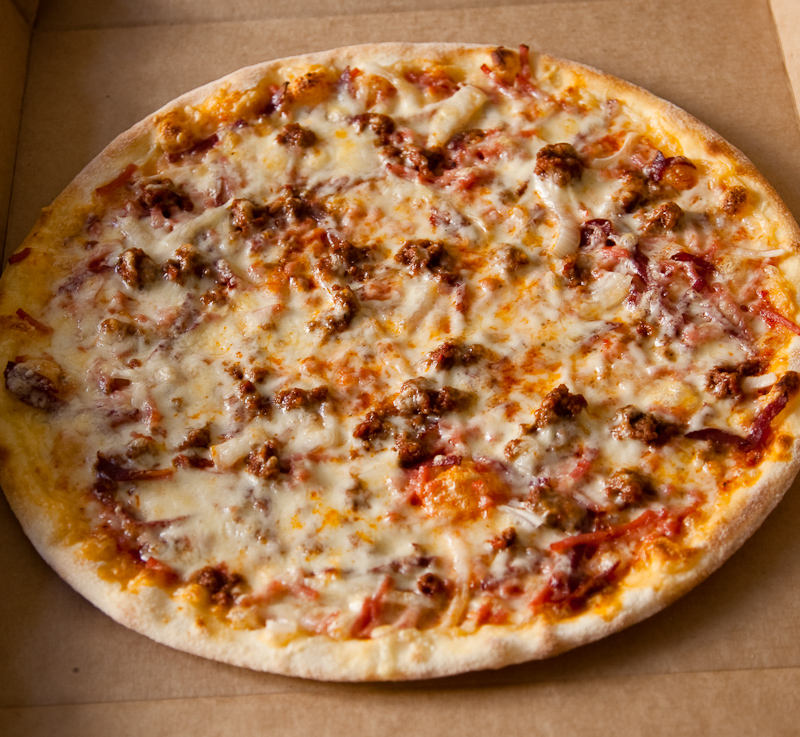 Fans (1)
These people have marked this restaurant as a favourite.
People interested in this restaurant (2)
---
Location
Options
---