Customer experience
Child friendly
Vegetarian
---
Reviews (

13

)
Lämmin tunnelma, hyvää ruokaa.
Mielestäni tämä ravintola on helmi jota ei kaikki tiedä. Ehdottomasti kannattaa käydä kokeilemassa, oman arvioni voi lukea blogistani:
http://aitoaarkiruokaa.fi/kokki-kavi-lounaalla-ravintola-palema/

tervetuloa lukemaan :)
Experience: Lunch
•
Price: 10€
•
Added: 01.02.2017
Kiva miljöö, oikein laadukas ja runsas lounas. Uudestaan.
Experience: À la carte
•
Added: 22.05.2016
Kivan modernia lounasruokaa, vaatii vielä pientä fiilausta, hieno tila. Lounastimme puolen päivän aikaan ja paikka oli aika täynnä ja päällä hyvä pöhinä.

Tilaukset otettiin vastaan tiskillä, jossa oli oikein reipas ja iloinen asiakaspalvelu. Sama taso jatkui koko vierailun ajan, siitä erityinen kiitos!

Tarjolla olleista pääruokavaihtoehdoista valitsimme Harjun makkaratehtaan makkaraa (saman omistajan) ja Saksanhirven entrecôte-pihviä. Alkupalaksi oli tarjolla maukasta kasviskeittoa, hyvä idea joka on tuotu Döner Harjusta tännekin.

Makkarat olivat maukkaita, rakenteeltaan napakoita ja sopivan kosteita/rasvaisia. Saksanhirven entrecôte ei sen sijaan säväyttänyt. Maku ja paistoaste olivat kohdillaan, mutta normaalin rasvan lisäksi kyseisessä palassa oli kalvoja melko runsaasti.

Lisäkkeinä tarjotut juurekset yrittikastikkeinen sopivat hyvin rustikkiseen saksanhirveen ja makkaroihin.

Viinivalikoima näytti olevan aika runsas, jota ei valitettavasi tällä visiitillä ehditty kokeilla. Tila on valoisa ja sisustus pelkistetty. Olen samaa mieltä kuin joku muukin arvioitsija; ilmanvaihtoa voisi hieman koittaa tehostaa.

Ansaitsee ehdottomasti uusintavisiitin, kokonaisuus oli selvästi hallussa!
Experience: Lunch
•
Price: 10€
•
Added: 04.03.2016
Todella hyvää. Suosittelen.
Listalla monipuolisesti vaihtoehtoja ja ruoka maistui hyvältä. Kiva miljöö ja tunnelma. Toivottavasti paikan ilmastointi paranee. Vaatteisiin tarttuva ruuan käry oli häiritsevä. Siitä miinusta.
Experience: À la carte
•
Price: 11€
•
Added: 25.02.2016
Uudet omistajat, uusi meininki. Ensimmäisen käynnin perusteella todella hyvä lounaspaikka. Ryhmässämme kaikki olivat tyytyväisiä annoksiinsa (lihaa / kasvista, 10-12 eur). Alkukeitto oli erinomainen.

Karussa yksinkertaisuudessaan kotoisa miljöö, kaiuttimissa soinut Rauli Badding Somerjoki sopi tunnelmaan täydellisesti.

Tänne uudelleen! Toivottavasti taso pysyy.
Experience: Lunch
•
Price: 10€
•
Added: 22.02.2016
Reviews older than 2 years
These reviews don't affect the average
Miehille.
Heinon tukkutorin sisäänkäynti. Näyttää lupaavalta. Sekava värimaisema. Pysähtynyt aika. Viherkasveja. Halpatuontikuvaputkitelkkari. Nahkaistuimia. RAY-pelikoneiden pimputus. Kaurismäki istuu nurkassa.

Mietin hetken, mikä paikassa on outoa, kunnes keksin. Thoootta! Asiakkaina on vain miehiä. Pelkkiä miehiä. Duunareita. Raksalta. Ratista. Varastosta. Eläkkeeltä. Lomalta. Tunnin istumisen aikana tilanne ei muutu mitenkään. Puolen litran maitotölkkien määrä on suoraan verrannollinen asiakkaiden määrään.

Palvelu on rehtiä, jutustelu ei ole kielletty. Keittiötä ei piilotella, pihvi ja perunat lähtevät paistumaan asiakkaan silmien edess samalla sekunnilla kun tilaus tehdään.

Kotiruokaosastoa, rehellisesti. Hinnat seiskan ja ysin välillä. Listalla ilmeisesti kolme päivittäin vaihtuvaa asiaa. Salaatti on valmiina lautasella, ollen oikein asiallinen. Lisäksi saa noukkia leipää ja säilyvämpiä salaattiverrannaisia tiskin sivusta. Vesiautomaatti on retro. Sydän vesiautomaatille. Oma pihvi on kookas ja maukas. Tuoreusasioista on varmasti turha edes mainita. Kastikkeen määrä on järjetön, mausta nyt puhumattakaan. Toisella vierailulla annos ei ole aivan ensimmäisen kerran tasoa. Kympin lounaspihvi ei silti valituksia aiheuta.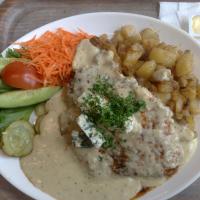 Experience: Lunch
•
Price: 9€
•
Added: 10.05.2013
Ravintola on röökinsavua lukuunottamatta niin kaurismäkeläinen kuin vain olla voi.

Iskelmä soi hennosti taustalla duunareiden kilistellessä ruokavälineitään. Eteisessä jonotetaan sulassa hiljaisuudessa. Kassatäti nyökkää kuullessaan silakkapihvitilauksen. Listalla olisi myös lohisalaattia ja lehtipihvi. Taustalla oleva kokki ryhtyy touhuamaan tilausta.

"Miten haluat perunasi?"
"Muusina"

--
Pitäjät tekevät kotiruokaa +20 vuoden kokemuksella, joka näkyy ruoan laadun tasaisuudessa ja otteissa.

Jokaisen suomalaisen pitäisi edes kerran elämässään syödä Palemassa tai vastaavassa paikassa, ihan vain tunnelman takia.

Experience: À la carte
•
Price: 8€
•
Added: 22.11.2012
Perussafkaa, raksamiehen unelma. Voi mennä työvaatteissa ja lukea seiskaa. Ikävä olla ilonpilaajana, mutta tämä mieletön retrohehkutus ei auta pelastamaan sitä faktaa, että tämä paikka on työmaaravintola, eikä ruoan maku, laatu tai näyttävyys ole sen ihmeellisempää kuin vastaavien ravintoloiden, jotka sattumat olemaan sörnäisten lähiseuduilla.
Experience: Lunch
•
Price: 8€
•
Added: 10.03.2011
---
Community
Fans
These people have marked this restaurant as a favourite.
---
Location