Customer experience
---
Reviews (

12

)
Siisti pizzeria sisältä ja ulkoo, MUTTA en muista koskaan safkanneeni niin MAUTONTA pizza kun kun täällä! Mieluummin vaneria ketsupilla kun tähän pizzeriaan. Ei enään tänne!
Experience: Lunch
•
Price: 8€
•
Added: 09.08.2016
Reviews older than 2 years
These reviews don't affect the average
Darraparkki.
Sunnuntaipizzan voi syödä missä vaan, jos hinta on 6,50 euroa. Täällä Lassilan ytimessä kahden täytteen pizza todella kustansi sen verran. Olisiko vielä kuulunut kahvikin samaan hintaan?

Palvelu pelaa ja pizza nousee nopeaan. Oma salami-mozzarella-pizzani on suolainen ja kaikkineen tilanteeseen sopiva. Täytteitä on odotettu määrä, juustoa jopa yllättävän paljon. Porukkaa näyttää puskevan ovesta myös keskikaljalle. Loiventava olotila.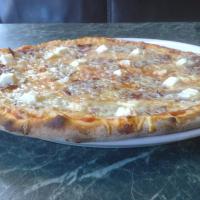 Experience: À la carte
•
Price: 6€
•
Added: 09.10.2014
Pari vuotta sitten vatsa ripulille kahdesta kerrasta kun myös silloin pita kebab lähes salaatti kebab . Nyt uusi yritys.Tilattiin pitsa puolix ku ei niin iso nälkä.Mainosti salaatti pöytää.Kun molemmat otimme.Karjasi ukko kassalta kaikkien asiakkaiden kuullen "vain yksi salaatti annos kuuluu" hävetti jättää jo kerätty lautanen tiskille.Olin tilannut pitsaan valkosipulia.Tarjoilijan tuodessa mainitsin asiasta kun ei sitä siinä ollut.Lähti hakemaan sitä.ikinä ei pitsaan valkosipuli päätynyt.enää en kuppilaan poikkea nolattavaksi.töykeä palvelu...
Experience: À la carte
•
Added: 09.06.2014
Omassa kategoriassaan hyvä vaihtoehto jos pizzoista puhe. Keskivertoa parempi peruspitsa ja palvelu hyvää; kerran mm. pyynnöstä heittivät pizzan päälle mukana tuomani saksanpähkinät.
Experience: À la carte
•
Price: 8€
•
Added: 20.03.2014
Kahden tilaamani pizzan vanhentuneet täytteet menivät ristiin. Kuljetus kesti melkein 1,5h. Limonadi oli väärä. Kuski vihainen ja epäystävällinen. Ennen laatu oli kohdillaan, nyt loppui täältä luukusta tilaaminen.
Experience: À la carte
•
Price: 10€
•
Added: 27.12.2013
Kotiinkuljetus oli nopeaa. Petyin kuitenkin tilaamaani hampurilaiseen. Todella mauton ja välissä teollinen "jauhelihapihvi" eikä kokolihapihviä. En tilaa enää täältä.
Experience: À la carte
•
Added: 09.01.2013
Tilasin pizzan, mitä sain odottaa lähes 1 1/2 tuntia. Myyjä oli hätäinen vaikutti kiusaantuneelta. Maksoin ja samalla aavistin, että pizzaboxi ei ollut lämmin sillä tavalla, miten sen kuuluis olla. Siis ihan oikeesti se pizza (americano) oli jääkylmä, pieni ja mössöinen. Ei oo oikeen fiilistä tilata pizzaa, mikä pitää samantien laittaa mikroon. Oli ensimmäinen, mutta myös viimeinen kerta kun tilaan Mardin Expressistä pizzan
Experience: À la carte
•
Price: 10€
•
Added: 19.12.2012
Kävin kerran syömässä kyseisessä pizzeriassa ja tilasin pizzan listalta. Kassalla oli joku hieman vanhempi mies, jonka asiakaspalvelu oli todella tympeää. Hän myös vaikutti vihaiselta. Mies puhui kovaa, melkein huusi vaikka seison vain parin metrin päässä hänestä.
Kun pizza valmistui, en jäänyt enää katselemaan todella huonoa asiakaspalvelua, vaan pyysin laatikon ja ajattelin ottaa pizzan mukaani. Vieläpä kaiken tämän lisäksi jouduin maksamaan laatikosta erikseen 0,50€!!
En suosittele pizzeriaa kenellekkään, ruoka kylläkin oli hyvää, mutta palvelu täysin paskaa!
Experience: À la carte
•
Price: 7€
•
Added: 06.06.2012
Entisessä Säästöpankin salissa toimiva pizza-kebabputka. Tarjoaa hyvät, isokokoiset pizzat ja kebab- ja kanaruoat pärjäävät myös hyvin vertailussa pk-seudun ketjukebuloille.
Experience: À la carte
•
Price: 7€
•
Added: 09.04.2012
Tilasin sisäänleivotun kebabin mukaan, mutta henkilökunnalla oli ilmeisesti liian kiire raivota toisilleen takahuoneessa sillä annokseni unohtui. Sain annoksen vasta kyseltyäni sen perään. Istuin puoli tuntia ilman ruokaa kassan edessä - käviköhän mielessä, että saatoi odottaa jotain? Ruoka oli varmasti ihan hyvää, mutta ei jäänyt hyvä mielikuva ravintolasta.
Experience: À la carte
•
Price: 9€
•
Added: 20.06.2011
---
Community
Fans
These people have marked this restaurant as a favourite.
---
Location
Kaupintie 16

,

00440

Helsinki

- Route

09 5865648