oulunkylän kebab pizzeria
Reviews (

10

)
Lähiömuonaa tasolla normaali+. Teimme tilauksen Pizza Onlinen kautta arkena ennen klo 16, ja toimitus saapui alle puolessa tunnissa. Ei tainnut olla ruuhka-aika. Pizzalähetti hallitsi sekä suomen kielen että asiakaspalvelun, mikä oli oikein positiivinen kokemus. Lätyt olivat lämpimiä ja ihan juuri niin isoja kuin standardikokoiseen pahvilootaan mahtuu. Veistä ja haarukkaa kokeillessani totesin pohjan hieman sitkoiseksi, mutta käsin syötynä isokin slaissi pysyi siten hyvin hanskassa.

Arvosanaksi ruoalle antaisin normaali+, sillä täytteissä ja pizzavalikoimassa on selvästi jotain omaa näkemystä ja yritystä. Perus Dillingerien ja Quattro Stagionien lisäksi listalta löytyy mm. useita variaatioita kebab-pizzasta. Syömäni pizzan puolesta voin sanoa, että täytteet oli ihan kivasti aseteltu, ei ollut pelkkää sylttyä. Ensi kerralla tiedän kuitenkin ottaa makuun lisäpotkua valkosibaleen muodossa.

Experience: À la carte
•
Price: 8€
•
Added: 22.09.2016
Reviews older than 2 years
These reviews don't affect the average
Perushyvä pizzeria mukavalla henkilökunnalla. Ruuan laatu on toisinaan vaihtelevaa, mutta tilaamani pizzat ovat aina olleet vähintääkin hyviä. Palvelu on ystävällistä ja kotiinkuljetus todella nopeaa.
Experience: À la carte
•
Price: 8€
•
Added: 12.10.2015
Tilattiin ruoka klo 21. Vahvistettiin toimitus pitkälle, 22.29. Ei kuulunut ja kun soitettiin ei vastattu puhelimeen. Surkee palvelua. Muut palautteet tällä sivulla näyttävät tulleen "yhdestä suusta"...
Experience: À la carte
•
Price: 8€
•
Added: 27.03.2015
Todella hyvää palvelua joka kerta kiireestä huolimatta. Kotiinkuljetus suht nopeaa ja ruoka aina hyvää ja isot annokset.
Experience: À la carte
•
Price: 11€
•
Added: 19.10.2014
Todella mukava palvelu. Hyvät falafelit ja niissä maukas tulinen kastike. Lempi pizza-kebab-paikkani jo pitkään.
Experience: À la carte
•
Price: 8€
•
Added: 10.10.2014
Oulunkylänraitti.
Lähes kaikki pizzat, kebabit jne. tarjolla lounasaikaan hintaan 7,90€. Hinta sisältää lasipullojuoman, salaatit ja leivän sekä kahviteen. Melko hyvä diili. Etenkin kun kyseessä on selkeästi keskivertoa parempi ruokala.

Palvelu on todella hyvää. Nuorimies suosittelee vanhemmalle ruokaseuralaiselleni oman suosikkipizzansa, joka ei todellakaan ole listan edullisin versio. Hyvää työtä. Itselle toisenlainen lihapizza. Terassille syömään.

Saldepöydässä peruskamat, lisäksi viininlehtikääröjä - toki valmiskamaa. Hyvä silti. Pari kastiketta. Leipä on pizzapohjaa, mutta ihan hyvällä meiningillä.

Safkojen kanssa kestää yllättävän kauan, taisi olla jonoa edellä. Suosittu näyttäisi olevan näin yhden kerran perusteella. Sadelounaalla käy lähes kymmenen ihmistä nopean vierailumme aikana. Ogelissa on todella heikkoa kyllä ollut aina safkamestojen suhteen.

Pizzat ovat laajat, täytteitä ihan riittävästi. Kinkkusuikaleet aiheuttavat joka kerta saman vihantunteen. Täällä sentään salami on slaisseina. Hyvä suolaisuusaste pohjassa. Aivan standardien mukainen suoritus.


Experience: Lunch
•
Price: 8€
•
Added: 05.08.2014
Rapea reuna, ohut pohja. Ja palvelu asiallista ja iloista kauheasta ruuhkasta huolimatta.
Experience: À la carte
•
Price: 7€
•
Added: 30.07.2014
Aina iloinen ja hyvä palvelu. Kebab riisillä erinomainen, todella hyvä hinta-laadulta.
Experience: À la carte
•
Price: 8€
•
Added: 30.06.2014
Omistaja? Ihan tajuttoman hyvännäkönen milf. Niin vanhemmat kuin nuoremmatkin jaksavat kyllä odotella ruokiaan. :P
Experience: À la carte
•
Added: 26.02.2014
Kebab ranskiksilla. Kebab hyvää ja riittävästi.
Ranskikset tikkumallia, kastikkeesta kostuneet. Salaatti riittävä. Kastike maistuva.
Experience: À la carte
•
Price: 8€
•
Added: 08.02.2014
---
Community
Images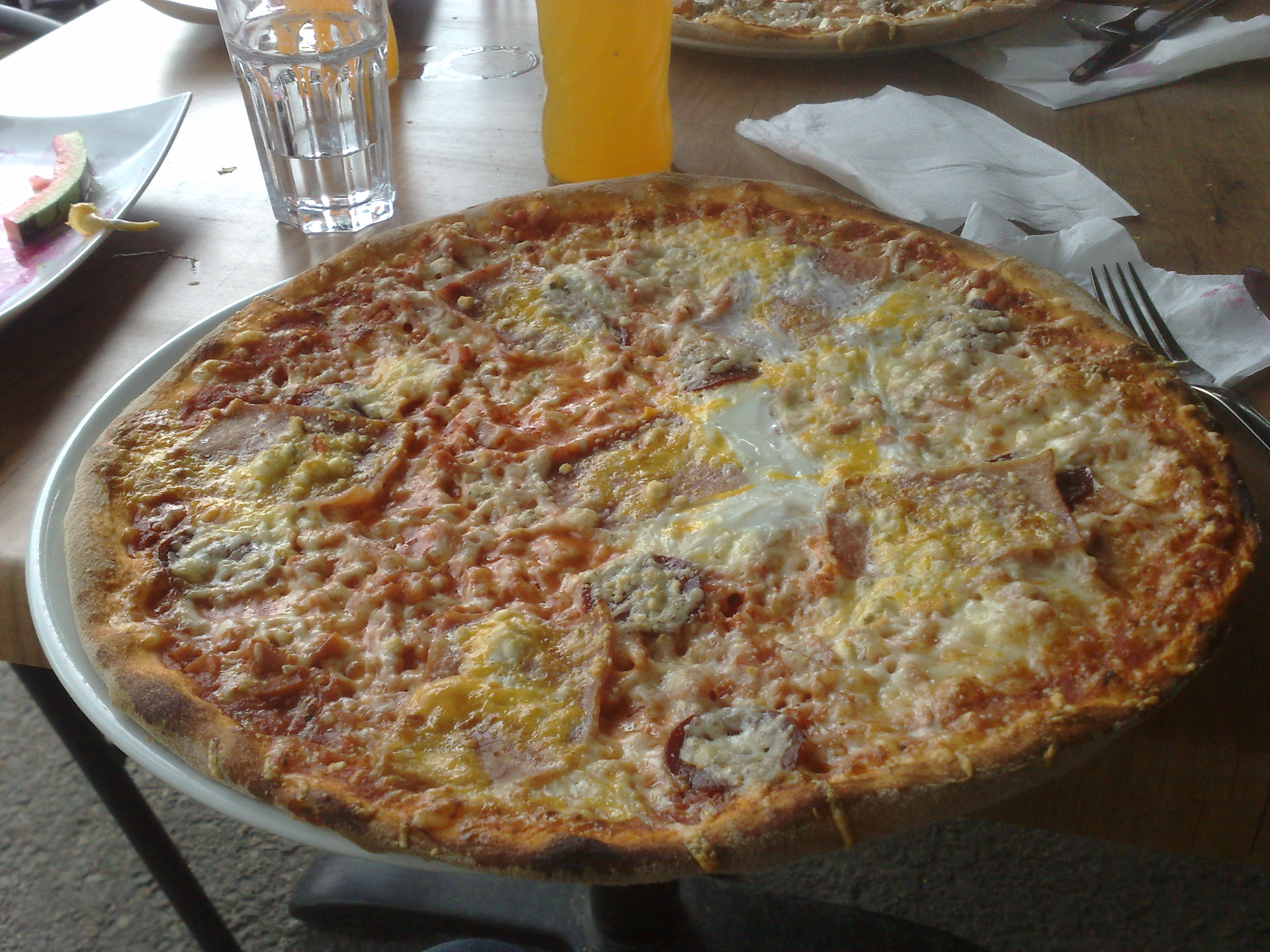 Fans (0)
These people have marked this restaurant as a favourite.
People interested in this restaurant (0)
---
Location
Options
---