Customer experience
---
Reviews (

79

)
10+ Palvelu on erinomaista , myös ruoka erittäin hyvää.
Experience: À la carte
•
Added: 07.12.2015
Reviews older than 2 years
These reviews don't affect the average
Etkot.
Päivitys. Ei tule aikuisiällä enää Sky Expressiä käytettyä ihan vanhaan malliin. Teinejä näemmä edelleen riittää. Kutosen lätty on edelleen pinta-alaltaan mahtikokoinen, ohut toki. Tunnelma sunnuntain illassa on kuitenkin aavistuksen ahdistava. Turkkilaislegioona valvoo ruokailuamme, ja selvästi toivoo poistumisemme olevan NYT ja HETI. Kukaan ei sano mitään, mutta ilmapiiri on vähän tylsähkö. Emme ole toki edes viimeisenä paikassa.

* * *

Vuodesta 1998 lähtien Annantaloa vastapäätä majaa pitänyt Sky Express myy pizzaa käsittämättömän edullisesti. Jo markka-aikana, pizzamestojen ollessa vähissä, oli täällä helppo asioida pikalätyn toivossa. Vitosella saa päivän lätyn. Kuusi, seitsemän vaihtoehtoa... Huvittavaa on, että yksi niistä on "kaksi täytettä". Ovathan lähes kaikki näistä valmisvaihtoehdoistakin kahden täytteen pizzoja. Loogisuus. Normilistalla (ei paljoa laajempi) hinnat kasiin asti. Ja sielläkin moni on kahden täytteen pizzoja. Ei kysymyksiä.

Räiskäleillä on aina ollut kokoa ja sisältöä. Makupuolellakin se on ehdottomasti keskivertotasoa. Lauantai-iltana tilanteen tsekkaaminen kertoo totuuden.

Okei, nyt mennään. Meteliä. Miehiä. Lähes pelkkiä miehiä. Tai poikia, keski-ikä ehkä 18. Yksi nuoripari, näyttäisi treffeiltä. Poika poika, nyt valitsit väärän paikan. Tytön ilmeet kertovat minun olevan oikeassa. Palvelu jäykkää. Aiheestakin. Ei ole asiakkaat enemmän arvoisiakaan. Ikkunapaikka on kohtuuviihtyisä. Siitä taistellaan. Vaikeata on näillä nuorilla humalassa pizzan valitseminen. Come on, ne maksavat vitosen. Ihan sama mitä syö. Pojilla lippikset päässä. Kaikilla litran tuoppi. Hyvät ja melko halvat pohjat ruokailun yhteydessä.

Minä otan pizzani mukaan, ymmärrätte varmaan miksi. Suolainen. Kookas. Paljon täytettä. On kaikki niin kuin ennenkin. (6.11.2011)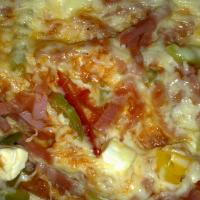 Experience: À la carte
•
Price: 6€
•
Added: 10.08.2015
Mainoksessa luvattiin "jättiperhepizza", pöytään tuotiin pitkän odottelun jälkeen laiha, kuiva käntty. Jäi vain nälkä ja paha mieli. En voi suositella kenellekään.
Experience: À la carte
•
Price: 8€
•
Added: 14.06.2015
Pizzaahan tänne tullaan syömään ja se on hintaan nähden toimiva ja riittävän maukas. Palvelu on tosin tylyä ja täysin perseestä.

Mutta en tosiaan hintaan nähden jaksanut alkaa ruikuttamaan, kun sain salamia pizzaani tilanneena kebabia sen sijaan...
Experience: À la carte
•
Price: 7€
•
Added: 24.05.2015
Käyty usein, hyväksi todettu. Ainoa on eräs vanhempi mieshenkilö kassan takana joka ei hallitse asiakaspalvelua. Haluttiin tilata americano (kinkku ananas aurajuusto), mutta herra katsoi vihaisesti ja alkoi osoittamaan päivän pizza listaa, että valitset tästä, etkä mitään muita. Huonot kokemukset ukosta aikaisemminkin, menty kuitenkin takaisin koska verrattain hyvää.
Experience: Lunch
•
Price: 7€
•
Added: 12.04.2015
Nämä näiden "jättipizzat" ovat kokonsa puolesta peruspizzoja, ja maun puolesta paljon keskiverron alapuolella. Naapurin Barbarossasta saat 5€ huomattavasti paremmat setit, joten ei ikinä enään tänne! En voi suositella kellekkään, kun 50m päästä saa enemmän, parempaa ja halvemmalla.
Experience: À la carte
•
Price: 6€
•
Added: 18.03.2015
Paljon halvalla. Seinällä olevan taulun mukaan tämän paikan valtit ovat muistaakseni laatu, hinta, nopeus ja palvelu. Laadusta voidaan keskustella, mutta nähdäkseni sijainti on epäilemättä yksi valtti; tuskin tämä yritys pärjäisi esimerkiksi Inarissa. Hinta on kuitenkin tärkein valtti: on melko hämmentävää, että 12 eurolla saa jättikokoisen pizzan ja litran kylmää olutta. Eikä makukaan ole hassumpi, kyllä tätä nälkäänsä syö. Hieman kyllä mietityttää, miten näillä hinnoilla voidaan harjoittaa kannattavaa liiketoimintaa.
Experience: À la carte
•
Price: 6€
•
Added: 10.02.2015
Kassalla huuta joku omistaja tai kuka lie että, mitä kaveri syö , mitä sinä haluat kaveri, litra litra,,, Halusin vaan pizza mut toinen huutaa vaan siellä tiskin takana. En mene toisen kerran.
Experience: À la carte
•
Price: 7€
•
Added: 30.12.2014
Pizzan pohja oli raakaa taikinaa. Katkaravut miltei jäässä. En voi suositella kenellekään. Lasi vettäkin maksoi kahden annoksen yhteydessä yhtä paljon kuin limppari. En mene toiste.
Experience: À la carte
•
Price: 7€
•
Added: 01.12.2014
Pizzapohja jälleen liian palanut, muuten hyvää
Experience: À la carte
•
Price: 8€
•
Added: 06.09.2014
---
Community
Fans
These people have marked this restaurant as a favourite.
People interested in this restaurant
---
Location
Annankatu 31

,

00100

Helsinki

- Route

(09) 694 3890