Reviews (

23

)
Ok lounasmesta. A la cartelistalla urheilijanleikkeessä on suolaa enemmän kuin meressä, joten sitä ei voi suositella urheilijoille.
Experience: À la carte
•
Added: 16.04.2017
Viidellä Pennillä on pitkä historia: perinteinen krouvi aloitti toimintansa samana vuonna kuin Kekkosesta tuli Suomen kahdeksas presidentti eli vuonna 1956. Pari vuotta sitten ravintola koki täydellisen uudistuksen.

Olin ravintolassa puoli kahden aikaan. Lounaslistalla oli valinnanvaraa, mutta päädyin itselleni harvinaisempaan vaihtoehtoon eli metsästäjänleipään ranskalaisilla (9,90 €). Lounaaseen kuului myös keitto ja salaattipöytä. Borssikeitto oli epämääräistä eivätkä maut erottuneet toisistaan. Lihaakaan siinä ei tainnut olla. Salaattipöytä oli melko vaatimaton, mutta pastasalaatti salamilla ja kapriksilla oli todella mainio!

Metsästäjänleipä oli tehty paahtoleivälle. Sen päältä löytyi kastikkeessa sieniä ja pieni pihvi. Vähän valjua ja mitäänsanomatonta. Ranskalaiset olivat peruskamaa. Onko muuten niin, että niitä voi nykyään käyttää annoksessa kuin annoksessa? Minusta ne eivät oikein tämän annoksen kylkeen sopineet, mutta toisaalta syöhän niitä aina kohtuullisen hyvillä mielin.

Kahvia särpiessä oli aikaa katsella ympärilleen. Klassinen pubiympäristö, jonka laajan juomavalikoiman testaaminen jäi ensikertaan. Voi kuitenkin olla, että lounaalla ei enää tule käytyä.

Lisää arvosteluja blogissani: http://tulinnainjasoin.blogspot.fi/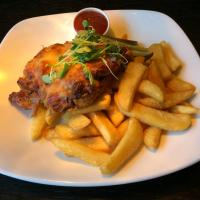 Huono palvelu. Henkilökunta välinpitämätöntä. Hyvät oluet ja kiva lokaatio menevät haaskuuseen, kun henkilökunta on ylimielistä ja epäpätevää.
Experience: À la carte
•
Price: 20€
•
Added: 28.01.2016
Tarjoilija oli erittäin ystävällinen, palvelu oli hyvää ja ruoka tarjoiltiin nopeasti. Ruoka oli yllättävän hyvää ja maukasta. Suosittelisin ja tulen mielelläni uudestaan!
Experience: À la carte
•
Price: 20€
•
Added: 08.11.2015
Jäävesi maksaa 1,5 euroa, vaikka tilaa listalta lämpimän ruoan.
Tilaamani suppilovahveropasta oli erinomainen. Sekä sienet että kierrepasta olivat juuri sopivan napakoita, ja parmesaanilastut sopivat hyvin kokonaisuuteen hyvin. Mutta tunnelman pilasi se, että "vesi maksaa jos ei samalla tilaa olutta". Miksi ihmeessä?
Experience: À la carte
•
Price: 17€
•
Added: 22.10.2015
Käytiin toteamassa omat ennakkoluulomme vääriksi!
Kotoisan näköinen ravintola ja rento tunnelma, hyvä ruoka ja osaava henkilökunta, saivat meidät melkeinpä häpeilemään, ettemme ole paikkaan aiemmin jo menneet.
Tässä hintaluokassa kilpailevissa ravintoloissa käyty monissakin ja viisi penniä jää niistä mieleen yhtenä parhaista.
Lämpiminä annoksina meillä oli maitovasikan niskaa ja maissikananrintaa, jälkkäriksi vielä herkuttelimme amerikkalaistyylisen lämpimän omenapiiraan aidolla vaniljajäätelöllä ja SUKLAAPASTAA (tämä yllätti) mandariini-mascarponevaahdolla, annokset olivat kauniita ja maistuvia sekä annoskoot olivat sopivia. Olutsuositukset ruoalle lukivat jo ruokalistassa, mutta tarjoilija osasi myös suositella hyvän viinin ruoan seuraksi. Digestiivinä vielä erikoiskahvit ja guana rommia.
Käynnistä jäi hyvä mieli ja varmasti menemme toistekin, listalle jäi vielä monta annosta, jotka jäivät ns.houkuttelemaan.
Experience: À la carte
•
Price: 30€
•
Added: 02.10.2015
Reviews older than 2 years
These reviews don't affect the average
Käytiin ennen Suomi-Unkari futismatsia. Ravintola täynnä, mutta pöytä löytyi kun osasi kysyä. Ruoka oli hyvää ja sitä oli riittävästi koko seurueella. Alkuun gazpacho ja pääruoaksi maksaa. Kypsyysaste oikea. Muilla oli viherpippuripihviä ja poroa. Kaikki kehuivat ruokiaan. Jälkkäriä ei jaksettu millään.

Tarjoilija oli iloinen ja reipas.
Experience: À la carte
•
Price: 30€
•
Added: 14.06.2015
Viimeksi käynyt vuosia sitten. Ruoka oli mautonta ja todella ylihinnoiteltua... Ei enään ikinä.
Experience: À la carte
•
Price: 20€
•
Added: 07.06.2015
Täysin ala arvoinen jääkellarin lohi,raakaa lohta 2 sentin viipaleina ei tietoakaan suolasta,ravintolasta voi saada ruokamyrkytyksen,en suosittele kenellekkään
Experience: À la carte
•
Added: 03.05.2015
Maittavaa ruokaa.
Superyllätys ruuan suhteen, ruoka maistui siis nimen omaan maistui ja todella hyvälle.
Superyllätys myös palvelun suhteen jota ei ollut tai se oli surkeaa.

Experience: À la carte
•
Price: 25€
•
Added: 23.03.2015
---
Community
Fans
These people have marked this restaurant as a favourite.
---
Location