Customer experience
Child friendly
Vegetarian
Special diets
---
Reviews (

28

)
Todella hidas palvelu ja lounasburgeri oli melko mauton. Sämpylän reunat olivat kärähtäneet. Salaatin mukana tulleen tomaattisalsan tarkoitus jäi epäselväksi.
Experience: Lunch
•
Price: 10€
•
Added: 31.08.2018
Reviews older than 2 years
These reviews don't affect the average
Odotimme ruokaa todella kauan ja kun saimme hampurilaisannokset pöytään olivat ranskalaiset haaleita ja toisella meistä sämpylä ja pihvi hieman palaneita.. Saimme juomat hyvitykseksi tapahtuneesta joten siitä pisteet.
Experience: À la carte
•
Added: 04.08.2015
Yli tunti ruuan odotusta ja silti tarjoillaan palanutta ja kylmää ruokaa,jota en voi ymmärtää. Olen käynyt ennen viikoittain lounaalla ja perheen kanssa iltaisin,mutta en varmasti käy enään. Olisi kiva tietää mistä moinen johtuu.?
Terveisin: 3 kertaa viikossa lounaalla kävijä.
Experience: À la carte
•
Price: 20€
•
Added: 25.06.2015
Hyvää ruokaa, mukava kokemus. Käyty monesti
Experience: À la carte
•
Added: 14.11.2014
Järkyttävän huonoa ruokaa- kylmien nachojen päälle lötkäisty teollisen makuista salsaa. Kokeilkaapa esim lämmittää nachot ennen kastikkeita. Salaatti oli vetinen ja kurkut nahistuneita. Wingsit ihan ok, seuralaisen burrito oli kuulemma syömäkelvoton. En voi suositella tätä edes nopean palvelun vuoksi. Tarjoilija-raukat kyllä yrittivät parhaansa.
Experience: À la carte
•
Added: 13.11.2014
Lounaaksi "lohta limekastikkeella" 9,30eur. Kesti aika kauan, mutta annos oli muutoin ihan maistuva kaikkinensa. Ainoa miinus oli ranskalaiset, jotka osittain olivat ihan tummanruskeita, ties kauanko lilluneet öljyssä :0 Palvelu ihan ok, kesätyöntekijöitä todnäk. Kuulin kun tarjoilija opasti muita lounastajia ruuan päätteeksi noutamaan kahvia jostain, mutta minua ei. En kai sitten vaikuttanut kahvinjuojalta, oh well. Joojoo olisin löytänyt itsekin :)
Experience: Lunch
•
Price: 9€
•
Added: 05.08.2014
Maukasta ruokaa ja palvelussakaan ei ollut mitään vikaa. Kävin syömässä viikonloppuna, joten kiireen takia ruokaa sai odottaa jonkin aikaa, mutta se ei annoksen laatuun vaikuttanut!
Experience: À la carte
•
Price: 15€
•
Added: 29.05.2014
Kammottavaa ruokaa. Lehtipihvi kuin kengänpohja. Friteeratut ruoat paistettu tummanruskeiksi ehkä vanhalla öljyllä. Nachot pussin pohjan muruja. Panchon remu-kastike sietämättömän pahaa. Ja tätä piti odottaa yli 30min ja maksaa enemmän kuin Helsingissä laadusta. Ei enää ikinä!
Experience: À la carte
•
Price: 20€
•
Added: 29.07.2013
Luin ennen käyntiäni näitä arvosteluja kyseisestä Pancho Villasta ja hieman odottavalla fiiliksellä lähdin syömään, mutta huomasin heti, että paikan taso on todella muuttunut tai sitten osalla arvostelijoista on ollut jotakin henkilökohtaista huonoa onnea. Palvelu oli asiallista ja osaavaa, mutta jopa hauskaa kun nuori tarjoilija poika osasi käyttää tilannekomiikkaa kuitenkaan menemättä liiallisuuksiin. Myös perheen pienimmät otettiin hyvin huomioon. Ruoka kesti noin 40 minuuttia joka on ihan odotettava, kun olin hiihtolomalla liikenteessä. Suosittelen ehdottomasti ja sitä iloista ja energistä, mutta silti asiantuntevaa palvelua jäi kyllä ikävä, kun on myöhemmin käynyt "tasokkaammissa" paikoissa, joissa ei siinä suhteessa olla päästy lähellekkään.
Experience: Lunch
•
Price: 14€
•
Added: 11.03.2013
Pöyristyttävä kokemus. Jopa alkuruokaa sai odottaa puoli tuntia. Salsa muuten mautonta -ainoa maku oli raaka tomaattipyree. Naudan file leikattu syyn mukaan. Kana kuivaa ja mautonta. Paistettu paprika ja sipuli oli maukasta. Keittiön reaktio palautteseen "parempi tuuri ensi kerralla". Tarjoilija oli ystävällinen, mutta ei pysty pelastamaan kokonaistilannetta.
Experience: À la carte
•
Price: 29€
•
Added: 25.02.2013
---
Community
Images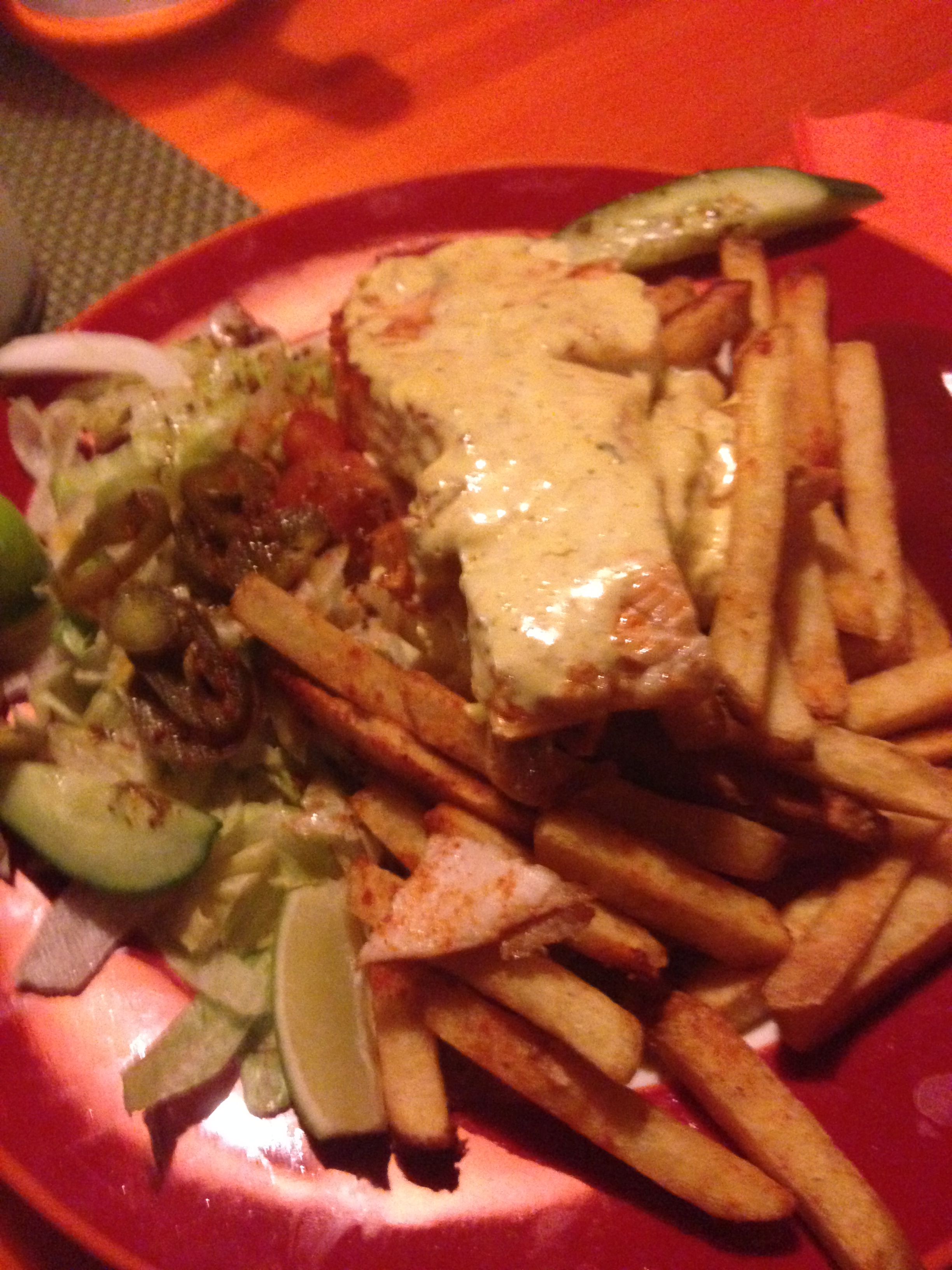 Fans (0)
These people have marked this restaurant as a favourite.
People interested in this restaurant (0)
---
Location
Options
---