Tian Long Restaurant
modern chinese restaurant
Modern Chinese Restaurant
---
Reviews (

12

)
Ok, this was good. Really good. Taste is as authentic Chinese as it gets in Finland. In had spicy tofu with meat (ma po dou fu in chinese), served with rice. The waitress kindly asked "how many spices one two three" and "one" turned out to be perfect.
Interior was nice, good atmosphere and fast service.
Ruoka aina hyvää ja laadukasta. Tilojen remontti tehnyt paikasta viihtyisän ja siten nostanut tasoa peruskinkistä enemmän "ravintolatyyliseksi".
Experience: À la carte
•
Added: 16.09.2016
Täysin keskinkertainen. Palvelu huonoa ja hidasta, ei osata suomea, ruotsia eikä edes _englantia_ muutamaa sanaa enempää. Paikan remontointi ei auta jos perusasiat eivät ole kunnossa.
Experience: À la carte
•
Price: 10€
•
Added: 28.12.2015
Reviews older than 2 years
These reviews don't affect the average
Onnenkeksi kruunasi kokemuksen!
Experience: À la carte
•
Price: 10€
•
Added: 12.12.2015
Vaasan paras kiinalainen ravintola. Maut selviä ja maistuu siltä, miltä kiinalaisen ruuan kuuluukin. Suosittelen käymään, kassalla palveleva täti on oikein herttainen, vaikka ei Suomea juuri osaakkaan.
Experience: À la carte
•
Price: 12€
•
Added: 20.11.2015
Minusta ihmiset täällä antavat liiallista kehua tälle ravintolalle, ruoka ei varsinaisesti ollut kummempaa, mutta buffet kyllä vie nälän.
Experience: À la carte
•
Added: 21.05.2015
Päivän annos Kanaa Hapanimeläkastikkeessa.
Alkuruaksi oli 3kpl.Todellakin juuri valmistettuja kevätkääryleitä eikä mitään valmispakaste kevätkääröjä.Koko yhteishinta sii oi 10,00Eur.

Jälkkäriksi Friteerattua banaania vanilijajäätelöllä.+Vahterasiirappia.Jälkiruan ulkonäkö nyt eu juurikaan ollut mitenkään kauniisti muotoiltu.(Jäätelöpaketista suoraan suorakaiteen muotoinen pala ja Banaani vieressä lautasella ja arkisen konstailematon ulkonäkö.Mutta Banaani upeasti friteerattu ja todella suussasulava frit.taikina tasainen paksuudeltaan sekä kullanruskea.
VOIN SANOA ETTÄ PALJON OLEN KINKKI-PAIKOISSA SYÖNYT MUTTA EHDOTTOMASTI VAASAN PARAS KIINALAINEN RAVINTOLA! SUOSITTELEN JOKAISELLLE ! RUOKA OLI TODELLA AITOA KIINALAISTA EIKÄ VALMISKASTIKKEITA LÄMMITETTYNÄ.

-JIIPEE69-
Experience: À la carte
•
Price: 10€
•
Added: 23.12.2014
Mainio paikka ja todella maittavaa ruokaa!
Ehdottomasti Vaasan paras kiinalais ravintola. Suosittelen!
Experience: À la carte
•
Price: 10€
•
Added: 08.12.2014
Hyviä ruokia, ei sitä samaa natriumglutamaattimössöä mitä muissa kiinalaisissa tarjoillaan. Erityisesti ruokalistan häntäpäässä olevat "aidot kiinalaiset ruuat" olivat todella hyviä, suosittelen.

Kävimme kokeilemassa myös buffettia joka oli myöskin erinomainen, sisälsi mm. katkarapusipsejä, jäätelöä jälkiruuaksi jne.
Experience: À la carte
•
Price: 12€
•
Added: 23.11.2014
Parasta kiinalaista ruokaa, mitä olen Suomessa syönyt, syömäni ruoka oli samantyylistä ja yhtä hyvää kuin Kiinanmatkoilla syömäni. Poikkeaa edukseen niistä lukemattomista huonoista kiinalaisista ravintoloista, joita Suomi on pullollaan. Tosin söin vain ruokalistan lopussa olevasta 'alkuperäisiä kiinalaisia ruokalajeja' -osastosta. En tiedä millaista se ruokalistan muu osa on, että onko se sen kummempaa kuin Suomen kinkkilöissä keskimäärin. Mutta ainakin tämä 'tosikiinalainen' lista oli hyvä: kastikkeissa EI ollut niitä aromivahventeilla turboahdettuja teollisuusliistereitä, joita lähes kaikissa kiinalaisissa ravintoloissa käytetään ja jotka saavat kaikki ruoat maistumaan suunnilleen samalta tahnalta. Sen sijaan ruoka oli tulista ja sen ainesten maut erottuivat selvinä ja raikkaina, kuten pitääkin. Ravintola näyttää rupuisalta ja köyhältä, mutta makuelämys oli rikas.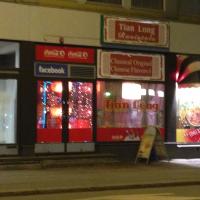 Experience: À la carte
•
Price: 15€
•
Added: 18.11.2014
---
Community
Images
Fans (2)
These people have marked this restaurant as a favourite.
---
Location