DJVassallo
8 Recensionen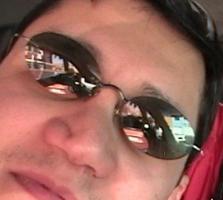 Quality of food and ambiance
Badges
Recensioner (

8

)
Över 2 år gamla recensioner
Dessa recensionen har ingen påverka till genomsnitt betyg
It may look hard to believe but everyday they have different dishes: this time the panuchos yucatecos were really good, adding an extra kick with the special habanero sauce (you have to ask for it since it's unbelievable hot and not suited for weak palates). They looked not so big but actually ended up to be quite filling!

The corn cake was a real surprise: delicate, sweet and creamy.
Upplevelse: Lunch
•
Priset: 11€
•
Tillagt: 04.01.2011
---
Finally some truly Mexican food available in Finland!

Flavors really close to what you may find in any traditional restaurant in Mexico: fresh, handmade tortillas, real tacos, superb guacamole, typical hot sauces available even they are quite well adapted for Finnish tongues.

The 'Tlacoyos' get an extra point for its fresh cheese and real cactus plant. Corn soup just on its point. The coffee is directly imported from Chiapas highlands.

Mexican ingredients + Mexican Chef = Authentic taste, as it should be on real Mexican food, the friendly chef is more than eager to explain what's on your dish and how to better enjoy it. Definitely will drop by once a week.
Upplevelse: Lunch
•
Priset: 10€
•
Tillagt: 27.12.2010
---
Not a good experience in this place. We were a group of people for dinner, of course no one arrives exactly at same time, after the last ones arrived we just moved a couple of places to allow place > waitress got sooo pissed off because she already had taken drinks order and now "couldn't find out what was for who"

That "tapas dish" was the worst thing I've ever tried: some olives, tasteless jamón serrano, even the few chorizo slices were terrible and for 24 eur! (you can get same kind of dish but much better quality at Nude happy hour for free!)

Parrilla Española steak was medium class, with some weird ingredients never seen in Spain, and both two of my Spanish friends agreed.

We took our time since it was Saturday dinner, and deciding where to go next. When tried to order a dessert "our time was over" because our table was reserved for 20:30 and it was already 20:20, so not enough time for us to order and eat dessert, waitress dixit, so practically we were kikced out by a so unpolite waitress. Definitely never coming back and not recommending it.
Upplevelse: À la carte
•
Priset: 40€
•
Tillagt: 03.03.2010
---
Service is the best thing here. Arriving little bit late for dinner and despite officially kitchen was about to close, they kindly accepted to prepare more. Food is good, tasty and whatever you may expect from Indian spices.
Upplevelse: À la carte
•
Priset: 25€
•
Tillagt: 03.03.2010
---
Quality of food is simply extraordinary, salad dressings are quite tasty and preparation imaginery seems to progress over the time. The weight system can be tricky, I always put so much stuff on my dish that never arrive to dessert :oP
Upplevelse: Lunch
•
Priset: 13€
•
Tillagt: 03.03.2010
---
Already being twice in this cool concept restaurant, cozy place and service was just fine. Nice Retro Burger with some tasty cheese sauce, Wienerleike size XXL was really worth.
Upplevelse: À la carte
•
Priset: 20€
•
Tillagt: 20.12.2009
---
Quality and tastes are really good, in generous portions. If your table is close enough to the kitchen bar you actually acn see how ceremonious they prepare dishes.

Little bit prizey with the overall drinks and desserts. It had some time the Paul's Hungry Hour with some burgers and salads discounted few euros for couple of hours (like 15-17 hrs), not anymore tough.
Upplevelse: À la carte
•
Priset: 30€
•
Tillagt: 20.12.2009
---
I was just for a quick date but i enjoyed so much the place, cozy and stylish not to mention the cheerful and friendly Italian guy behind the counter. Definitely coming back soon.
Upplevelse: À la carte
•
Tillagt: 16.12.2009
---
---
Followers
Lists
Bookmarks
---
Favorites