Customer experience
Vegetarian
Accessible
Special diets
Free wifi
---
Reviews (

32

)
This cozy Italian Restaurant in Helsinki has a very good selection of food to choose! A male waiter was very professional and knew how to serve customer! He knew the menu and recommended me what to eat! Also he chose the red wine for me which was perfect with the food.

I had red wine braised beef raviolis with veal broth vegetables in sagebutter sauce - and some icecream for the dessert - just delicicious!

I can recommended this place for everyone!
Experience: À la carte
•
Price: 19€
•
Added: 03.05.2018
Huono palvelu. Yritimme ystäväni kanssa vaihtaa pöytää ennen tilausta, mutta tarjoilija lähes huutaen esti sen koska pöytä oli varattu mahdollisille isommille seurueille. Muutaman minuutin päästä pöytään istui yksin syövä henkilö eikä häntä siirretty pienempään pöytään, joita olisi ollut tarjolla. Ruokalistat heitettiin pöytään. Odotusajat olivat sopivan pituiset. Ruoka oli ihan hyvää, vähän pieni. Lopussa ystäväni maksoi osan lounassetelillä, jonka erotuksen me laskimme koska tarjoilija ei osannut. Muitakin pieniä huomautuksia olisi tarjoilijoista, mutta sen sanon etten mene uudestaan.
Experience: À la carte
•
Price: 14€
•
Added: 05.02.2018
Unfriendly, uninspiring.
The antipasto was adequate, good even. The bread was served with some vinegar but almost no olive oil. The staff didn't manage one smile despite my own efforts to be perfectly amiable. I almost left without paying, because the bill didn't arrive until explicitly asked for several times. There is no interest in the customer's satisfaction here.
Experience: À la carte
•
Added: 21.12.2017
Olimme seuralaisen kanssa keskellä viikkoa täällä alkuillasta. Ravintola oli noin puolillaan, muttei vaikuttanut kiireiseltä. Tarjoilija tuli nopeasti tuoden juomat ja menuut, mutta annoksia saimme odottaa kauan.

Seuralainen oli pyytänyt muutoksia annokseensa allergian vuoksi. Muutoksia ei ollut huomioitu. Molempien annokset olivat aivan liian pieniä, mutta maku oli ihan ok.
Pyysimme laskua, jota saimme odottaa kauan, ja sittenkin pyysimme vielä uudelleen ennen kuin se vasta saatiin.

Vaikka palvelu oli ystävällistä (odottelusta huolimatta), hyvä sijainti ja siisti ravintola, ruoka oli valtava pettymys. En mene enää koskaan.
Experience: À la carte
•
Price: 20€
•
Added: 20.07.2017
Reviews older than 2 years
These reviews don't affect the average
Lha kuivaa
Experience: À la carte
•
Price: 24€
•
Added: 09.02.2016
Sienirisotosta puuttui maku ja oikea koostumus, lautasella keko keitettyä riisiä reippaaseen ylihintaan :(
Experience: Lunch
•
Price: 13€
•
Added: 03.11.2015
Otimme kotiinkuljetuksena kolme salaattia ja yhden pastan. Pasta oli hyvä, mutta salaatit eivät; kuivaa kanaa, huonosti paistettu vuohenjuusto, liikaa kastiketta, leivät osin palaneita. Seisoneen oloisia.
Experience: Lunch
•
Price: 15€
•
Added: 05.10.2015
'Fine dining'- lounas. Lounasta ekaa kertaa Corleonessa. Listalta lohivaihtoehto. Ihan hyvää lohta, hieman kasviksia lisuikkeina, tulee mieleen hienomman puoleinen päivällisannos, jolla ei nälkä lähde, mutta silmänviihdykettä tehty annoksen asettelussa, paitsi että tässä sitä viihdykettä ei ole niin paljon.

Palvelu pikkaisen hidasta, mutta peruskohteliasta. Itse ravintola ei mitenkään viihtyisän oloinen, vaikka viihtyvyys nyt ei kyllä ole itselle se pääasia lounaalla.

Ottaen huomioon että ei ollut mitään alkusalaattia tms. ja kahviakaan ei näkynyt missään on 14,80 € lounashinnaksi tuosta annoksesta liikaa.
Kana basilikalla ja tomaattikastikkeella todella hyvää! Talon valkoviini erinomaista, sopii puolimakean valkoviinin ystäville.
Experience: À la carte
•
Added: 20.09.2015
Disappointing. .. I won't be going back there.
Experience: Lunch
•
Price: 15€
•
Added: 11.08.2015
---
Community
Images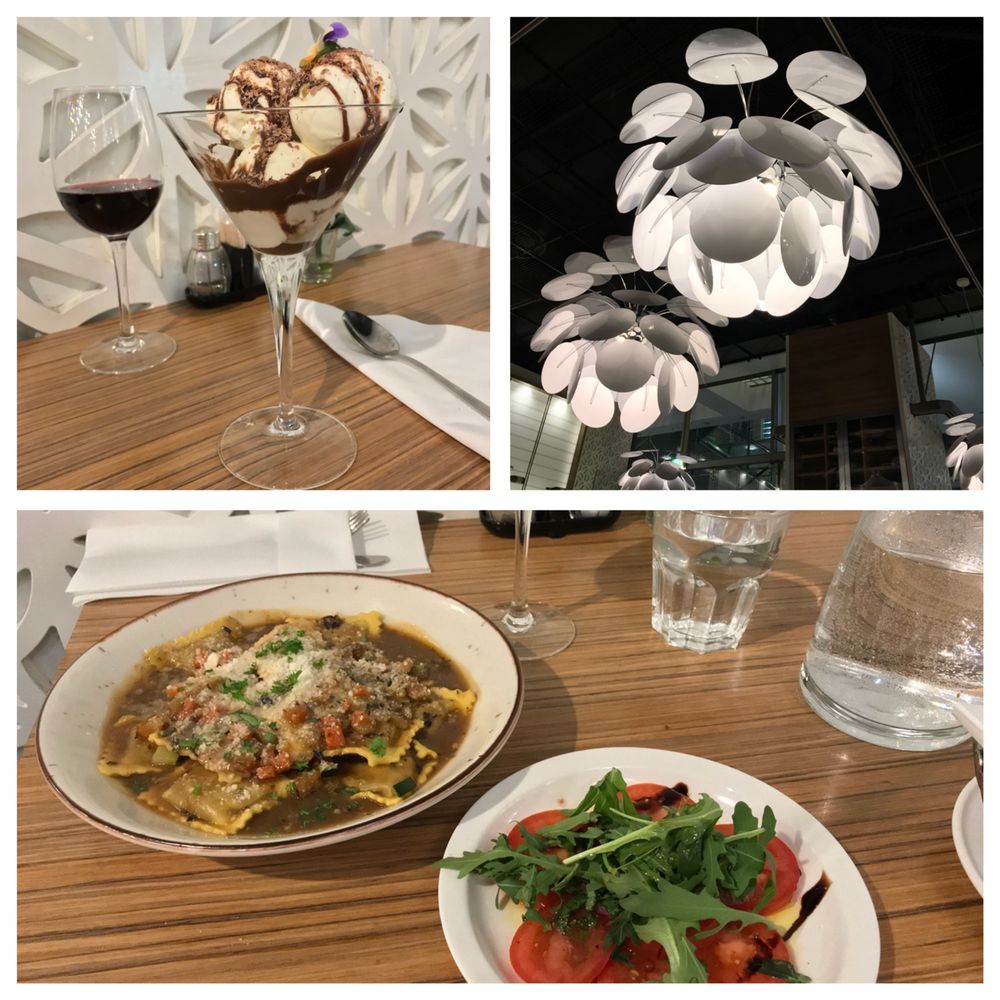 Fans (1)
These people have marked this restaurant as a favourite.
People interested in this restaurant (0)
---
Location
Options
---