Customer experience
---
Reviews (

106

)
Tultiin isommalla porukalla syömään ja iloksemme huomasimme, että tilaa on reilusti. Ruokaa tilatessa ymmärsi jo mistä tämä johtui. Palvelu Memphisissä oli hyvin kylmää. Kolmesta tarjoilijasta yksi hymyili, yksi jätti korjaamatta edellisten asiakkaiden lautaset pöydästämme. Yksi naputteli kassakonetta naama peruslukemilla ja ei ottanut mitään kontaktia kun asiakas seisoi hänen edessään valmiina tilaamaan baarin puolelta juomia. Harjoittelijaa ei oltu koulutettu ollenkaan. Hänellä oli positiivinen ote, mutta ymmärrän että ilman koulutusta virheita sattuu ja ei osaa huomioida kaikkea. Ruoka itsessään (Burgerit) oli hyvää ja hinnoiteltu kohtuullisesti. Kokille kiitokset! Mikäli palvelun laadulla ei ole väliä, niin kyllä tuolla syö. Nyt jäi huono fiilis.
Odottelemme lounasta. Nyt on mennyt 30 minuuttia tilauksesta. Paikalla on lisäksemme 9 muuta asiakasta, meitä on kaksi. Ei siis työlounaspaikka. Hamppari oli sitten kylmä. Juoksimme karkuun.
Experience: À la carte
•
Added: 05.11.2015
On mielenkiintoista, että ravintola ei vaivaudu laittamaan lounaslistaansa nettiin. Tätä tapahtuu lähes viikoittain. Lista on joko puutteellinen (näkyy esim. vain yhden päivän annokset) tai sitä ei ole ollenkaan. Helsingin keskustassa on kuitenkin niin paljon lounasravintoloita, että tällaiset tiedottamisen suhteen välinpitämättömät paikat karsiutuvat käyntilistalta hyvin pian. Ilmeisesti lounasmyynti ei ole tälle ylihinnoitetulle hotelliraflalle mitenkään tärkeää.
Experience: Lunch
•
Price: 10€
•
Added: 22.10.2015
Kävimme Memphiksessä syömässä ja kun tulimme sisään, tila näytti kaaokselta, työntekijöitä oli auttamattomasti liian vähän. Tilaus saatiin tehtyä noin 30minuuttia pöytään istuttua, jonka aikana noin 2 pöytäseuruetta lähti ravintolasta, koska tilausta ei oltu vieläkään haettu. Noin 1h myöhemmin saimme burgerimme. Ruoka oli kuivaa, mautonta ja otti hieman kuulaan, koska BK:sta tämän saman setin olisi saanut 5e halvemmalla, 20minuuttia nopeammin. Ranskalaisia laskin lautaselleni 6kpl.

En usko että tämä tapahtui henkilökunnan epäpätevyyden johdosta, vaan siitä yksinkertaisesta faktasta, että heitä oli töissä liian vähän. Rafla menee blacklistille.


Experience: À la carte
•
Price: 15€
•
Added: 16.10.2015
Kävästiin syömässä 10 burgerit, annoskoko olo suht pieni ja sen lisäksi koko annos oli kylmä. Palvelu oli hyvää.
Experience: À la carte
•
Price: 10€
•
Added: 15.10.2015
Otettiin kympin listalta annokset. Annos ollut paljon juurii minkään makuinen,ei edes suolaa. Tarjoilu oli ihan ok.
Experience: À la carte
•
Price: 10€
•
Added: 10.10.2015
Reviews older than 2 years
These reviews don't affect the average
Täydellinen vappubrunssi!
Kävimme ystäväni kanssa Memphiksen vappubrunssilla (20€/hlö). Brunssi oli täyteen buukattu, mutta saimme kuitenkin baarin puolelta pöydän. Ruokavalikoima oli laadukas: erilaisia ruokaisia salaatteja, piirakoita, pasteijoita, nakkeja ja kanaa, savulohta yms. Jälkkärinä erilaisia hedelmiä, suklaakakkuja ja munkkeja, juomana perus mehut & kahvi ja simaa. Ruoka oli maukasta, sitä tuotiin hyvällä tahdilla koko ajan esille, kaikki toimi.

Palvelu oli todella hyvää; yleensä
ketjuravintoloiden palvelu on vähän sieltä mistä aitaa ei edes olla rakennettu, mutta täällä sai niin mukavaa ja reipasta asiakaspalvelua että olin häkeltynyt, pisteet siitä!

Vaikka Memphis ei tarjoile normaalisti brunssia, olisi huutava vääryys jättää tästä erinomaisesta ravintolakokemuksesta kertomatta. Vappubrunsseja keskustan alueelta etsiessäni tämä oli selkeästi kaikkein edullisimmasta päästä, suurinosa lähenteli 40-50€/hlö (huhhuh!!). Valikoima ei ehkä ollut se kaikkein suurin, mutta ehdottomasti hinta-laatusuhteeltaan loistavin!

Tänne pitää tullaan ehdottomasti uudestaan!


Experience: Breakfast / brunch
•
Price: 20€
•
Added: 15.05.2015
Kävimme kumppanini kanssa ystävänpäivänä syömässä. Vaikka odotusaika olikin ruuhkan takia pitkähkö, ei se menoa haitannut! Ruoka oli hyvää ja palvelu pelasi. Ainoa miinus siitä, että ruoan syötyämme jouduimme odottamaan palvelua n. puoli tuntia, vaikka lähellä pörräsi vähän väliä tarjoilijoita.
Experience: À la carte
•
Added: 15.03.2015
Odotusaika oli mielestäni kohtuullinen ja ruoka herkullista. Annoskoko oli kuitenkin hintaansa nähden todella pieni, eikä vienyt nälkää pois. Mukava ja ystävällinen henkilökunta ja kivan rauhallinen paikka.
Experience: À la carte
•
Price: 29€
•
Added: 18.02.2015
Olisi kivaa saada ruokaa joskus. ..Näin tunnin odottaneena.
Experience: À la carte
•
Added: 13.02.2015
---
Community
Images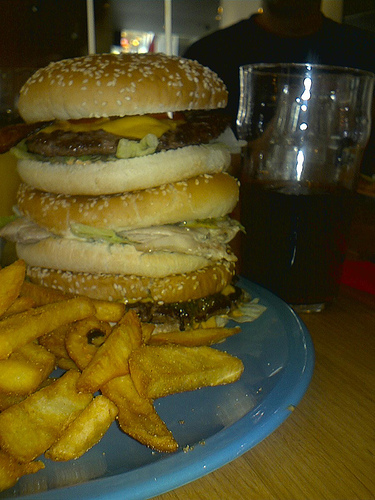 Fans
These people have marked this restaurant as a favourite.
People interested in this restaurant
---
Location