Moko Market Café & Store, Sörnäinen
Reviews (

12

)
Reviews older than 2 years
These reviews don't affect the average
Best brunch in town. Love the place, the food, the coffee, the staff. Right price for quality ingredients.
Always leave the place satisfied.
Experience: À la carte
•
Added: 20.08.2017
Söin arkena päivän pastan. Pasta-annos oli pettymys, pliisu ja mauton. Pekonia ei omalla lautasellani näkynyt, vaikka sitä piti annoksessa olla. Paikan ilmapiiri oli kiva, vaikka sijainti vähän syrjässä.
Experience: Lunch
•
Price: 11€
•
Added: 26.10.2015
Söin päivän keiton ja seuralaiseni pasta-annoksen. Lounasvaihtoehtoja oli kolme, näiden lisäksi siis vielä salaatti, joka näytti oikein hyvältä. Keitto oli italialaistyyppinen tomaattikeitto ja lounaaksi "ihan ok." Pastassa oli ylettömästi sitruunaa ja minimaaliset katkaravut eivät kokonaisuuteen oikein sopineet. Kesäkurpitsat sen sijaan toimivat hyvin sekä maun että ulkonäön puolesta. Annokset olivat valtavan kokoisia, yhdestä riittäisi hyvin kahdelle. Pastan saamisessa kesti 35min mikä on lounaalle liian kauan. Keiton tai salaatin sai heti tiskiltä.

Osa tarjoilijoista puhuu vain englantia.
Experience: Lunch
•
Price: 12€
•
Added: 14.12.2014
Experience: Lunch
•
Price: 10€
•
Added: 10.09.2014
Kävin lauantai-brunssilla, joka oli herkullinen. Pöytä oli katettu ihanilla herkuilla: tuoretta focacciaa, salaattia, hummusta, tsatsikia, kikherneitä, juustoja, hedelmiä, vadelmapiirakkaa, pullavanukasta, kahvia, teetä ja seljankukkamehua. Paikkana Moko Market on viihtyisä, sisustus on miellyttävä ja henkilökunta välitöntä ja hymyileväistä. Brunssi on tosin keskivertoa kalliimpi, mutta vain muutaman euron. Suosittelen ehdottomasti paikkaa muillekin ja lounasta on pakko pistäytyä kokeilemaan!
Experience: Breakfast / brunch
•
Price: 20€
•
Added: 07.06.2014
Experience: À la carte
•
Added: 12.05.2014
Ok lounas, mutta kallis, sillä kahvi ei sisälly lounaaseen eikä salaattipöytääkään ole.
Experience: Lunch
•
Price: 10€
•
Added: 05.02.2014
Lounaaksi keittoa ja vieruskaverille pastaa. Kummatkin annokset olivat maittavia ja sopivan kokoisia - ei siis valittamista. Kasvis-linssikeitossa oli juuri sopivasti mausteita, eikä aineksissa oltu säästelty. Oheen sisältyi leipää ja jäävettä.

Hintataso kuten lounailla nykypäivänä pääsääntöisesti tapaa olevan. Palvelu oli ystävällistä, tunnelma oli positiivinen, miljöö valoisa ja siisti. Kuviollinen keittolautanen oli kaunis.

Positiivinen yllätys, joten tulee pistäydyttyä toistenkin lounaalle.
Experience: Lunch
•
Price: 9€
•
Added: 27.11.2013
Uusi löytö Kävin vain kahvikupillisella ja pistaasipullan syömässä. Mutta tunnelma oli kiva ja lauantaibrunssilla voisi joskus pistäytyä. Tällaisiä paikkoja lisää!
Experience: À la carte
•
Added: 28.09.2013
Todella hyvä lounaspaikka. Vaikka hinnat ovatkin hitusen keskitason yläpuolella, annokset ovat suuria eikä varmasti jää nälkä. Ruuan laatu on erinomainen. Tarjolla on myös kaikenlaisi rahkoja ja smoothieita. Lauantaisin on tarjolla ihana ja monipuolinen brunssi.
Experience: Lunch
•
Price: 8€
•
Added: 20.09.2013
---
Community
Images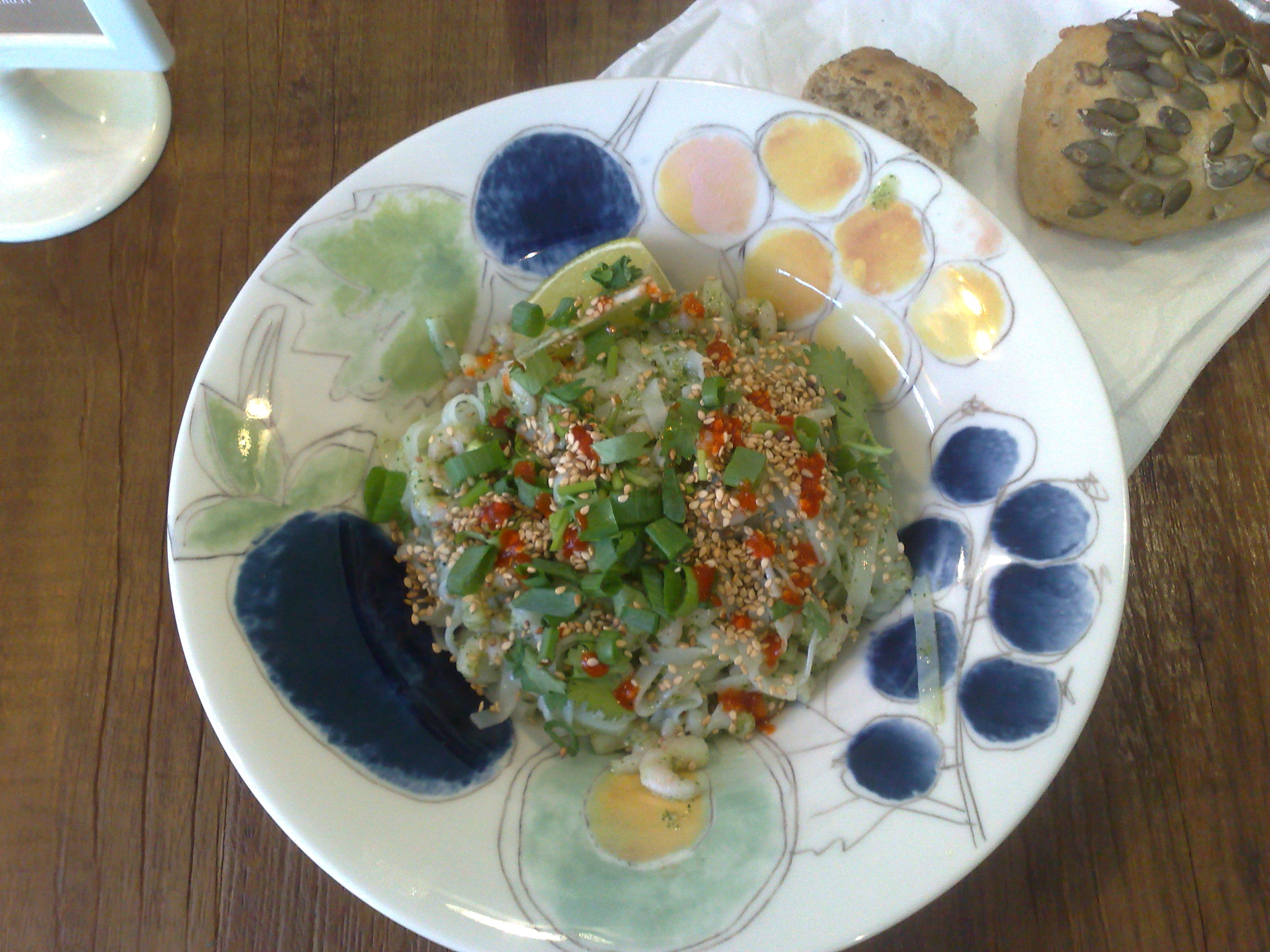 Fans (4)
These people have marked this restaurant as a favourite.
People interested in this restaurant (5)
---
Location
Options
---